Missourian breaks 50-year drought
November 06, 2015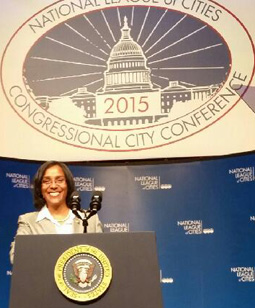 Joplin Council Member Melodee Colbert-Kean has been chosen president of the National League of Cities. She will assume the role at the annual Congress of Cities and Exposition that currently is taking place in Nashville, Tennessee. She is the first Missouri city official to be named to top leadership with NLC in more than 50 years.
Colbert-Kean will serve a one-year term in this role representing more than 19,000 cities and towns. She will represent Missouri while meeting with national leaders in Congress and abroad.
"It's fantastic to see Missouri represented at the top level in this important organization, and we know Melodee will play a vital role in strengthening communities across the country," said Dan Ross, Missouri Municipal League executive director.
Missouri has had two other mayors in NLC leadership. Mayor Raymond R. Tucker, St. Louis, served as president in 1960 and Mayor W.F. Kemp, Kansas City, was president in 1954.
All NLC officers are selected by a 15-member nominating committee and are elected by NLC's membership.
In her leadership role, Colbert-Kean plans to focus on NLC's top three challenges for cities: crumbling infrastructure, retaining the e-fairness/marketplace and continuing tax-exempt municipal bonds.
"Many cities are taking the lead on shaping growth with creative partnerships," said Colbert-Kean. "These help keep a city's infrastructure, recreational needs and employment base strong."
Colbert-Kean is committed to community and civic service. She served as Joplin's mayor from April 2012 to April 2014, and mayor pro tem from April 2010 through April 2012. Since April 2006, she has served on the Missouri Municipal League's Economic Development & Human Resources Committee, and as chair of the League's Natural Resources and Urban Development Committee. She has been an active board member with NLC, serving the last two years as second and first vice president.
A lifelong Joplin resident, Colbert-Kean and husband William own MEs Place Soulfood Cafe< in Joplin. She also holds a Missouri real estate license with Charles Burt.
The Missouri Municipal League provides a united voice for municipalities across Missouri. Founded in 1934, MML now serves more than 660 municipalities with training, resources and legislative advocacy for local government success.