Defend yourself against ticks and skeeters
May 21, 2007
Memorial Day is the perfect time to remember and practice summer protection against ticks and mosquitoes, according to a comments by Roger Brock, Newton County Health Department environmental supervisor
As Missourians prepare for the Memorial Day holiday weekend, the Newton County Health Department urges everyone to remember to plan for protection against ticks and mosquitoes during outdoor activities now and through the late fall and early winter. Ticks can carry diseases like Rocky Mountain spotted fever, Lyme and Lyme-like disease, ehrlichiosis, and tularemia, while mosquitoes can carry West Nile virus, St. Louis Encephalitis, and Eastern Equine Encephalitis. Though risk is low, these diseases can cause serious illness and even death if precautions against bites from infected insects are not taken.
"The good news is that precautions against the bugs that carry these diseases are easy and effective," Brock said. "It is very important for people to protect themselves against tick and mosquito bites every time they go outside and into areas where these bugs live."
The following are simple, effective actions people can take to avoid tick and mosquito bites.
For mosquitoes:
Use of repellent containing DEET or picaridin is the most effective way to repel mosquitoes. Follow label instructions when applying to bare skin areas.
Wear long sleeves and pants when outdoors.
Take extra care to use repellent and protective clothing during evening and early morning - peak biting times for many species of mosquitoes
Remove trash and debris around the house and property to reduce breeding areas.
Empty and/or freshen items that hold water (flower pots, bird baths, wading pools) every four days.
Check and repair any holes in window and door screens.
Clean house gutters to prevent standing water where mosquitoes can breed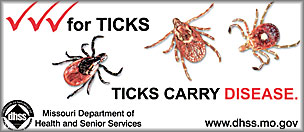 For ticks:
Apply insect repellent containing DEET to exposed skin areas as directed.
Apply repellents with permethrin on clothing only, not directly to skin.
Walk in the center of trails to avoid overhanging grass and brush.
Wear light-colored clothing to make ticks easier to see and tuck pants into socks.
Do daily tick checks on yourself, children and pets.
Carefully remove attached ticks immediately; an infected tick can pass disease through a bite in as little as four hours.
Early into the summer season, Newton County Health Department has already received notification of several tick-borne illnesses in the area. While the overall risk of human disease from ticks and mosquitoes is relatively low, insect-borne diseases can cause serious long-term health effects and even death if not recognized and treated appropriately. NCHD staff encourages people to take the simple, effective steps to protect themselves against bug bites that can harm them and their families.
If people think they are becoming ill after being bitten by a tick or mosquito, they are urged to contact their healthcare provider immediately. Flu-like symptoms in the summer probably do not indicate influenza and the person should seek medical care as soon as symptoms appear.
An excellent site for reading in part about the diseases ticks carry and how to safely remove ticks may be found here (http://www.cdc.gov/ncidod/ticktips2005/).