Fulton Hospital is falling down...falling down
December 10, 2013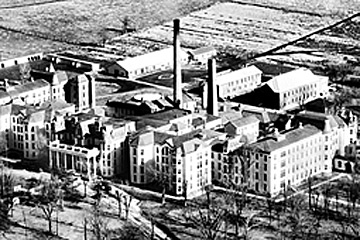 This is not the picture, albeit itself 81-years old, of the Fulton State Hospital that the Missouri Department of Mental Health depicts on a current website. Instead presented is a view of the facility's majestic roadway entrance surrounded by stately trees leading to a building faintly visible in the distance, but one that many have known for years is crumbling down.
JEFFERSON CITY – After years of deterioration and decline, the Fulton State Hospital--opened in 1851 the oldest public mental health facility west of the Mississippi River-may finally receive much-needed financial help. The Missouri Senate Interim Committee on Capital Improvement Assessment and Planning released its report earlier this month, listing the hospital as a top priority.
"The need for improvement at the Fulton State Hospital was extremely clear," said Chairman David Pearce (R-Warrensburg). "We have heard stories and now have seen in person the need to improve this facility for the safety of our citizens. It's a daunting task, but it's one of our most pressing needs."
Serving Missouri citizens from all across the state, Fulton State Hospital, the state's only maximum security psychiatric hospital, currently can house 363 clients. The building is slowly crumbling and in desperate need of repair.
The interim committee was tasked with doing a cost-benefit analysis of proposed projects across the state to help determine what the priorities are for next session. Fulton State Hospital was one of the projects on the list.
"We wanted to actually get out, tour the facilities and state buildings to help us prioritize those needs and leverage private support," said Senate Leader Tom Dempsey (R-St. Charles). "After seeing the conditions at the Fulton facility in person, it was clear this would be a top priority for us."
The Legislature appropriated $13 million for the Fiscal Years 2014-2015. These funds, of which $11 million is currently withheld, are for initial planning and designing. But, the governor plans to announce today his plan to put money in the budget to construct a new facility in Fulton.
"We are happy to see the hospital will also be a priority for the governor," said Pearce. "We look forward to working with him and his staff on this major and much-needed project."
---
Editor's note: Eric Erickson of Black River Falls, Wisconsin has posted several postcards of Fulton State Hospital on a Historic Asylums website found here. His brief comment is "still in operation." Under the circumstances a lot can be read into those words.