Roy Blunt thrown in the wash with DeLay
October 25, 2005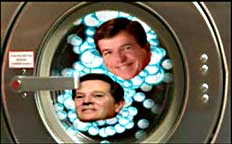 "The Laundromat"
Public Campaign Action Fund, that labels itself a national nonpartisan watchdog organization working to hold elected officials accountable for the favors they give to big donors, and American Family Voices, a group aligned to protecting the interests of middle class families, today issued what they termed "a blistering criticism" of four broadcast television stations in Springfield and Joplin, MO for bowing to political pressure from new House Majority Leader Roy Blunt by pulling their ad off the airwaves. (Go to www.cleanupcongress.org/bluntad) The groups praised four other stations who are continuing to run the TV ad.
They claim that Blunt, who replaced recently indicted Tom DeLay in House leadership, had his lawyers intimidate stations with a letter on Friday demanding that the stations take the advertisement out of rotation. The ad links Blunt to DeLay by describing $150,000 campaign money transfers between the two members' committees – a similar transfer that has landed DeLay in legal trouble in Texas. DeLay 's indictments include criminal conspiracy and felony money-laundering.
"It's clear that Tom DeLay's replacement doesn't want his constituents to see this ad," said David Donnelly, National Campaigns Director of Public Campaign Action Fund. "We applaud those stations that have shown their commitment to the facts and the First Amendment by continuing to run this ad, despite Roy Blunt's attempts to bully it off the air.
"The stations who have caved in to Blunt's bullying, KYTV, KSPR, KFJX and KOAM, are failing in their role as stewards of the public airwaves, and are complicit in Blunt's efforts to sweep the facts under the rug," Donnelly continued, singling out the four stations. "These TV stations are putting their fear of Roy Blunt ahead of their duty to the public."
The groups purchased air time on 8 television stations in the Springfield and Joplin media markets. The stations that have continued to run the ad are: KSNF and KSFX, which are owned by Nexstar Broadcasting Group, and KODE and KOLR, which operates under the Mission Broadcasting Inc. banner. Nexstar has a controlling financial interest in Mission.
According to Meghan Scott, spokesperson for PCAF, the stations had been provided with documentation verifying the authenticity of the ad, the first in a series of spots that will run in several Congressional districts across the country. She said that the stations in question had refused to explain why they would no longer run an ad which they had previously approved.
"The ad is about the similarities between Tom DeLay and Roy Blunt, which Blunt denies, but he is then immediately turning around and employing the same tactics DeLay is famous for and that have earned him his reputation as 'The Hammer,'" said Mike Lux, president of American Family Voices.