Good-bye Citgo!
February 02, 2007

A new sign towers over the Snak Attack gas station on South Hearnes Blvd. in Joplin. Once a Citgo station, it has switched to BP. The price reflects what the fuel costs were at the time the photo was taken.
Bloggers and chain disseminators on the Internet want to take credit leading to removal of the Citgo brand. "Venezuela Dictator Vows to Bring Down U.S. Government" is coupled with "the Venezuela government is sole owner of the CITGO gasoline company" in an email that has made its rounds more than once. It advises its readers to not stop or shop at a Citgo station.
According to company history, CITGO was incorporated as a wholly owned refining, marketing and transportation subsidiary in 1982 when it was bought by Occidental Petroleum from Cities Service Company pioneered by oilman Henry L. Dougherty. The Southland Corp. bought it in 1983 to provide an assured supply of gasoline to its 7-Eleven convenience stores and then eventually sold all of its shares by 1990 to Petróleos de Venezuela, S.A. (PDVSA), the national oil company of the Bolivarian Republic of Venezuela.
The Sierra Club has just released an article in which Sierra editorial interns Robynne Boyd and Sarah Ives have rated the largest U.S. oil companies. Based on data from a previously published piece entitled "Pick Your Poison: An Environmentalist's Guide to Gasoline by Jennifer Hattam and Paul Rauber and the continued consolidation in the industry of companies that have created new oil spills and pollution releases, the duo places the companies fall into three general categories, "bottom, middle and top of the barrel."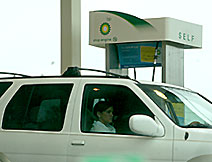 BP, the second-largest integrated oil company worldwide (Exxon Mobil is number one) known for its largest holdings in Alaska, shares the "top of the barrel" rating with Sunoco. Serving customers at 15,900 U.S. gas stations, in 2005 BP made more than $245 billion in sales. But the interns report:
BP's black marks include operating an oil refinery in Texas City labeled one of the worst polluting plants in the U.S. In March 2005 an explosion at the facility killed 15 workers and injured more than 100 others. OSHA consequently hit them with $21.3 million in fines.

Then in March 2006 a leak in one of BP's pipelines spilled more than 200,000 gallons of oil in Prudhoe Bay, Alaska, an event that occurred after employees allegedly expressed concerns about the pipeline's safety in 2004.
What counters these negative aspects, besides the positive stance on global warming and their achieved pledge to reduce CO2 emissions from its operations to 10 percent below its 1990s level, are the green initiatives BP has undertaken, Boyd and Ives report. The most significant green announcement was BP's plan to invest $8 billion over 10 years in alternative energy generated from sun, wind, natural gas and hydrogen.
For the full report, go here.