If they don't like it, they'll just pass a law
April 22, 2005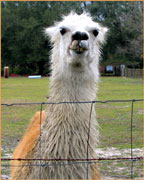 Don't photograph me without my smile. Actually, don't photograph me at all. A new kind of photo-pornography is defined by law. (Photo by Matt Taylor)

HB 666 is an unconstitutional bill introduced to the Missouri House and recently voted out of the Agricultural Committee. The bill is currently pending in the House.
The bill would make it a felony to take unauthorized photos of chickens, cows, pigs, farm buildings, vehicles or personnel from a public place. This would criminalize newspaper photographers as well as We the People who might be photographing factory farm issues. One more Freedom on the way out and taking another bite out of our representative democracy. Another recent house bill proposes to take away local control over the installation of a factory farm.
A recent comment on this farm-photo ban bill, by the Joplin Globe, called the people who opposed these mega factory farms activists. In today's political climate of hate and fear the word "activist" is inflammatory, derogatory and insulting to We the People who oppose the proposed further fouling or our neighborhood. The Globe writer might get out of the office more and would see that the people opposing the local Moark factory farm expansion in Neosho are concerned citizens of all ages, backgrounds, religions and political stripes. We the People are legitimately concerned about our groundwater depletion, surface water contamination, the future of where our children will play and recreate as well as protecting the natural scenic beauty of our area. Our area is still a destination for vacations and recreation. We continue to cover it in manure, foul our lakes and streams and foul the air and we loose the best aspect about our region, its natural beauty. Our regions scenic beauty is infiniely more sustainable than the short term profits predicted by the factory farm operators.
The groundwater issue that concerns We the People is uncontrolled in Missouri. We are looking at very serious water issues in the coming decades, as evidenced by the Globe's recent articles on the Neosho River Basin Group and the Tri State Water Coalition. At this time the DNR does not take into account water usage in the permitting process of factory farms. This needs to change. Today there is a moratorium on deep commercial well drilling just across the border in Crawford and Cherokee counties in Kansas until a full evaluation is completed in 2010. Missouri needs to start looking forward more critically and considering our neighbors in adjacent states. In this water crises there are no state lines.
We the People would like to see Missouri the leader in preserving our natural heritage not just reacting to one crisis after another.
by Mark Adams,
Neosh, MO