Will bird flu spoil your Thanksgiving?
November 20, 2005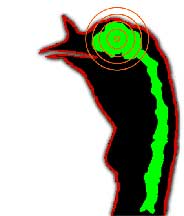 Rednecks git yer shotguns to the ready. Bullet strike area is ID-ed fer ya. Target compliments of gunnerden.com
The bird flu arrives. Canadian Broadcasting Corporation today reported (Sunday, Nov. 20, 2005) that the bird flu again has been isolated in domestic poultry in British Columbia. Although officials now say a lethal strain was not discovered, the low pathogenic North American strain was still responsible for 65,000 birds ordered slaughtered at one commercial farm in Fraser Valley. A quarantine of 50 farms was mandated and four farms within an approximate 5 mile radius of the affected farm are under special surveillance. Fraser Valley is the same British Columbia location where 19 million commercial and domestic poultry previously were slaughtered in March 2004.
The Canadian Food Inspection Agency has identified two wild ducks in Manitoba having tested positive for H5N1 Influenza. In Quebec two birds were found to have the H5N3 Influenza. The U.S. Center for Disease Control in an influenza update previously stated that the H5N1 Influenza is lethal and highly pathogenic in killing birds. The H5N1 Influenza is the strain credited with killing approximately 60 people to date in countries like China, Vietnam and Thailand.
U.S. poultry executives have just gotten that holiday gift they all dread. With millions upon millions of poultry being slauthered worldwide in an attempt to stem the spread of avian flu, it's no doubt that the poultry executives right about now are strapping on their Depends.
As wild birds migrate south along the Mississippi Flyway, it is only a matter of time for the infection to show up in American poultry. And Southwest Missouri is very vulnerable.
Not counting homegrown flocks, the Southwest Missouri area has approximately 160 million commercial poultry located in the Spring River and Elk River watersheds. Within a large number of 5 mile radii in SW Missouri (possible exception is where Missouri's politicians live) there are likely millions of poultry.
When the slaughter of millions of birds is ordered to stem the spread of this potentially lethal disease, it will be a boon to Governor Blunt's economic figures. He's certain to use the occasion to brag about increased employment for the State of Missouri as thousands more people will be needed to kill, dispose and repopulate the region's poultry.
An advertised human protection against bird flu is Tamiflu. Recently 12 young children in Japan, all taking Tamiflu, died. A connection between these deaths and having taken the drug has yet to be established. The Tamiflu manufacturer has denied any connection.
Cajun turkey will be popular this holiday season. First, be sure to read The Top 10 Reasons Not to Eat Turkeys this holiday season. If it doesn't sway you, then follow the CDC's advice that humans cannot get bird flu from consuming poultry that is cooked fully. Remember to blacken that Thanksgiving turkey just to make sure. Here's a simple procedure to use to make sure you don't contract bird flu from your turkey: Turn your oven on high. Season turkey and toss in oven. Keep the oven light off. Remove smoke detectors from kitchen area. When the turkey's skin blends with the dark oven, it is safe to eat. Bon appétit and happy holiday!
--
To reach a new website set up by the U.S. Department of Health & Human Services that provides information on pandemic flu and avian influenza, click here