Is that fly a spy?
June 20, 2007
This piece was written as a reaction to Who's Watching You?, a book by Mick Farren and John Gibb that describes how the US government using the excuse of terrorism has stepped up its surveillance and recording of what we do. Why are they doing this? And who are "they" and why do they want to know so much? And where's the hue and cry about it from the media?
by May Belle Osborne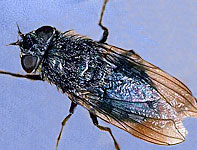 A chilling effect, that fly. It just could be a spy. See that tiny lump on its back? Who knows, it may be an extra fly spy-eye. Why get a warrant? Why go to the NSA? A fly can be a spy. Who knows, it may have a camera or a tiny microphone--one that can see and listen up close to you and all of us. They, those, them--they see and watch our tiny lives, all amplified through the multiple eyes of the fly.
Layer upon layer of nothing much of any, they watch with their multiplied eyes and, with super-speedy reaction times, the fly-spy records us going about our days being who we've come to be.
Surely, flies have super powers--that's no tiny lie. Sensing the moment of my swat, they intuitively fly away-- safe--up there on the ceiling quite high. To them, our lives are trivial and small.
Shoo fly, shoo. I don't have as many eyes as you.
What will they do with those of us who believe in an old piece of paper that We the People, the unwashed masses, know as the Constitution -- the reason of our existence, our Bill of Rights for living our civilized lives?
The grand experiment is finished, over, gone. Let it die. It had never been done before-- this self governance. (Paris Hilton). We once all took part, tried, worked together to fight off the militarized Empire building. (Paris Hilton).
The Fourth Estate has failed us horribly and here we are controlled by spying through multiples of the warrant-less eyes and ears of a fly. What? Didn't you know flies are wired to hear you too? Yes, our lives fly through the air all jumbled and crosshatched.
See that miniscule lump on the back of the fly--the listening device? The eavesdroppers hear the buzz of We the People going about the hum of days with only a few of us aware (Paris Hilton) that what the rulers have done is against our nation's laws. We've spent years abiding by these laws and consenting to be governed by those we thought we had chosen to represent us, our community.
The buzzing gets louder as voices are raised to a massive jumble of dissent. "Shush," they say, "we know what is best."
But, we believe we people should have the say. The secret spy-and-wire-tap hidden in the fly-eye is all wrong.
What's next? Will those who secretly want to know go to drilling inside our minds with thought police precision? Will they come to tickle our innermost private fears to flash before our eyes and--repeat, repeat--bend our (foolishly thought) democratic will?
Or, are they already inside our minds? (Paris Hilton). Coming from the box of images and sounds that hammer a daily ghost-reality of flashing words, images, (The 26 year old, Paris Hilton, called for her mommy in the courtroom.) they give us the most important news of our Republic, don't they, the news, it is important news they say?
We are failed royally and the Talking Head tells us: "The problem is Iran. It's not Iraq, folks. The problem is Iran."
And so it goes....