Joplin's Festival of the Four States
June 22, 2002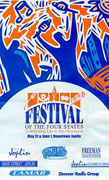 "Fantastic," "great family fun," "an unbelievable achievement"—these were accolades heard around town after the Joplin Festival of the Four States ended its two-day celebration downtown. Sponsored by Joplin's Big Four: the Convention and Visitors Bureau (
CVB
), the
Chamber of Commerce
, Main Street Joplin and the
City of Joplin
, the event, that took place May 31 and June 1, attracted a conservative estimate of ten thousand visitors.
When asked which activity might have received the most praise, executive committee chairman Stephen Shields said that not one aspect stood out. He received "rave reviews about everything," he added.
The event was in the talking stage since 2000, Shields noted, when several different community leaders met. Finally, the city said, we have the money; let's have a festival. Seed money of $32,000, which was generated by the 1999 increase in the lodging tax, was made available through the CVB. Seven sub-committees headed by an executive committee took six months to finalize plans.
With the help of additional sponsors and the participation of a large number of volunteers, the festival almost was a no-charge event. Shields noted that parents especially were overwhelmed by the quality and number of children's activities that were free. The participants only paid for food, Shields said.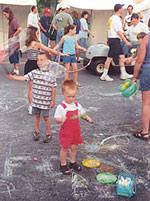 With a heavy emphasis on art, children's activities included drawing with special instruction by Richard Hight of Visual Impact, chalk the walk, an imagination station and a graffiti wall. In addition, some children had the opportunity to take home caricatures made of them by the Fine Tooners of Kansas and balloon creations designed by Mike Martin of Springfield. Fire fighters put on puppet shows throughout the day stressing safety, and the Joplin Paternal Order of Police did special "kid printing."
Jennifer McQuilkin took advantage of the good turn-out at the children's section. Fond of talking with people, McQuilkin, the children's librarian at the Joplin Public Library manned a booth that distributed free helium balloons, temporary tattoos and information about the library's summer reading program.
Throughout the two day period, the entertainment schedule, which catered to different age groups and tastes, presented both local talent as well as well-known performers from Branson in acts which included a martial arts demonstration, singing, dancing and comedy. Patriotic, gospel and bluegrass music were a small part of the schedule of the Sixth Street Stage.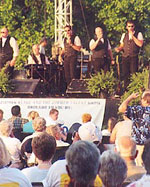 The
Zimmer Radio
Stage on Fourth Street hosted, among others, a 50's/60's Rock 'n Roll Show featuring Doug Gabriel on Friday evening and the Braschler Music Show on Saturday evening. But it was for the sponsorship of the talent contest that Zimmer Radio Group takes the most credit. The 14-year-old winner, Nicole Gust of Joplin, "outshined everyone" with her rendition of "Unchained Melody," and will have the opportunity to perform at the upcoming Route 66 Festival, according to George Demarco, general mgr.
Thirty-one artisans were selected by a judging process to display their work, according to Cleo Copeland, one of the chairpersons of this group that also included Tracy Erwin and Jane Richard. Filling tents that lined sections of Main Street, the artisans eagerly answered questions about their creations, which also were for sale. Best of show was awarded to Jorge Leyva of Joplin for his marble sculptures. Other cash awards went to Raymond Popp of Mountain Grove for painting, Mary Ann Soerries of Joplin for photography, Barbara Laird of Mansfield for mixed media/stained glass, Jeremy Haun of Joplin for drawing, Marv Dahmen of Carl Junction for jewelry, George Wright of Springfield for sculpture, and Elizabeth Gramith of Neosho for pottery.
The Car Show which brought together vehicles that ran the gamut—from a 1921 Model T to modified 1980's cars—had a "great turn-out," according to its chairperson Richard Huskey, but he expects an even better turn-out next year with the addition of several different categories, including one for prize motorcycles. 95 cars vied for People's Choice Awards. The winners on Friday were: (first place) the '62 Chevy Impala of Jim and Judy Cobert of Webb City; and (second place) the '54 Ford Sunliner convertible of David Province of Haysville, KS. Saturday's winners were: (first place) the '29 Ford Model A pick-up of Don McCoy of Joplin; (second place) the '58 Chevy Impala of Joe and Pat Hill of Seneca; and (third place) the '46 Chevy half ton of Gary Gaston of Joplin.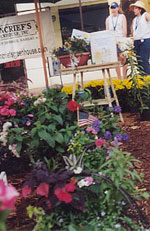 Gardening enthusiasts were not disappointed with the Flower and Garden Show chaired by Becky May. With the help of the Audubon Society, free tree saplings were distributed from the Missouri Department of Conservation's supply, and Ozark Master Gardeners circulated to answer questions. Moncrief's Greenhouse of Kansas, one of about ten exhibitors, was awarded Best in Show.
Museum displays were set up in storefronts along Main Street. According to Chris Wiseman, curator of the Joplin Museum Complex, artifacts not normally on display at the museum were included to help present an overview of life in Joplin. The Powers Museum and the Webb City Historical Society also contributed items of interest.
Does all this sound like a tough act to follow?
Well, the City of Joplin doesn't think so. They want "more of the same and bigger," said Shields, who admitted that he would be in favor of chairing the event next year.
For more information about next year's festival contact Kim Lester at the Chamber of Commerce, klester@cc.com, or the CVB, cvb@joplinmo.org.
(Special thanks to Carrie Zerkel of Webb City for her assistance in locating information.)
More Pictures:
An estimated 10,000 visitors attend the first annual Joplin Festival of the Four States held downtown, May 31-June 1.
Doug Gabriel from Branson accompanied by band members belts out a tune on the Zimmer Radio Stage on Friday evening.
A young girl displays her crown made by balloonist Mike Martin of Springfield.
Maggie's is one of about a dozen food vendors at the event representing a variety of ethnic tastes.
Introduced as "Joan Rivers," the well-known comedienne, this female impersonator stuns the audience with his wit and wiggle as part of the Braschler Music Show.
Fans in back of the audio tent listen to the music on Saturday evening.
Raymond Popp of Mountain Grove is shown with his artwork that won him an award for best painting.