Joplin Library is 100
August 01, 2002
Happy Birthday, Joplin Public Library! A lot of changes took place before you became a centenarian. From your not so humble beginnings on 9th and Wall to your present day location on 4th and Main, your presence has enhanced the lives of all your patrons and, not to seem demeaning, those who simply have come out of the bad weather.
Joplin is not unique in being indebted to Andrew Carnegie who in 1902 pledged $40,000 for the construction of a library building on a lot supplied by the city. The cornerstone for the three-storied, 12,000 sq. ft., neo-classical revival structure was laid on October 9.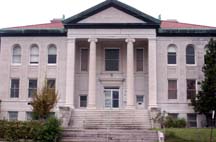 The old Carnegie Library building as it appears today under private ownership.
Mary B. Swanwick, the first head librarian was hired by the city for $65 per month. During her tutelage, several additions were made to the library building, not the least of which was the clever construction in 1910 of two glass floors between the main and basement levels. A two-storied addition, also with significant Carnegie funding, was completed in 1916.
After Ms. Swanwick passed away in 1921, she was succeeded by her sister Frances. According to historical documents, Frances was removed in 1931 due to "personnel mismanagement," and may be partly responsible for the no nepotism clause in the current library's recruitment and employment policies (although Ms. Trout refutes this). Blanche Trigg, first assistant to both Swanwicks, replaced Frances and served in the position for 18 years.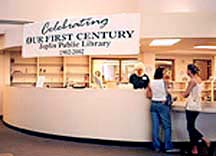 Circulating desk of today's library
The Carnegie Library closed in April 1981 with the opening of the current $2,000,000 facility. About a decade later, the expanded Rosemary Titus Reynolds Children's Library was added.
A report by Ms. Trigg shows that in 1939-40 202,879 volumes circulated. 17,856 cardholders were on file. Those figures contrast with the current circulation figure of 400,000 volumes and 38,000 cardholders recently supplied by Carolyn Cannon, librarian in charge of acquisitions/systems.
From circulating totally print oriented materials in the 1980's to today's current use of electronic systems, the library claims to keep up with technological advances, including access to the Internet, within a cost-efficient manner. In addition to numerous reference links on its website, it offers in-house access to various information-retrieval databases.
Who's Who
President of the Board of Trustees: William H. Perry III
Library Director: Carolyn Trout
Reference Librarian: Patty Crane
Children's Librarian: Jennifer McQuilkin
A major benefactor: The Margaret Hager Trust