Meet George A. Spiva
August 03, 2002

Have you had a chance to say hello to George A. Spiva...or, at least to wave in his direction when you've driven past Spiva Memorial Park at 4th and Main? He won't be waving back, but he should make you smile anyway.
Our editor had that opportunity recently. She got up close and personal. Of course, Mr. Spiva is only a statue, but the spirit of the man some consider the last great philanthropic person Joplin has had, lingers in the park, which he financed and had constructed as a memorial to his father, George N. Spiva, also a successful businessman and benefactor.


The idea behind creation of the sculpture belongs to Christy Cragin, daughter of John M. and Joy Spiva Cragin. She had seen the work of the sculptor, Mischell Riley of Miami, OK and decided to commission a life-size bronze of her late grandfather as well as a bust from the same mold. It would eventually sit on a black marble pedestal in the lobby of the Spiva Art Center.
Mischell Riley is known for her realistic sculptures, including one purchased by the First National Bank of Miami. She holds a studio of fine arts degree from Oklahoma State University and was an apprentice in larger-than-life sculpture in Scottsdale, AZ under Snell Johnson. She has been sculpting full-time for 11 years.
"It was two years in my making--to get the family behind the project and then the actual construction," Ms. Cragin said. It was a memorial to a man who had devoted much of his life to the arts and a way for people to meet the man behind the name, she added.
"George Spiva loved that area of town," said Darlene Brown, director of the Spiva Art Center, the not-for-profit organization that Spiva helped to create. "He was known to sit on a park bench and eat popcorn."

During the late '40's, a group of artists called the Ozark Artists Guild held their weekly meetings at the old Carnegie Library. In 1958 with Spiva's financial help they moved into their first home, the Zellekin House on 4th & Sergeant. The group's name was changed about a decade later to the Spiva Art Center, when they again moved, with Spiva's assistance, to the Fine Arts Building at Missouri Southern State College, a building endowed by him. It was the predecessor to the art center's present downtown home at 222 West 3rd.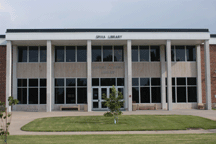 Spiva Library at MSSC
"Without his influence MSSC wouldn't be what it is today, remarked Ms. Brown, who recalled how his generous contribution of 400 shares of Dupont stock served as the catalyst for other donations, which together secured the land known as Mission Hills on which the college campus soon after was constructed. (Dupont was the company that had bought out his father's nationally-operated General Explosives Company.) The college board of trustees honored his generosity by naming the new library, completed in 1967,after him. It was reportedly the first new building on campus to be ready for occupancy.
Born in Joplin on February 26, 1904, Spiva graduated from Joplin High School and later attended the University of Missouri. He married Agnes Schnur. They had two children Joy and George A., Jr.
At the age of 40, he was president of the Joplin Chamber of Commerce, secretary/treasurer of the Crocker Packing Company and an original member of the Joplin Airport Board and the Joplin Rationing Board.
He later became a director of the First National Bank, a director of Eagle-Pitcher Industries, a director of the Four State Broadcasters, a member of the board of directors of Freeman Hospital , a treasurer of the Joplin Special Road District, and circus enthusiast / president of the Merle Evans Circus "Tent" # 27.
His social and lodge activities included membership in Twin Hills Golf and Country Club and the Elks Club. He was a Mason, a Shriner, and a member of the Joplin Little Theater. Known for his sense of humor, he was said to have entered the first ball, sponsored by friends of the art center at the old Connor Hotel, walking backwards. The group, still functioning today, is aptly named "St. Avips."
A month before he passed away, he was honored as "Outstanding Citizen," the first annual award given by the Chamber of Commerce. In accepting the award, he said:
"If I have done anything to deserve this award it has been in a selfish nature—because I think Joplin is the finest place in the world to live and I enjoy it as much as you do."
After a fatal heart attack at the age of 63, he was laid to rest in May 1967 at Mt. Hope Cemetery.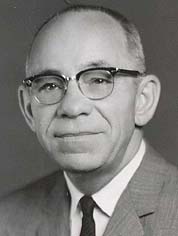 1904-1967