The issue of cruising
August 30, 2002
If the good cop side is any indication of the quality of the bad cop side, then our new Police Chief, Kevin Lindsey has potential to be a fair but tough law enforcer.
He introduced himself to the audience gathered at a recent "town hall" meeting to discuss the pros and cons of cruising Main Street. A mix of downtown shopkeepers and local residents, city officials, the media and cruisers met at Central Christian Fellowship Hall, 417 Main, to debate the topic.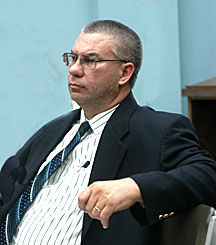 Newly appointed Joplin Chief of Police, Kevin D. Lindsey
Reasons for ending the practice of cruising in the downtown area mainly concerned the inability of law enforcement to control littering, loitering, noise and traffic congestion. Lee Anne Howsman of Howman's on 501 Main Street cited the inordinate amount of clean-up on Monday mornings of broken beer bottles and other debris left outside her property by the cruisers over the weekends.
Hugh Fenner, owner of the Little Connor at 612 Main Street and whose restaurant is open during the height of cruising, seemed to think that he'd have more patrons if they didn't have to combat traffic and noise. "The noise gets so bad that it shakes the windows," he said.
"I've had vandalism," he also told the audience. He said his building was spray painted as retaliation for telling loiterers to move.
Mike Brandon said he wasn't against cruising, but just against it at his place of business. The owner of a recording studio on S. Virginia, Brandon said that he must close early on cruising nights because the noise from the car stereo system subwoofers comes across on his recording tape.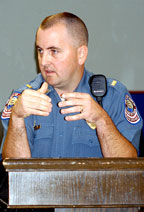 Jeff Trotnic, Lieutenant, Patrol Division of the Joplin Police Department
Presenting a cruising update from the Joplin Police Department was Lt. Jeff Trotnic, a first year member of the patrol division. Stemming from a "quality of life" complaint last April from a downtown resident, Trotnic said the patrol was beefed up to handle cruising problems, but he said that the patrol was there to provide a safe environment for all involved--the kids, the residents and the shopkeepers. This effort, which the majority of the audience by a show of applause seemed to agree was successful, has required 1,316 man hours at a cost to the department of $62,000 a year.
Rather than as a human rights issue, Dr. John Gray, an optometrist who lives and works downtown, sees cruising as basically a traffic issue. "The nostalgic 50's and '60's are gone," he pointed out, painting a scene of drugs, alcohol and the potential for predators to go after their prey.
In providing some facts and information, Chuck Niess, corporal of RAPIDTEAM told the audience that when he was a teenager, he cruised, too, but that his involvement was at a more friendly time. Although most cruisers are law-abiding, the small percentage involved in alcohol abuse and fighting today demonstrates a big change from the past, he said.
In response to a suggestion that cruising be moved away from downtown , Niess pointed out that from a law enforcement standpoint the area was more convenient. It is within three blocks of juvenile detention, adult lock-up and JEMS.
What are the answers? Fenner's suggestion to law enforcement to deter vandalism was at least to park patrol cars around 1 a.m. in the two parking lots between Sixth and Seventh streets.
An audience member, formerly from California, suggested establishing a Peer Court to deal with the offenders. "Kids are often tougher than judges," he said. Many agreed that having litterers perform community service to clean up Main Street was a good idea.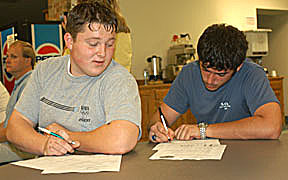 Charles Gray and Nick McCully, cruisers attending the downtown community meeting, fill out the police department survey.
You may help address the cruising issue. Please leave your comments in the forum below this article. You might consider the following questions which were left with the meeting participants:
1. Please tell us wht you think about the cruising issue. Do you support cruising? Should cruising be discouraged or banned? Should ordinances concerning cruising be enforced? If so, to what extent? What concerns you most about cruising (if applicable)? Where should cruising be permitted (if applicable)?
2. What changes have you seen (either positive or negative) since April 2002 when the police department stepped up enforcement of cruising related issues?
3. If so, in what way has the presence of cruising changed the quality of life in the downtown area?
4. What changes, suggestions, options, alternatives, or improvements would you recommend to the police department to address the various concerns surrounding the cruising issue?