Cuba sí...
September 06, 2002
Are you looking for an exciting way to spend New Year's Eve this year? Has dancing at the Holiday Inn become old? Want an excuse to turn down your friends' offers to munch chips and watch the ball drop in NYC on TV?

The alumni association of Missouri Southern State College has the answer by sponsoring its first ever international tour. Drs. David Locher and Larry Cebula of the social science department are planning a trip to Cuba, December 28, 2002 to January 4, 2003 for alumni and friends of MSSC.
While travel to Cuba is still forbidden for most Americans, MSSC has a special license from the State Department allowing the school to run educational visits to the island. All you need is a valid passport. The association will provide the appropriate visa.
Departing from Miami, Florida by an American-owned charter jet, the group will begin their stay in Havana at the 4-star Hotel Ambos Mundos. English-speaking guides will take the group on a walking tour of Old Havana and a coach tour of the larger city. The itinerary includes a visit to the Museum of the Revolution, the Museum of Fine Arts, and an evening at the open air Tropicana Club where dancers and singers in elaborate costumes put on a show that original Las Vegas casinos emulated. In addition, the group will travel to the mountain town of Vinales in the eastern province of Pinar Del Rio and stay overnight at Las Jazmines.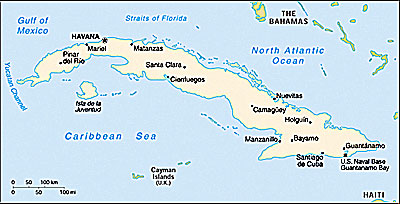 Included in the tour package are informative lectures from both Locher and Cebula, as well as a reading list so that everyone might learn as much as possible about Cuba before leaving the United States.
The cost is $1922 per person, double occupancy ($93 extra for single). The package includes the direct flight from Miami to Havana, all tours, transportation and accomodations in Cuba and daily breakfasts. Participants have a choice of method of travel to Miami; the cost is not included.
For more information, please contact Lee Eliff Pound, alumni director. Alumni have first priority. Check for availability. Preliminary deadline is September 30.