Let us never forget
September 13, 2002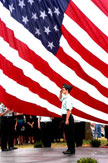 Some found it difficult to speak. Others let a tear fall. Emotion was everywhere--in the presentation of colors, in the mournful toll of the firefighters' bell, in the moment of silence, and in the Pledge of Allegiance during which someone in the audience loudly recited "under God."
Hundreds gathered in the Taylor Center for the Performing Arts on the Missouri Southern State College campus for a show of unity and to pay their respects to rescue workers everywhere, and especially to those who had lost their lives in the line of duty on September 11, 2001.
Kelly Wilson, Director of the Student Support Center, announced the procession of honored guests, followed by the presentation of colors led by representatives of the Veterans of Foreign Wars, the Joplin Police and Fire Departments and the emergency medical services. She also recounted briefly the sequence of events on that ill-fated day.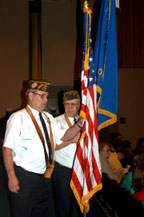 The VFW is part of the presentation of colors.
Capt. Gary Laws of the Salvation Army told the audience,"We should recognize the value of peace and freedom when we say the Pledge of Allegiance." The first to present a testimonial, Laws who had grown up in New York, was in the group of many faiths at Ground Zero who had come together to talk in their own way to God. He believes that people have been changed profoundly by the tragic events.
Alma Knapp said that she was proud to be part of the Red Cross of Ottawa County, Oklahoma and the 53,000 trained workers who serve as volunteers in the United States. She and 6 assistants were sent to New Jersey where they trained 3,000 volunteers to assist in rescue attempts. Some of these volunteers had the shocking experience of seeing the airplanes hit the World Trade Center buildings from a higher vantage point across the Hudson River in New Jersey.
"I didn't see Ground Zero until I returned to New York and the platform was put up," Ms. Knapp said. "There was nothing but a big hole in the ground. It must have been devastating to see what those folks must have gone through who worked there," she added.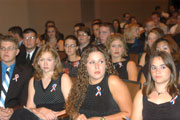 Members of the Missouri Southern Concert Chorale wait to sing United We Stand/

Flag of Freedom Memorial Service
Ceremonies were concluded on the oval where the Joplin High School ROTC under the guidance of Maj. Jim Osborn, Jr. held a Flag of Freedom before it was raised, then lowered to half staff while Rusty Raymond, band director and Aaron Scriven, student played Taps.
The flag was a gift donated by Donald and Denise Lee. (Our apologies for this mis-statement: the flag was a contribution by an anonymous donor; a smaller-sized flag was presented to MSSC by Donal (stet) and Denise Lee. See Forum comment below.--editor)
Also included in the ceremony was a performance on bagpipes of Amazing Grace by student John Magoffin and the Star Spangled Banner sung by the Missouri Southern Concert Chorale.
MSSC President, Dr. Julio S. León in a brief speech reminded the audience that the college represents a manifestation of the American spirit that saw the need for its founding. "You see the fruits all around you," he said, calling attention to the chorus singing and the traditions of honoring the past: the sitting wall which Joplin Jr. College constructed to honor those that gave their lives in World War II, the flags at the Webster Hall Plaza commemorating veterans and now the Flag of Freedom in the oval.
"We have learned what it truly is to be American. Let us never forget," he concluded.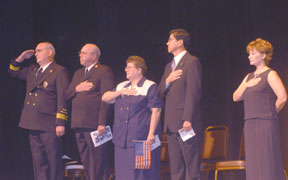 Memorial service participants recite Pledge of Allegiance. They are: Jim Austin, district fire chief; Gary Laws, Salvation Army captain; Alma Knapp, Ottawa County Red Cross member; Julio S. León, MSSC president; and Kelly Wilson, Student Support Center director.
Words of remembrance
Six easels lined the walk leading away from the oval. On them people left their thoughts. Here are some of the comments:
"Burned into minds of everyone. God bless America--we will do our part, we must."
"We will never forget our fallen brothers" --MSSC fire training
"It is not our job to forgive. That alone rests with God. It is our job to make an appointment."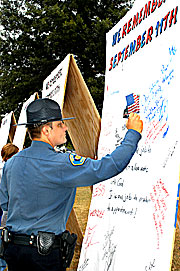 Jeremiah Woolverton of the Webb City Police Dept. leaves a message on a commemorative easel.

"GBA--We still remember. Do we have to go through this again?"
"We Americans will never forget the tragic event on Sept. 11th but let's not forget the events that lead to the terrorist attack."
"Tragedy comes in all forms. But that which does not tear us apart will make us ever stronger--our strength must as we come together in remembrance."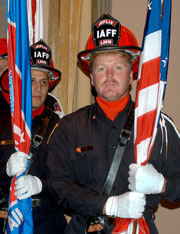 Taking part in the presentation of colors at the MSSC September 11th Memorial Service are these members of the International Association of Fire Fighters.

"They may diminish our monuments but never our people."
"As we use our 'buzzwords' and promise to 'never forget,' let us all remember what Americans take forgranted and what America did to deserve even retaliation. Self pity won't help America grow."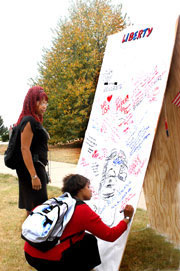 A student watches her friend sign a commemorative easel. Several hundred people left messages.

USA Rocks" --A.G. Williams
I offer my best for the USA...my son Josh serving in Kuwait" --Angie
God bless the USA and all of those who lost lives and loved ones...and a special thanks to all of the men and women who make it possible for us as Americans to be free."
"We are not individual Americans. We are America. We must stay united to stand for freedom."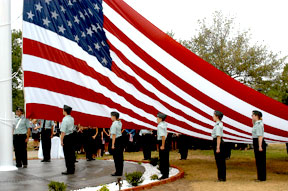 United we stand!