Security at JLN
November 12, 2002
I could have been a cause célèbre. A reporter from KSN-TV wanted to interview me while I was at the Joplin Airport with a friend who was catching a morning flight to St.Louis. A covey of workman were installing bullet-proof glass for an apparent re-configuration of the security checkpoint. She asked me whether I would comment about the new security measures.
Well, to tell you the truth, I get dumbfounded when I'm asked to speak without the safety net of a delete key. So, how exciting would I be? But, yes, I have opinions about target hardening and homeland security measures supported by President Bush. Of course, I just sat there. After she left, I said, darn. I shouldn't have been such a wimp.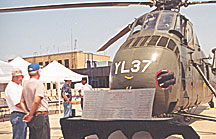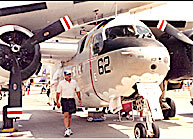 (Left) Men chat around a Sikorsky UH-34 marine helicopter at the summer 2002 Joplin Airfest. More than 25,000 people of all ages checked out a variety of aircraft on the ground as well as those performing in the air. Included in the show was an F-117 stealth bomber. At a cost of $6 billion, the aircraft, almost invisible to radar, made what may have been the first gear down pass at an airfest. (Right) A participant walks past a naval 1958 Grumman C-1A Trader. Airfests are notorious for creating security problems.
Is target hardening worth the price?
Target hardening (preventing opportunity and conducting aggressive security patrol), in my opinion is minimally effective, considering the cost of its implementation. For the fiscal year 2000, according to a report by the government, a total of $6.8 billion in appropriated funds were sought. Being able to detect explosives in luggage might do more to thwart our own psychopaths but is a laughable deterrent to terrorists whom we heard were bent on purchasing surface to air missiles, for instance, to shoot down passenger planes rather than make a continuing effort to board them.
Israel has found that target hardening alone is fruitless. Our borders are no more secure than theirs. Sadly, Israel cannot prevent suicide bombers; neither can we, no matter how much we spend on target hardening.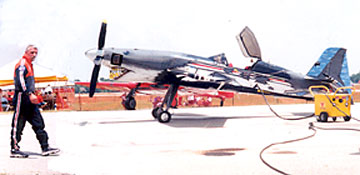 Dr. Ray Vetsch, a cardiac surgeon with Freeman Hearts, walks towards his Turbo Shark. Dr. Vetsch's aerobatics at the summer 2002 Joplin Airfest were introduced by son Shawn who described them to be "like surgery in the sky." Definitely a one of a kind experimental aircraft, the Turbo Shark with its Walter Jet Turbine, 740 horsepower engine, is the most powerful airplane in the world based on power per weight. With 2800 lbs. of thrust, it ascends at 7500 feet per minute and descends at 175-200 miles per hour. The only aircraft more powerful is the space shuttle.
TSA, security agency or job corps?
The Aviation and Transportation Security Act of November 2001 created the Transportation Security Administration (TSA), a distinct entity for two years within the Department of Homeland Security. The act shifted responsibility for the screening of air passengers and baggage from airlines to the federal government under the aupices of TSA (those starched white 'shirts' with TSA patches on their sleeves that outnumbered JLN passengers more than two to one), an agency responsible for security in aviation as well as other modes of transportation.
Let me digress to say that if the government's take-over of the screening process frees our only airline, a subsidiary of American, from financial responsibility for screening, and in some way convinces them to continue flying out of a less than profitable market, then I'm in favor of it. So far, I've convinced myself that paying more for a ticket is offset by the convenience and savings of local travel and easy free parking. But, how much more of a surcharge I'm willing to pay for my ticket possibly to subsidize the rather generous salaries (about $23,600-35,400 or $11-17 per hour) of the government workers is questionable.
I wish I knew how many people really were worried about poor screening at airports. Frankly, I've been more concerned about defective foreign-made airplane parts. Those nuts, bolts and gizmos that unexpectedly wear out. But, I digress again.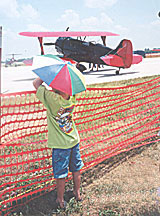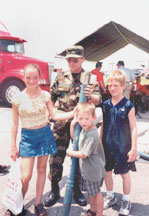 (Left) A boy with an umbrella to protect himself from the rays of the intense summer sun checks out the plane that waits on the runway for its pilot and turn to do stunts at the Joplin Airfest.
(Right) The Utleys of Webb City--Karissa, Mitchell and Schylar--have just been shown a weapons loader for an F-10 Thunderbolt by U.S. Air Force Tech Sgt. Ronnie J. Curtis. Both the air force and navy participated with ground exhibits.
More TSA patches than passengers
It was amusing to watch the six passengers de-plane and the four take their place, keeping in mind probably the tens of thousands of dollars being spent on their safety. Then it hit me. A dozen or so men re-building the enclosures had work! Multiply that number for every small airport in the country needing remodeling and an unlimited number more for the hubs. Add to that the target of 33,000 federal screeners and the modest figure of 70,000 suggested for running what is dubbed strategic human capital management, and one might see that President Bush is borrowing a page from a predecessor. If Franklin D. Roosevelt could mend an ailing economy by creating work for people and profits for companies, so could Bush.
Some interesting links:
Transportation Security Administration website