Death Revisited
December 08, 2002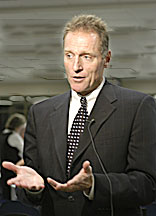 Intellectually we can commiserate with anyone who has experienced the death of a child. But, without firsthand knowledge we can't truly feel the anguish and grief. According to psychologists, parents who have lost a child, lose a part of themselves. They lose their future, since each child represents ongoing life.
A parent would do anything humanly possible to bring back his or her child's quality of life. But suppose that child were kept in a persistent vegetative state and one had to deal with a political bureaucracy and court system that challenged that child's right to die. And suppose this struggle raged for 7 years.
Most local people recognize this scenario. It represents the plight of the Cruzan family from Carterville in their legal attempts to remove the feeding tube that kept their daughter Nancy alive.
William H. Colby, the Kansas City lawyer who represented the Cruzan family, has written a compelling book about their struggles. Long Goodbye--The Deaths of Nancy Cruzan addresses the legal roadblocks that the family had to confront, but most importantly it tells the story of how valiantly they had to fight the bitter opposition brought by right-to-lifers--including the then Missouri governor, John Ashcroft--to what should have been a personal family matter. It is as much a story about the legal aspects of the issue as about the participants, including the father, Joe who took his life after unsuccessfully fighting a severe depression that showed the limitation of conventional medicine.
The accident
When and how one's life ends is controlled by a series of factors, whether from decisions made personally or by decisions made by others that impact on one's existence. On January 11, 1983 just after midnight, Colby details how paramedics altered the fate of Nancy Cruzan, a victim of a bad car wreck. Nancy, who had no pulse or breath sounds according to Sergeant Dale Penn, the highway patrolman who was first on the scene, lay motionless on the ground. By the time the paramedics arrived, she had been without oxygen for a significant period of time, a condition called anoxia. Yet, they chose to resuscitate her.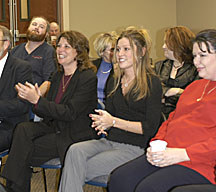 Chris Cruzan White with her daughters Miranda and Angie sit in the audience at the special Freeman Foundation presentation of William J. Colby's book which pays tribute to Nancy Cruzan, their sister and aunt. The family all experienced the drama of the courtroom battles as well as of Nancy's good-bye.
Without being able to access Nancy's quality of life, doctors at Freeman Hospital in Joplin worked to control Nancy's internal and external bleeding. Colby presents a vivid description of a helpless young woman whose EEG taken the morning she arrived at Freeman showed a "nearly flat background":
Nancy had no ability to take medicine, eat or drink, Colby states. She was administered fluids intravenously until her neurosurgeon, Dr. Hish Mazoub said Nancy needed the insertion of a feeding tube, called a gastrostomy tube, directly into her stomach. Signed consent forms for the procedure were required.
Colby quotes Joe as saying, I had no idea I was signing away anybody's rights that day. I would have signed anything. We were just waiting for Nancy to wake up.
Admittance in public hosptial
The author describes Nancy's unsuccessful rehab at Brady, home care followed by a brief stay at a Joplin nursing home where Nancy developed a fever of 107, and then her stay at Jane Chinn Hospital in Webb City where she remained for a month until a doctor there suggested the family guardians admit her to the state hospital in Mount Vernon, later referred to as MRC.
After agonizing visits to Mount Vernon to see Nancy during the more than 2 1/2 years since the accident, Nancy's father earnestly began to read about brain injury and its rehabilitation. Colby writes that Joe came upon an article that described a kind of coma where the patient's eyes moved; they grunted, drooled, and sometimes even moved stiff, crooked limbs; but they never responded in a conscious way. The article, which Joe believed described Nancy "to a tee," called the condition the "persistent vegetative state."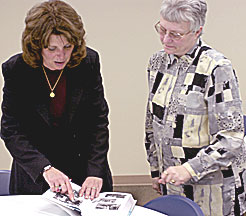 Chris Cruzan White discusses a picture in William Colby's book with a spectator at the special book reading event held November 25th at the Freeman Business Center and hosted by the Freeman Foundation.
With the family concluding that Nancy would want to be set free, Colby recounts sister Chris's description of the decision that each family member had reached:
"There's no doubt ...that if we could call her up and ask, 'Nancy, what do you want?' She would say, "Look, I realize it's hard on everyone else, but let me go. I've got other things to do, and I've got other places to go--so turn me loose."
At the time nobody could realize how difficult that would be. Don Lamkin, the MRC director, and most of the nurses tending Nancy were morally opposed to the Cruzans' decision. Lamkin submitted the Cruzan request to his supervisor. Colby reports that the response from Jefferson City from Robert R. Northcutt, General Counsel of the department of health, was swift and pessimistic. In essence they would not consider removal of the feeding apparatus without a specific order of the Courts of Missouri.
Colby works pro bono
Colby had his work cut out for him when he was handed the pro bono case in the spring of 1987. (Law firms must take on 50 hours of free legal work for those who can't afford a lawyer.) A novice lawyer working for Shook, Hardy & Bacon, Colby had demonstrated his intelligence during the five short years since he graduated from the law school at the University of Kansas.
But he admitted to having little courtroom experience. "I had to learn a lot--about law, medicine, the people involved, the politics--and about death itself," Colby writes. One of the cases he studied was that of Karen Ann Quinlan whose parents won the right in a New Jersey court to turn off her respirator but not to remove her tube for artificial feeding. She lay in a "persistent vegetative state," eventually dying of pneumonia ten years later.
With the Cruzans' decision now a public matter, there was no chance that they could remove Nancy's feeding tube on their own without being prosecuted for murder. A favorable court order was the only avenue left to them and was the advice Judge Charles E. Teel of the Carthage probate court gave Colby over lunch one day. I also believe that you need to name the state of Missouri and the state hospital as defendants so that we have all parties before the court, the judge told Colby. I've talked with General Webster's office (referring to Missouri Attorney General Bill Webster)...and I don't think that they'll be an impediment to you in this trial, Judge Teel reportedly also said.
Probate trial becomes emotional
Unfortunately, what began as a "friendly lawsuit" turned into a political drama with heavy pro-life sentiment trying to influence legal decisions. Besides showing how the day to day concern over court date scheduling and waiting for judicial decisions took its toll on the family, Colby also describes how the testimony from both nurses and doctors insisting that Nancy was not in a persistent vegetative state contributed. During the emotional three-day trial in Judge Teel's courtroom, state's key witness, Dr. James Dexter of the Missouri Medical Center in Columbia, even changed his testimony under oath to support the argument that Nancy was capable of response, according to Colby's documentation.
Reading between the lines, the language of Judge Teel's decision which directed the Respondents, employees of the state of Missouri, to follow the request by Nancy's co-guardians to withdraw nutrition or hydration, seem to deliberately open up the possibility for appeal. Colby writes that the judge thought he was making a decision that would end his career but later tells the reader:
...five days before he planned to issue his 'Cruzan' opinion, Judge Teel had walked across the courthouse lawn to find Thad McCanse (one of the ad litem lawyers appointed in the case to protect Nancy's best interests). As the two men stood on the sidewalk outside McCanse's office, the judge made an unusual request--he wanted McCanse to appeal the judge's decision in 'Cruzan,' regardless of the outcome, on the day it came out. And Judge Teel wanted the case appealed directly to the Missouri Supreme Court, bypassing the Missouri Court of Appeals.
Missouri Supreme Court favors pro-life
After detailing testimony from both parties involved, Colby describes the Missouri Supreme Court's 82-page document containing the ruling, a 4-3 decision authored by Judge Edward "Chip" Robertson, who had been appointed to the court by Governor Ashcroft. Robertson's summation was that Missouri law provided no basis for Nancy's parents, as guardians, to choose her death.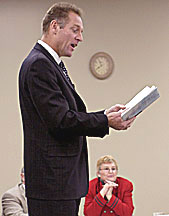 Lawyer/author, William Colby reads a passage about Joe Cruzan from his book. He conveys how steadfast Joe is in seeking to remove the artificial feeding from his daughter, Nancy. Joe had admitted that Nancy had been his favorite.
Colby mentions that Joe Cruzan had brought to the attention of Gov. Ashcroft the glaring contradiction in preserving life, however severely diminished, while advocating capital punishment as in the case of George Mercer who was on death row. Ashcroft's response, which Colby quotes maintains that "life is precious and worthy of preservation without regard to its quality," but yet he does not address the capital punishment contradiction.
Chief Justice Renquist's opinion
Colby describes how months of agonized waiting for the acceptance of an appeal filed with the United States Supreme Court later was coupled with waiting for the eventual decision handed down by the chief justices--a 5-4 decision against the Cruzans. The opinion of Chief Justice Renquist was:
"An erroneous decision not to terminate [life support] results in a maintenance of the status quo; the possibility of subsequent developments such as advancements in medical science, the discovery of new evidence regarding the patient's intent, changes in the law, or simply the unexpected death of the patient despite the administration of life-sustaining treatment at least create the potential that a wrong decision will eventually be corrected or its impact mitigated."
Colby writes that he focused on the key phrase: "discovery of new evidence regarding the patient's intent," the meaning of which opened up the way for a new trial in Missouri. By this time public opinion favored the Cruzans. Webster's decision to remove the State of Missouri from the case was called a 'political move' by McCanse and then later by Lamkin whom Colby quotes as saying, "Bill Webster pulled some strings and got the state out of the case. I think he was afraid it would cost him votes since he was getting ready to run for governor." With his decision was the assurance that the MRC would carry out the order of the probate court if necessary.
Judge Teel sets Nancy free
Colby further details how with the help of testimony from new witnesses that strengthened the position that Nancy would not have wanted to persist in a vegetative state and with the supporting testimony of her treating doctor who now spoke in favor of stopping the gastrostomy feeding, Judge Teel once more found in favor of the Cruzans.
Removal of the tube was not without drama. Colby tells readers how Governor Ashcroft was thwarted in his attempt to order its re-insertion. The press was in a feeding frenzy. And right to life groups from all over the country camped out on the steps of MRC with a few members attempting to storm Nancy's room to re-insert the tube. With this happening around them, the Cruzans waited for Nancy to be at peace. And so it finally came to pass, about 2:30 a.m. on December 26, 1990.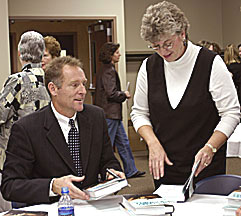 William Colby autographs copies of his book.
Colby's aim in writing the book, he says, not only was to preserve the Cruzans' story in one place, on the printed page, but also to bring to the readers' attention questions that the Cruzans faced...that in time, one way or another, will visit us all.
At the book signing held at the Business Center of Freeman Hospital on November 25, 2002, Colby warned the audience that not only was a living will or health care directive necessary but also those writing them need to make very clear their wishes and attest to the qualifications of the person or persons designated to act in their behalf.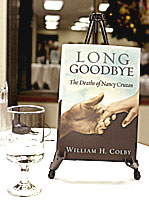 William H. Colby's book published by Hay House, Inc. is available at local bookstores or on the internet. For a full description of the Supreme Court decision as well as the dissenting opinion, go to Cruzan, by her parents and co-guardians v. directory, Missouri Dept. of Health. To learn more about the work of the Cruzan Foundation, contact Chris Cruzan White, one of Nancy's sisters.