Drink, drive, be stupid
December 20, 2002
Standing on the corner of Fifth and Joplin streets in Joplin's "bar district" at 1:30 a.m., a girl in the group admitted being a minor to a passing motorist who had solicited her. Lack of parental supervision leaves kids to their own devices.

You Drink & Drive. You Lose will be the longest ever campaign beginning over the holidays to crackdown against drunk and drugged driving. Launched by the U.S. Department of Transportation's National Highway Traffic Safety Administration (NHTSA), the campaign will support thousands of law enforcement officers in their efforts to conduct sobriety checkpoints and saturation patrols in all 50 states, the District of Columbia and Puerto Rico in protecting citizens from a crime that might be deadly.
Impaired drivers represent one of our nation's greatest threats, said NHTSA Administrator Jeffrey W. Runge, M.D. There are nearly one billion drinking and driving trips annually which kill more than 45 people every day. This crime will not be tolerated. Today marks the beginning of a yearlong effort focused on what we know presents impaired driving--highly visible detection, arrest and prosecution.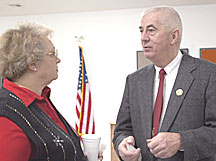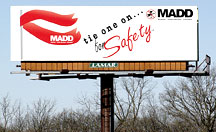 (L), Andrea Richardson, wife of Webb City Police Chief Don Richardson and active MADD supporter, discusses drunk driving issues with Jim Murray, Detective with the Diamond Police Dept. (R), A billboard is shown which promotes Tie One On for Safety, a red ribbon campaign sponsored by MADD to promote public awareness. Ribbon and window decals are being distributed by MADD chapters and GM-Saturn dealers as a reminder or pledge to drive safely and soberly. Kelly Ripa, nationally known TV star is this year's national campaign chairperson. Ripa's pregnant sister Linda's car was hit by a drunk driver in 1999 when the impaired driver ran a red light doing 80 mph. Linda was severely injured.
Although the total number of motor vehicle crashes declined in Missouri during NHTSA's last reporting period, the state was not exempt from statistics that showed that drunk drivers are responsible for a larger share of the fatal accidents. In Jasper County, out of 24 fatalities, 8 were alcohol-related. In Newton County with a total of 15 fatalities, 4 were alcohol-related. Within the state, 48% of the reported 1,058 deaths were attributed to alcohol based on a report recently issued by the Department of Transportation's State Alcohol Fatality Reports. Missouri leads the 4-state area in percentages attributable to these deaths, outdistancing Kansas and Oklahoma by 9% and Arkansas by 16%.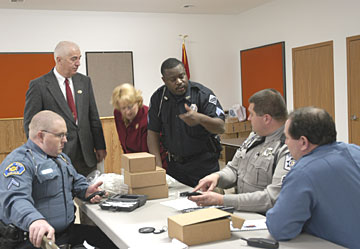 Aaron Richardson, Captain, Jasper County Sheriff's Dept., demonstates the new pocket-sized portable breath testers (PBTs) donated by MADD to seven area police departments. Carl Junction was awarded two for its efforts in creating sobriety checkpoints. Because of the advanced technology in the new PBTs, the blood alcohol count (BAC) reading now may be added to evidence presented to the court. To Richardson's left are: Rusty Rives (Webb City), Jim Murray (Diamond), and Doyle L. Shields (Seneca). On the right is Tommy Kitch (Carterville). The remaining departments were Duquesne and Carthage.
Missouri law enforcement has its work cut out for itself if it expects to cut down the number of drunks on the road and save lives in the process. According to 2001 statistics filed by the Department of Public Safety Missouri State Highway Patrol in the 2002 edition of their traffic crashes report, in known cases 25.2 out of every 100 fatal accidents involved drinking. In all Newton County had 77 reported drinking-involved crashes in 2001, while Jasper County reported 175 such crashes with Joplin contributing 78 of them.
Missouri received a "C-" grade last November in the Rating the States 2002 report card issued by the Mothers Against Drunk Driving (MADD) and the GuideOne Foundation, less than the grade of "B-" it received in 1998. Most discouraging was its rating of "F" for underage drinking prevention. 60% of each state's overall grade was based on its alcohol-related fatality trend and priority drunk driving laws. The other 40% was based in part on legal and administrative measures and criminal sanctions, underage drinking prevention, and victim issues, according to a press release from MADD.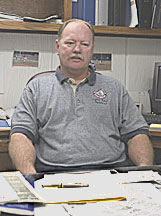 Lieutenant Delmar Haase, acting as liaison between the Joplin Police Dept. and the public, comments on the subject of drinking and driving in an interview by THE JOPLIN INDEPENDENT on December 12th.
Well aware of Missouri's meager rating by MADD, Delmar Haase, spokesperson for the Joplin Police Department, said, "We do better than that. We take driving while under the influence very seriously."
"There's no way to justify driving under the influence of intoxicants," Haase said, adding that he encourages calls from citizens who may have spotted someone driving erratically. "It's the day of cell phones--use them."
While he's not against the practice of drinking entirely, Haase believes that holiday drinkers can take certain precautions like designating a non-drinking driver, taking advantage of a free cab service or booking a room. The reason why Thanksgiving has more alcohol-related problems is because drinkers then do not take the same precautions as they do on New Year's Eve. If they practice that procedure year round, they will cut the problem way down, he said.
Several stings that caught establishments selling alcohol directly to minors demonstrated the JPD's commitment to eliminating the problem. Haas also applauds Tony Coleman of Jasper County and Talmadge Clubbs of Newton County, who with the endorsement of the Newton/Jasper County MADD, are fighting for keg legislation that would deter supplying alcohol to minors and also make it easier to prove liability in civil cases.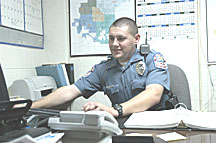 Patrolman Gary McKinney refers to his computer in answer to the request for the exact wording of Joplin laws distinguishing driving under the influence (DUI), a drugs only designation, from driving while intoxicated (DWI). While Missouri law uses "DWI" to refer to both drugs and alcohol, Kansas law uses "DUI" as its alcohol/drugs designation, McKinney pointed out.
The major complaint of bar owners is "not to stop cars because they are leaving the bars," mentioned Gary McKinney, a police officer with the Joplin Traffic Division. "We'd rather instill a legitimate fear of driving drunk in the first place," McKinney said.
But often that tactic doesn't work. It is important that the officer use "reasonable suspicion" in making contact with a driver, observe vehicle cues for impairment--is it weaving?--and have enough evidence for a stop, McKinney noted. After personal contact with a driver suggests impairment, McKinney explained, the driver is asked to exit the vehicle for sobriety testing, which includes the horizontal gaze nystagmus test (HGN), where rapid involuntary jerking of the eye is a clue to over the limit drinking. Combined with a walk and turn and a one leg stand, the HGN is 85% effective in detecting impairment, McKinney said.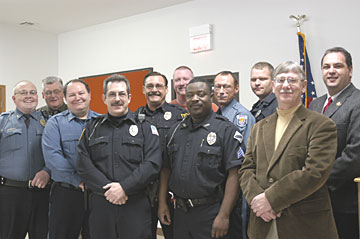 Representatives from the 7 police departments given portable Breathalizers by the local MADD chapter are shown. Easier to read and more reliable, the Breathalyzers represent a $3200 donation. Standing, L-R, are: Rusty Rives (Webb City), Don Richardson (Webb City), Tommy Kitch (Carterville), James Basinger (Duquesne), Ron Huffman (Duquesne), Scott Harrison (Duquesne), Doyle L. Shields (Seneca), James Harrison (Diamond), Scott Hollingshead (Carl Junction), Dennis Veach (Carthage) and John J. Hofer (Carl Junction). The presentation took place at Duquesne Police Headquarters at 1501 S. Duquesne Rd. on December 16th.
An implied consent law mandates that all drivers under suspicion take a preliminary breath test (PBT); refusal to take the test results in revocation of their drivers'licenses for one year. McKinney stressed that field testing was not evidentiary, and that further breath, blood, urine and saliva tests were needed to build a case.
Getting an arrest is one battle--even with a well trained officer, getting a conviction is another. Of course, one of the most difficult challenges before the courts is to find the right combination of sanctions to reduce the alarming recidivism rate in this country. In 2001, according to the NHTSA report, 1461 fatalities occurred in crashes involving alcohol-impaired or intoxicated drivers who had at least one previous DWI conviction.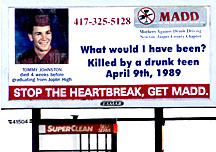 Billboards like this one for Tommy Johnston may be found around town to remind drivers of the severe consequences of drinking and driving. Tommy was hit by a drunk driver in April 1989, just four days before his 18th birthday.
And there's the problem of getting the court conviction in the first place. Too many times DUI/DWI convictions are bargained down to "defective equipment" charges. "We have to hone in on this, nicely remind them that they are not to do that," Judy Johnston said. Mrs. Johnston and her husband Tom, who lost their son Tommy four days before his 18th birthday and about a month before he would have graduated from Joplin High School, are very pro-active in reducing the number of drunk drivers on our roads. Both, members of the local chapter of MADD, support the efforts of Dick Godsey, a victims' advocate in the Jasper County Prosecutor's Office, in his efforts to get an "DWI/DUI docket." Having all cases scheduled at the same time would greatly aid MADD's efforts in monitoring the court, Mrs. Johnson said.
A judge has many options in sentencing a convicted drunk driver. In 18 years since their inception, MADD has helped make victim impact panels a mandated part of the judicial system. The panel is a forum that allows drunk-driving offenders to come face to face with those who have lost loved ones or who themselves were the victims. However, according to the Sanction Issues Compendium published by MADD in March 2002, the panel does not work for chronic offenders but primarily for first time male offenders, 35 or older.
Take, for instance, the elderly gentleman in the audience of the December 14th panel in the Criminal Justice Auditorium of Missouri Southern State College. He griped about being caught with a .09 blood alcohol count (BAC), thinking that 1.01 was the standard for drunkenness. He lost his Mazerati, he told Jane Murray, co-ordinator for the panel. Mrs. Murray replied, all too calmly, "Well, I lost my son."
Most of the 100 or so attendees at the panel that day weren't so callous after hearing how Becky Greene of Neosho described her injuries and long, costly rehabilation after being hit by a man driving under the influence of alcohol at 67 mph in a 25 mph zone, and how Ellen Lawrence told how her grandson had died immediately and how his mother had to have a mask to be presentable at her funeral because no one stopped a second-time offender from hitting their car at 80 mph. Then Mrs. Murray held up the mangled bike her son Jamie, 20, had been riding. Jamie, Mrs. Murray told the audience, had been hit by a 26 yr. old woman who had been drinking, putting him in a deep coma for four months and turning a 20 year old who had graduated with honors into someone who'll never be independent again.
What you can do?
1. Tie a MADD ribbon on your vehicle as a symbol of your commitment to drive safe & sober.
2. Always designate a non-drinking driver if your outing involves alcohol.
3. Be a responsible party host. Never serve alcohol to those under 21 and provide alternate transportation or accommodations for guests who have had one too many drinks.
4. As a non-convicted violator, attend a Victim Impact Panel. They are held the second Saturday of the month from 2:00-5:00 p.m. at Mills Anderson Justice Center Auditorium on the campus of Missouri Southern State College, Joplin.
For a victim's commentary, click here.