Boys and their toys
February 01, 2003
The boys showed off their toys. But more than just a hobby, the cars, trucks and cycles represented a glimpse down memory lane for the folks that attended the 17th Annual Street Dreams Rod and Custom Car Show held at the Hammons Trade Center in Joplin the weekend of January 31-February 2, 2003.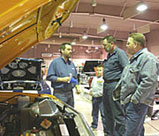 (Left) Bob Cook, (shown left), owner and co-ordinator of the 17th Annual Street Dreams Rod and Custom Car Show held annually in Joplin, chats with spectator Ray Smith of Goodman. Smith, who considers himself a "dyed in the wool Chevy man," is the owner of a 1964 Chevy Impala, that he uses as his every day driving machine.
(Right) Standing around Bruce Stockton's '71 Chevy PU are Al Schoenwetter of Springfield, car show chairman; Chad Stockton who is the 9 year old son of Bruce; Jerry Wimbish and Bruce Stockton, both of Joplin.
"These are the nicest cars we've ever had," remarked Bob Cook, owner of the show. The Peck, Kansas resident has run the show for the past 15 years. He had managed similar shows in Springfield (MO), Little Rock, and Topeka, but gave them up to concentrate his efforts in Joplin.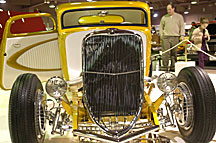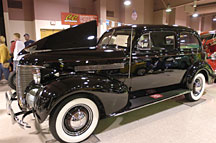 (Left) Featured on the cover of Street Rodder, is this 1933 Ford Coupe shown here and owned by Gary and Michele Houck of Neosho. Dubbed the Screamin' Kat, it is the creation of Rick Dore and Baywood Motor Sports. (Right) Harold Duke of Carthage is the proud owner of this 1939 Chevy Master 85.
"These cars weren't built in months but in years," Cook said. Many original vehicles, kept in pristine condition, were passed down from one generation to the next. For instance, "the 1925 lumber truck is still in the same family," Cook noted.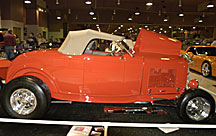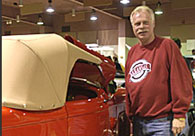 This 1932 Ford Highboy Roadster built by C&V Restorations of Webb City has taken many honors including Best of Show and first place in two 2002 Route 66 Car Shows. Owned by Chuck Webb, a retired vice-president of Wal-mart, this prize vehicle has a value of about $65,000. With his wife Cindy, Webb travels around showing several vehicles that he owns.
The show attracts exhibitors who travel all over the country to show off their prize vehicles. "Many high caliber cars have been award winners," Cook pointed out. "They should open the jar in amazement even if they aren't seen by car buffs."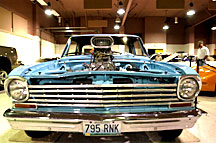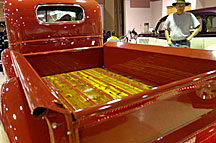 (Left) Cleetus Pattyson of Joplin is the owner of this Supercharged 1962 Chevy II shown without its special hood. Historically, with its big motor, Chevys became THE car at drag strips and the love of guys emulating national champions. (Right) The wood inlay in this 1941 Chevrolet PU is highly varnished cedar. The truck is owned by Darryl Scribner of Diamond.
But Cook, who used to show his own cars and once even owned a Winston Cup car, has become discouraged. Whether due to falling attendance or to personal considerations, Cook thinks he might run the show just one more year.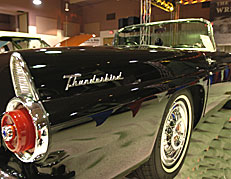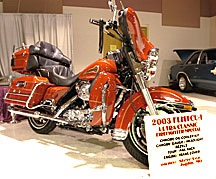 Highly buffed and catching the glimmer of the Hammon Trade Center's lights is this 1955 Ford Thunderbird 2-seater convertible, owned by Steve Lea of Joplin. The cycle on the right is Lea's ultra classic firefighter special, equipped with a chrome oil cooler kit, chrome gauge/headlight bezels, a tour pak rack, and special engine/transmission cover. Lea also brought his 1959 red Ford Thunderbird early hardtop.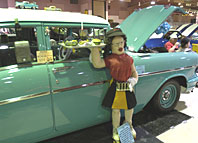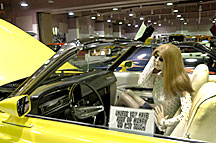 Call it pure whimsy, call it nostalgia, but these two exhibitors brought smiles to the faces of many in the crowd. (Left) The "carhop" with a tray containing a hotdog and all the trimmings is standing next to a 1957 Chevy Z10 owned by Ron and Fae Moser of Iantha, MO. (Right) Pictured is a restored yellow Ford Torino convertible owned by Fredy Akers of Fairland, OK. It comes complete with a "girlfriend" and a sign that essentially says unless you can afford me, hands off.
-----advertisement----
---
Check here for a great buy on a rare XR-7 convertible.
---