Joplin woman is Fear Factor contestant
February 04, 2003
Supporters of Mandy Chester had to be nothing less than excited when the vivacious blonde from Joplin solidly outdid her opponents in the first two rounds of the February 4, 2003 airing of
Fear Factor.
The NBC reality show pitted six females against each other to vie for a prize of $50,000.
The first stunt involved stepping along four sides of a moving girder suspended high above water in order to reach a rope, shimmy down and grab a flag. The difficulty of maintaining balance sent two of the 6 contestants into the water below. Chester's time of one minute, 17 seconds led the pack.
It took Chester only 15 seconds to transfer 6 electric eels from one side of a water-filled tank to the other, a feat she performed in the second round in half the time of her closest competitor.
On a roll, Chester entered the final round with obvious confidence, and when asked what she would do with the prize money, she said that she would give half to her parents, pay for her son's college and save the rest for herself.
The final stunt involved straddling a barrel that was suspended on a cable from a helicopter. The object was to remain on the barrel the longest, similar to riding a mechanical bull.
Chester was dubbed the "dark horse, country girl from nowhere" by Erin Matteson, a bartender from Naperville, IL who had reached the final round with a girder time of 2 minutes, 52 seconds and an eel moving time of 40 seconds.
Just four seconds shy of Matteson's winning time of 32 seconds, Chester let the barrel slip from her grip and consequently the $50,000.
When Chester was asked what advantage Matteson may have had in the stunt, Chester said that her opponent's long legs were able to grab onto the barrel supports more effectively. Matteson was slightly over 6 feet tall.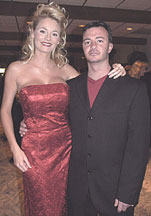 Mandy Chester is shown with her fiancé, Tyson Garvin at the 6th Annual Children's Center Valentine Gala held February 8, 2003 at Twin Hills Country Club in Joplin, MO.