Children's Center Gala draws crowd
February 09, 2003
A large crowd assembled at Twin Hills Country Club, Joplin to show support for the Children's Center of Southwest Missouri. The occasion, held February 8, 2003, was the center's 6th Annual Valentine Gala, an evening of dining, dancing and fellowship.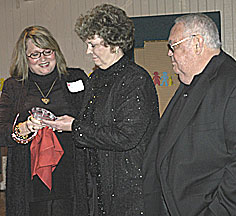 Seen receiving the Phil Garvin Award at the 6th Annual Children's Center Valentine Gala from Janet Garvin is Brenda Henry, while her husband Jack stands by her side.
A special event of the evening was the presentation of an award to Brenda Henry for her contribution, with the support of her husband Jack, in making the Monett Satellite Children's Center self-sufficient. The Phil Garvin Award was presented to Mrs. Henry by Janet Garvin in honor and memory of her husband.
Mrs. Henry also is active in the Jolly Mill Heart Fund, the Ronald McDonald House of Springfield and she supports an orphanage in Guatemala. Her husband, John W. Henry is vice chairman and director of Jack Henry & Associates, a company he founded in 1977. The couple has 3 grown children and 7 grandchildren.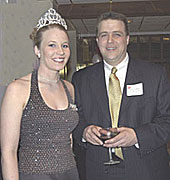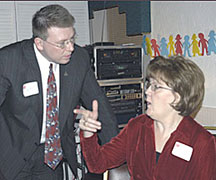 (Left) Carrie Lea Neet, the 2003 Miss Kansas Volunteer America, assisted at the gala. She is conferring with Ken Williams, gala committee co-chairman and Vice-president of the Board of the Children's Center.
(Right) Greg Dagnan, Executive Director of the Children's Center, makes sure everything is running smoothly by checking with Kathi Olson, Assistant Executive Director.
635 multi-colored cut-outs of children decorated the walls of the dining room. They represented the number of abused children, who with their families in 2002, the center helped by providing forensic interviewing, medical exams, advocacy and therapy. 2000 children have passed through the center's doors since it opened in 1997. The facility, that expanded from 960 ft. to 5,460 sq. ft. in 1999, is located at 932 East 34th St. in Joplin.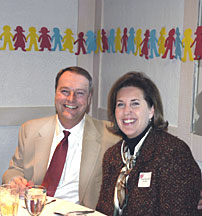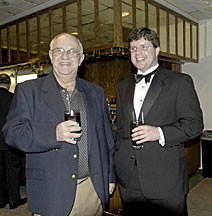 (Left) Carl McConnell, president of the First State Bank, and his wife, Sarah, who was a member of the Valentine gala committee, are shown sitting in front of a section of colored paper cut-outs of children. The 635 cut-outs, that wound around the room, each represented a child served by the Children's Center in 2002. (Right) Gary Hall, a Joplin distributor, and Dr. Michael Phillips, a cardiac surgeon, converse.
When Greg Dagnan took the podium, he told the crowd about "Michael," a 5 week old youngster who was brought to the center. All babies get special treatment at the center, Dagnan said, kissing, hugging...like that,... with Michael we found something "worrisome." He was too young to tell his story, and, so, we launched a thorough investigation. Michael was the youngest sexual abuse youngster to come to the Children's Center.
A stand-alone non-profit, the Children's Center provides services to children and their families free of charge. Like other agencies that depend on part of their budget from dwindling government grants, the Children's Center now is facing a shortfall that they hope to make up through the generosity of local citizens, such as those who were paid guests at the gala. A donation of $600 pays the cost for providing services for a single child.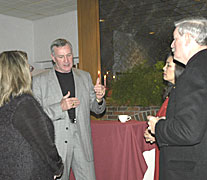 (Left)Congressman Steve Hunter, Missouri representative from the 127th district, finds a captive audience. Pictured to the right is his wife, Rita. Newly elected representive from the 129th district, Ron Richard also attended the gala with his wife, Patty.
(Right) Joining in pre-dinner conversation are Scott Lacey, Mandy Chester, and Deana Herr.
Larry Glaze, an artist from Carthage, donated a bronze statue of an "antlered" eagle. Proceeds from its sale on Ebay contributed $2500.00 to the Valentine Gala proceeds. Silent auction items, that included a pair of 14K gold diamond earrings donated by Debbie Abernathy, as well as cash donations, were contributed by numerous other local private individuals, merchants and organizations.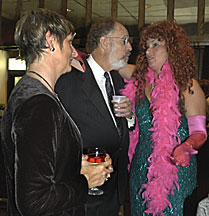 A Queen Tammy from "The Big Woo" flirts with Dr. Richard Barlet while his wife, Pam looks on.
Circulating among the crowd were members of "The Big Woo." An official local chapter of the Sweet Potato Queens, "The Big Woo" includes followers of Jill Connor Browne, southern comedic author. Dressed in glitz and glamour, these fun-loving, fiery ladies, who served in a volunteer capacity, strolled around hawking raffle tickets for a camping package, a spa package, and a travel package that included a 1-week stay at a beach-front condo on Marco Island together with airfare and incidentals and was valued at over $2,000.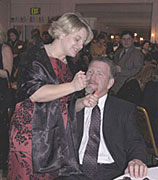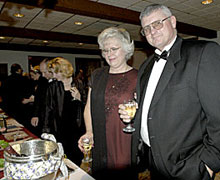 (Left) Pat Tuttle's wife checks out her raffle ticket, hoping to win the trip. After a long silence and a moan from the crowd, a Queen Tammy came forward with the winning ticket.
Right) Beverly Oakes and Sid Davis, owner of the Diamond Grove Ranch in Newton County, make their silent auction selections.
Coupe de Ville, an old time rock 'n roll band from Columbus, KS provided the music for dancing.
The Valentine Gala Committee was chaired by Christie Hunt and Ken Williams. Members included: Sharon Benford, C.B. Eastman, Trisha Dixon, Janet Garvin, Larry Glaze, Jenny Mansfield, Sarah McConnell and Yvonne Weeks.
Leaders take time out from the gala events for a brief meeting. Pictured from left to right are: Greg Dagnan, Executive Director of the Children's Center of Southwest Missouri; Mike McCleary, child advocate in Monett; and Steve Hemphill, Co-chairman of the Board of the Children's Center of Monett, board member of the Children's Center of Southwest Missouri, and former Barry County prosecutor.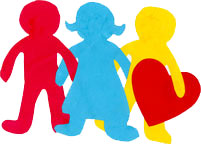 The Children's Center

still needs to make-up a budget shortfall of almost $50,000 for next year. Please help support this worthy cause by sending a donation. Checks should be made out to The Children's Center of SW MO and mailed to Suite A, 921 E. 34th St., Joplin, MO 64804.