V-day parodied
February 13, 2003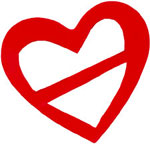 Twenty-three judges from the United States, Canada and Australia have rendered their decision. Will Hageman of Saint Paul, Minnesota has been named the winner of the first If I Only Had a V" Songwriting Contest, according to Jack Kammer, author of the book, If Men Have All the Power How Come Women Make the Rules.
"The contest was held to poke some richly deserved fun at the effort of certain women to convert Valentine's Day into V-Day," said Kammer. Sponsored by Ruly Mob Publishing that promotes organizations and media that focus on how sex discrimination affects men and boys, the contest offered a $100 prize to the man who could produce the best response.
V-day, or Vagina/Violence-Against-Women Day, was the brainchild of playwright Eve Ensler, whose work The Vagina Monologues has appeared Off Broadway in New York City. Other notable supporters have included Jane Fonda, Rosie Perez, and Calista Flockhart.
"Since these women wanted to replace Valentine hearts with vaginas, contest organizers wanted to see who could come up with the best parody of the Tin Man's Song If I Only Had a Heart in the Wizard of Oz, Kammer said. "The entries humorously describe how a man's life might be happier if he only had a vagina."
Judging criteria, Kammer said, focused on the effectiveness in satirizing the ideas that women in western societies are always virtuous, never committing violence themselves, and are oppressed.
The winning entry
This is Hageman's winning entry, "If I Only Had a V"
(sung to the tune of "If I Only Had a Heart")
As a man, I have the power

The priv'lege, and the dollars

Or so they say to me

But the proof now is certain

I would be a better person

If I only had a V.

I'd be kinder, I'd be gentler,

I'd live in peace with nature

I wouldn't harm a flea.

If my spouse I've been hittin'

I could say that I'm the victim

If I only had a V.

With a V, then I would be

Oppressed as one can be

I would fight to free us all

After I shop

At the mall.

I could seek my independence,

Ask for spousal maint'nance,

And get my lunch for free.

I could be all I can be

But I'd never be a draftee

If I only had a V.
What's really behind V-day
V-day, whose intent is to call attention to world-wide violence against women and girls, so far has raised $14 million in funding for thousands of grassroots groups around the world, according to an article on the v-day.org website. Ensler is especially interested in putting an end to problems in Juarez, Mexico where she speculates that 300 women have been killed over the last decade through rape and abuse.
Missouri Southern State College has taken part in V-day activities by presenting "The Vagina Monologues" early in February at the Bud Walton Theater. Tegan Whited directed three performances, the proceeds from which benefitted the Women's Outreach Council.
Is mutual understanding a pipe dream?
The battle of the sexes has raged for generations. However, there appear to be serious issues on both sides that should be resolved through mutual understanding. That empowered men throughout history have oppressed women, to say the least, cannot be denied. But does that mean that all men deserve to be emasculated by today's self-professed feminists? As an independent thinker, Magdalena Morrigan says:
I am the mother of three sons and a daughter... I want my sons to know that their nagging feeling of unfairness is justified and my daughter to know that while I love her I will not cripple her with the belief that she is more than human.