Cowboy poetry and good cookin' are crowd-pleasers
March 30, 2003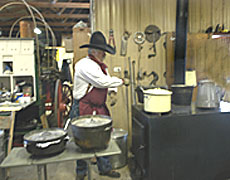 Don Collop of Mexico, MO, poet and chuck wagon cook, sets down a cast-iron kettle with vittles that he heated outside for guests who came to support the scholarship fund raiser of the Missouri Cowboy Poets Association. Pictured, to the left, is the chuck wagon of Dennis and Donna Williams, hosts of the event.

Slightly west on Route 60 past the 71 interchange in Neosho is a road to the south. If you miss the chuck wagon sign, you miss the turn-off, a short road that leads to the property of Dennis and Donna Williams.
Here gathered a large group of cowboys and friends for some authentic ranch house grub and lots of jawin' about old times. The occasion on March 29, 2003 also marked the annual meeting and scholarship fund-raiser of the Missouri Cowboy Poets Association (MCPA).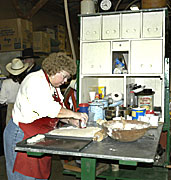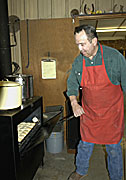 (Left) Donna Williams cuts the dough that she has just rolled out for more biscuits, while (right) husband Dennis inspects the biscuits that are baking. The Williamses were hosts to over 100 folks attending the annual meeting of the Missouri Cowboy Poets Association.
Everyone patiently sat around while the "chuck wagon crew" attended to the cooking. Dubbed "cowboy cuisine" by the Williamses, the main dishes were being prepared in cast iron Dutch ovens over an open fire outside while bisquits were baking inside in a large cast iron stove. Williams occasionally threw in an old oak plank to keep the stove blazing hot.
Besides the chicken, kidney beans and cherry cobbler, the corn casserole seemed to be the crowd-pleaser. Williams said he prepares it with corn, crackers, eggs, green chilies and cheese, but he didn't say in what quantity, keeping admirers hovering around for more. Regarding his cooking, Williams commented, "I haven't lost anybody yet."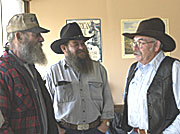 (Left) D.J. Fry of Oronogo, pictured right, chats with two acquaintances before supper is served. Fry is a major member of the MCPA. (Right) Sally Tipsword, fiancè of Mike Williams, helps out by stacking up biscuits from a baking tray.
Occasionally, someone would stroll by to pour a cup of joe from the super-sized enamel coffee pot that sat upon the stove. Others were taking advantage of the opportunity to make new acquaintances, talk about the latest grain prices, or to reminisce.
Jim Smith of Joplin, who sat closest to the stove, claimed to have the heartiest appetite. A registered member of the Cherokee Nation of Oklahoma, Smith told those seated at his table how he got his tribal nickname. He is Nunne-Hi-Soguila, or "Spirit of the Horse," but a tribesman thought that "Two Spoons" was a more appropriate name for him. I was presented with a tee shirt showing two crossed spoons, he said, with pride for his new name.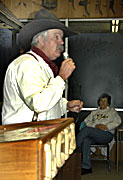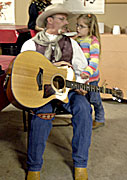 (Left) Don Collop takes time out from his cooking duties to recite. He is one of the founders of MCPA. (Right) Cliff "Cody" Holmes of Mountain Grove where he runs a cow and calf operation, is given advice by his daughter before performing. Holmes is known for his dramatic rendition of cowboy songs. His wife often accompanies him.
Story-telling obviously is a popular past-time amongst members of the group. Cliff "Cody" Holmes of Mountain Grove recounted how he makes a hit with kids. Kids gathered around a bonfire with a full belly go wild when you tell them stories, he said. They catch you on the street afterwards and want you to continue that story. Holmes was one of several performers who entertained the crowd with dramatized poetry readings or songs, some with guitar accompaniment.
"DJ" Fry of Oronogo was the lead-off performer with his Tale of Newton County, KS, a simple morality poem that showed the consequences of impulsive behavior and retaliation that created a chain of bloodshed, eventually that had to be controlled. While some of the poetry described the hard life of a cowboy, most of it embellished its whimsical moments or told of the joys of being close to nature.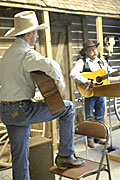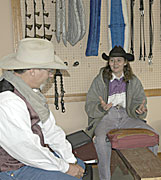 (Left) Richard Dunlap on guitar accompanies D.J. Fry in a tale about gunslingers in Kansas. (Right) Sharon Grant has the attention of Cody Holmes. Grant was one of two female performers who recited their own brand of cowboy poetry.
MCPA was founded in late June 1996 after Richard Dunlap of Louisburg, Jeff Anslinger of Savannah, Don Collop of Mexico and Leroy Watts of Verona met to discuss their mutual interest in cowboy poetry and the traditional cowboy lifestyle culture. According to Watts, they agreed to form a tax exempt association, dedicated--through Cowboy Poetry,-- to promote and preserve Missouri's colorful history as "Gateway to the West." They also support like-minded cultural events that take place throughout Missouri.
For what has become an annual event, the first MCPA gathering was held around the Williams Family chuck wagon in 1997. It was originally called the Gateway to the West Cowboy Gathering and Farmer Ranch Show and was held at the Neosho Fairgrounds, but the Neosho Chamber of Commerce, an early sponsor, for one reason or another, dropped its support.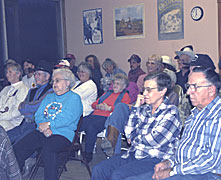 A rapt audience listens to the cowboy performers tell stories in poetic form. They filled the room that the Williams family provide for MCPA meetings.
Available for purchase is Missouri Cowboy Poetry, an anthology of poems and stories by members of MCPA published in part through a grant from the Missouri Arts Council, a major donation from AmerenUE Electric Company of St. Louis, and the assistance of the English Department of Missouri Southern State College of Joplin. To support MCPA or for more information about the anthology, contact Watts, the book compiler and designer.