Rally round the flag
April 04, 2003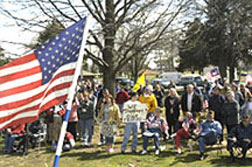 Education seemed to be important to Joplin Mayor Richard Russell when he took the podium. He was the key speaker at the first Support Our U.S. Troops Rally held in Joplin on March 30. The intent of the rally, as organizer, Tom Ebansco, put it, was to counter the ugly scenes of protest.
To denigrate the Hollywood celebrities who had been expressing their anti-war sentiments around the world, the mayor quoted from an article, circulating on the internet, entitled Who's Smarter? It compared the educational level of the celebrities to that of the leaders of the Bush Administration and pointed out that while Bush and many of his advisors graduated from several prestigious colleges, those outspoken Hollywoodites (Jessica Lang, Cher and Martin Sheen, for instance) were mostly high school dropouts and, afterall, merely actors. The comment that these stars had no intelligence gathering agents, like presumably the government had, prompted an impassioned remark from the front of the crowd that they had "no intelligence period." Of course, those in the crowd, that may themselves have been drop-outs, remained silent.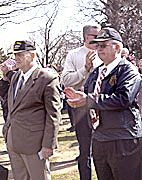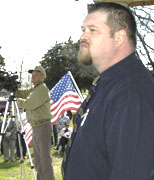 (Left) American Legion Commander Kent Tucker, standing left, and Joplin Mayor Richard Russell, clapping right, show their appreciation at a Support Our U.S. Troops Rally. (Right) Tom Ebansco, rally organizer, is proud that such a large crowd showed their appreciation for his efforts. He called himself just "an average guy who wants to make a difference."
It should be noted that, even though he would have been opposed to what they said, the Joplin mayor would have been impressed by the level of education of the peace activists, many of them instructors, who attended the recent Homeland Insecurity Forum in Pittsburg, KS. They held advanced degrees (Master's or Phd's).
While mentioning that "21 students were now in harm's way," Mayor Russell's rhetoric included a jibe against an instructor who has an anti-war slogan on her door. Apparently, he had seen a Joplin Globe article that had pictured Joy Dworkin, an associate professor of English at Missouri Southern State College, standing next to the sign, Peace is patriotic. No war! Although the mayor did not specifically name her, he implied in his remarks that she and all other anti-war activists were somehow unpatriotic, or to the extreme, have no concern for the military men and women risking their lives. (Well, at least he couldn't say that Professor Dworkin, PhD-U. Michigan, was a high school drop-out.)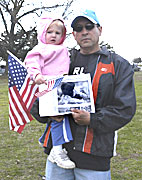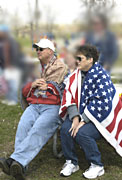 (Left) Michael Roland is holding his niece Lucy, 2, whom he brought to assist him in paying tribute to her Dad, Sgt. Thomas Roland, who is serving in Iraq. (Right)Dave and Roxie Ward came to honor their son, Lt. Dan Ward.
Obviously, the mayor's remarks, including the short speeches that followed, were chosen to appeal to the somewhat impressive number of very concerned people who had come to Schifferdecker Park to express their support for the troops, many of whom were husbands, wives, sons and daughters. Perhaps, a bit frightening, though, is that the mayor's rhetoric and others, damning those with differing opinions, capitalized upon the fragile emotions of the audience. One can't help but recall the McCarthy Era when liberals, including actors and artists, were falsely labelled and condemned for speaking out.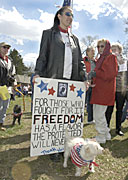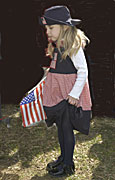 (Left) With her pet showing his patriotic colors, Susan Wilkerson of Carl Junction, shows hers with a placard which said, For those who fought for it, freedom has a flavor the protected will never know. (Right) Wilkerson's daughter also contributed to the spirit of the moment, waving her flag.
Howie Baby, Power 107 radio announcer and friend of Ebansco, captured the limelight before the mayor's speech. He announced that while many folks have no money to contribute to the war effort, they still could give their "shirts off their backs." So, he encouraged each one to bring a tee shirt to the station at 2510 West 20th Street, Joplin that could be sewn together to make an 80 foot square quilt. He also raised the crowd's patriotic dander by leading a chant, "U...S...A," "U...S...A."
Betsy Grindstaff was another speaker who attended the rally to "show support for our troops and country." Coming from a long line of military, Grindstaff said that, although she thought that war was "terrible," it was a "necessary evil sometimes." Her approach to dealing with this "evil" was to pray. "I've prayed so much more than I ever have," she said.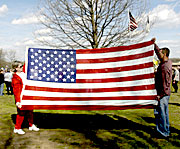 (Left) Nancy Vonier and Tony Vonier hold up a flag that has special significance for the family. It was used to cover the casket of Nancy Vonier's Dad, who served in World War II. (Right) John Melin of Grove, OK is seen chatting with Kobi Watford. Melin had come to the Red Cross exhibit to find out how and when he could contribute blood for the next blood drive.

The Excecutive Director of the local chapter of the American Red Cross, Kobi Watford, in outlining her agency's involvement in the war, complimented the community. "This community is amazing," she said. "When the chips are down, everybody in southwest Missouri wants to help."
With 50 years service in the American Legion, Commander Kent Tucker said that he was "proud to be an American... proud of the young men who have volunteered... proud of the patriots who wrote the Constitution giving us free speech," BUT that it "bothers him that people say they support the troops but not the war." He offered no specifics.
Joyful to see the number of people showing support for the military and especially for their families left behind, Brother Ray Hartline gave a benediction ending the ceremony. He called attention to the "terrible war in Iraq." He then offered a silent prayer--for the president and his leadership and for the "men" and especially their families-- to "protect, encourage and give them strength." He left the audience with the sobering thought that grace will be with them in their many lonely moments and even when word might come that their companions--even mothers--were killed. He ended his comments with in Christ's name, amen.
Ed. note: Be sure to read, or to add to, the comments that appear in the forum below.