Costa Rica--an environment at risk
June 06, 2003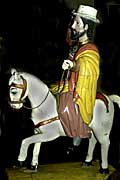 While Costa Rica touts itself as one of the most bio-diverse regions in the world, for its visitors to view the flora and fauna in protected national parks and private wildlife reserves takes something away from the naturalness that once must have flourished. It is, indeed, sad to see that land everywhere is being stripped of its trees, and the natural order of things is being disturbed for its commercial value. While visitors are noticably whoring over the profuse wooden crafts sold in shops throughout the country, they may neglect to comprehend how tourism has caused rapid inflation, forcing Costa Ricans (ticos as they affectionately are known), who own property, to sell off its trees to put food on their tables.
Nicaraguans invade country
An influx of illegal immigration by their northern Nicaraguan neighbors is seen by many as the reason for a spike in crime. In San Jose, the capital, many buildings are marred by graffiti, including this salute to George Bush: Bush te mateo por petroleo. Most structures are secured by iron bars and gates. Yet, an omnipresent police force and an inherent respect for law and order amongst most of the over three million residents--over one million of them in the city--still seem to create a sense of security not found in most third world countries (except, of course, when crossing the streets for which our guide warned us, "They run over you; that's it.").
Landmarks and natural wonders
The most respected building in San Jose is the Teatro Nacional. Modeled after the Paris Opera House over a century ago, it was designed by the Germans and French and finished by the Italians. Currently home of the performing arts, it was originally built to satisfy the cultural needs of all segments of the population, rich or poor and of all colors. Its gilded reception area has greeted diplomats from all over the world.
The routes by bus to the provinces north and west of the capital, once constituting an unforgettable rugged adventure, are now being re-paved. Attention is being given to shoring up the banks along the roads to curtail erosion caused by heavy rains during July through October that have caused the rivers to fill with mud.
Liberia, the capital of the province of Guanacaste, is now more easily accessible via a newly opened international airport just outside the city. It is convenient to several beaches along the Pacific coast (don't expect clean, white sand) as well as a starting point for visiting the Caño Negro Wildlife Refuge, the Arenal Volcano, and the Monteverde Cloud Forest Preserve, as well as other national parks and volcanoes.
Criminal justice system explained
Our trip was under the auspices of the Criminal Justice Department of Missouri Southern State University. It included a lecture by a member of the Costa Rican criminal justice organization similar to the FBI, views of their court system and a tour of a police command headquarters-- once a prison now quite in disrepair, and a penitentiary that on the surface may rival any minimum to moderate security prison in the US.
The system of Costa Rican justice differs from the US in that it does not include trial by jury. Instead, cases are heard by judges in public sessions once a month. Presumably, investigators, known as "fiscals," working with an impartial police force make sure that accusations are warranted before the cases are presented. There are no district attorneys to plea bargain and no way for defendents to bring in their own experts.
The philosophy of criminal justice, we were told, focuses on controlling individuals in society, the external causes for an individual's behavior rather than a biological cause like a brain disorder or the idea that anyone is born a criminal. Schools attempt to teach the proper way for individuals to behave from kindergarten on. Government establishes the norm and everyone must meet the "mold."
Admittedly, those that are born of limited means have no influence in shaping the laws, and those that are in power protect themselves from judicial process. This has led to crimes against the environment and the need to change the system to become more equitable.
We were introduced to Lenna White, Director of Services, whose main office in San Jose and 9 regional offices, were established in 2002 to handle frustrations over understanding procedures and the slow written procedural process. Over 1500 complaints so far have dealt with not being treated respectfully and being presented with erroneous information by a court system clearly bogged down and not yet sensitive to the needs of its customers, she said.
For picture-lovers
What follows is an ecclectic view of life in Costa Rica--its people, its flora and fauna and its law enforcement. Clearly missisng is a picture of some howler monkeys, but if you listen carefully, you can hear them taunting you from the treetops. Please click on any thumbnail to view a larger version.