Holden proclaims Missouri Southern a university
July 13, 2003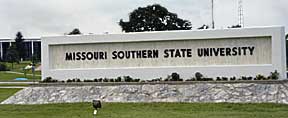 Governor Bob Holden proclaimed it. The audience at the Taylor Performing Arts Center stood and clapped. After years of political maneuvering, President Julio León finally got university status for Missouri Southern State College in Joplin, the culmination of a dream held by the school's pioneers over 40 years ago.
"This is a monumental step towards making us better," León told the Missouri Southern alumni, faculty/staff, students, and the public, who were in attendance yesterday to help inaugurate the creation of Missouri's newest university, Missouri Southern State University-Joplin. An audience of 800-1,000 people viewed the signing of Senate Bill 55, according to an estimate by Stephen Smith, manager of the Missouri Southern News Bureau.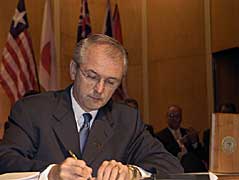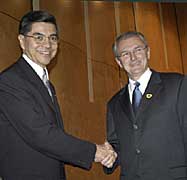 Left, Missouri Gov. Holden is seen signing MO S-55 creating MSSU-Joplin. Right, President Julio León, at left, shakes hands with Gov. Holden.

"This name change will enhance our visibility and credibility not just in Missouri, but throughout the world," León said. "In many parts of the world the college designation indicates high school level. The term (university) more accurately describes our institution. As we continue to enhance our international mission, this name change will be a valuable tool in our efforts to recruit students."
The Missouri House of Representatives gave final approval in early May to the bill sponsored by Sen. Gary Nodler, R-Joplin. The version of the bill sponsored by Rep. Bryan Stevenson, R-Joplin was squashed in the House due to "complications" (political climate around the University of Missouri in Columbia, MO previously had stalled a name-change-bill —ed. note). Giving credit to his fellow legislator, Stevenson told the audience that it took "less than 5 minutes of debate" to act on the senator's version.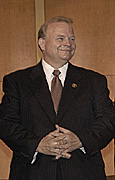 "Getting this legislation passed took a great deal of hard work on the part of the entire Southwest Missouri delegation," Nodler said, sharing the credit. "This year we were finally successful in showing our fellow lawmakers what a fine school Missouri Southern is and that is deserves the designation of university." In addition to Nodler and Stevenson, others from this area working on passage of this legislation included Rep. Steve Hunter, R-Joplin; Rep. Ron Richards, R-Joplin; Rep. Kevin Wilson, R-Neosho; Rep. Marilyn Ruestman, R-Joplin; Rep. Larry Taylor, R-Shell Knob; and Rep. Ed Emory, R-Lamar.
In addition to changing Missouri Southern's name, the legislation eliminates the Missouri Southern State College Board of Regents and replaces it with a Board of Governors. The new board, which will have a statewide mission, will consist of seven voting members and one non-voting member. Five of those members will be from the institution's primary coverage area, and two from outside that area.
Missouri Southern also will be required to discontinue all associate degree programs by July 1, 2008. Southern has already established a cooperative agreement with Crowder College in Neosho in an effort to begin this process, and Crowder is expected to assume many of the associate degrees now offered at Southern.
According to Nodler, this new law will allow the Coordinating Board of Higher Education to offer programs, including graduate degrees, on campuses of other colleges. Any diploma awarded for graduate degrees under such a cooperative agreement will now include names of both institutions.
"Cooperative agreements go a long way in promoting Missouri's colleges and universities," said Nodler. "This region is in a unique position because we border three other states, that all offer graduate degree programs within easy driving access. Southern has lost a lot of quality students who crossed the border to earn a master's degree."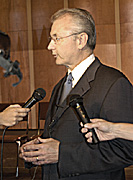 In his short address, the democratic governor seized the opportunity to campaign for taxpayer support for higher education, a battle that he has been having with the republican legislature and those who support the Hancock Amendment guaranteeing a balanced budget and no new taxes. Calling attention to the "challenging times for improving the lives of students," Holden, who has slashed funding for education to balance the budget rather than cut out the pork in other programs, appealed to the audience to protect and support additional new funding that will be needed.
Founded as Joplin Junior College in 1937 by the Joplin Board of Education, the college was originally located in downtown Joplin. In 1965 a bill signed by Governor Warren Hearnes provided for the establishment of a two-year senior college known as Missouri Southern College. In 1975 a bill signed by Governor Kit Bond called for the state to provide funds for the operation of the entire four years.
In addition to Missouri Southern's state-designated International mission, it offers schools of Arts & Sciences, Technology, Education and Psychology, and Business Administration and a Division of Lifelong Learning. Approximately 5,800 students attend Missouri Southern located on in Joplin, Missouri near Missouri's border with Kansas, Oklahoma and Arkansas.
Governor honors Corporal Harper
Prior to the signing of the University status bill, Governor Holden signed legislation establishing the Corporal Bobbie J. Harper Memorial Highway on U.S. Highway 71 in McDonald County. Members of the Harper family were present to acknowledge the move by the legislature and the Governor to honor Corporal Harper. Harper, a Missouri State Trooper, had been wounded while at home in what was considered an act of retaliation by someone whom he had arrested. Harper died about a year and a half later from complications due to heart surgery. The alleged perpetrator is still at large.
Audience enjoys tasteful buffet
Following the ceremonies, the audience was invited to stay for a buffet prepared by the Sodexho Dining Service, the new food service company hired by Missouri Southern's business office. Sodexho Marriott Services, based in Gaithersburg, Md., is purportedly the largest provider of outsourced food and facilities management in North America, with $4.5 billion in annual sales.
Besides a whole array of fruit, guests were treated to such delicacies as spinach in phyllo dough, smoked salmon canapés, and a version of baklava. The buffet included food not often served in the southwest Missouri area.
"We want to do good things for students this year," said Ron Cooksey, food service manager. Outlining his plan to create meals to correspond with the school's international mission, Cooksey hopes that he will help make "dining fun again." His first challenge will be in preparing food to coincide with the Cuba Semester.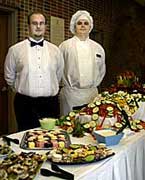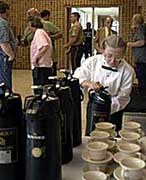 Left, Ash Geers, shift mgr. and J.D. Webster, kitchen supervisor show off the array of fruits and specialty food items at one of two buffet tables that served guests after the MSSU ceremonies. Right, a Sodexho Dining Service worker makes sure that the beverages are warm.