Archie Dunn isn't--in fact he's just begun
October 03, 2003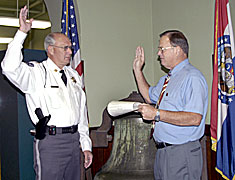 It doesn't matter what uniform you wear. If you have a job to do, you do it." Those were the words spoken by Jasper County Sheriff Archie Dunn after he was officially sworn in by Ron Mosbaugh, county clerk, Oct. 2, at the Jasper County Courthouse in Carthage. Dunn had worn the uniform of the Missouri Highway Patrol until 2000 when he retired after serving as the patrol's information officer. He previously had been selected as interim sheriff to complete the term of former Sheriff Bill Pierce, who resigned in July while under investigation by the Missouri attorney general's office.
Although a card-carrying Republican, Dunn, 58, who was elected by an overwhelming majority of the voters, ran as an Independent after his party had chosen Greg Dagnan, who is director of the Children's Center of Southwest Missouri and a much younger candidate. Dunn said he will run as a Republican at the end of 2004 when his current term is up.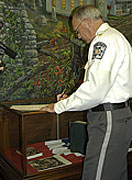 Archie Dunn signs the paper that makes official his position as sheriff of Jasper County. A swearing-in ceremony took place in the lobby of the Jasper County Court House on the morning of Oct. 2.
With a huge political machine to buck that supported Dagnan, Dunn said his election was a clear mandate of the people. They wanted changes made, he said, adding that he plans to carry out their will. Dunn admitted that he was not a political person like his Republican opponent. "I'm just a good cop with 30-plus years experience wanting to do right for the people," Dunn told the small group of assembled media and friends.
Dunn admitted that tackling problems within the department will be easier now that he's "official." Topping the list of solutions will be making personnel changes. He wouldn't admit what those changes would be. "We will cross that bridge when we come to it," he said.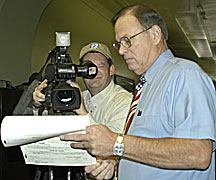 Darin McCann, photographer for KODE-TV, shoots footage of the document Sheriff Archie Dunn needed to sign.
With about 25 percent of the registered Jasper County voters turning out, Dunn received 6,509 votes, almost 50 percent of those cast. Dagan received 3,969 votes. J.D. Love, currently county coroner and running as a Democrat, rounded out the vote with a tally of 2,769.
To view these pictures taken during the swearing in ceremony, click on each thumbnail for a larger version.