Dumm stresses need for asset management
November 19, 2003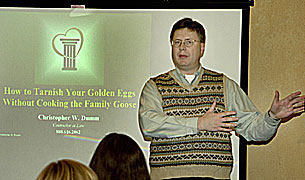 It may be unusual for a lawyer to talk about the excesses of his profession, but Christopher Dumm is not your usual lawyer. Speaking at a breakfast/seminar sponsored by Arvest Asset Management, Dumm outlined ways to preserve and protect one's hard earned assets in today's lawsuit crazy society.
One in ten Americans are sued each year, one in five in the New York area, Dumm told a group at Wilder's today. Of that number on a national level four out of ten are medical doctors. One in three is a medical doctor from New York, he said.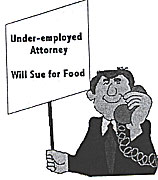 But not only medical personnel are at risk from the 36% of the one million underemployed lawyers in the United States hungry to file a suit for up to 40% of the judgment, Dumm asserted. "Lawyers look for 'deep pockets,' Dumm added. "Not only high paid professionals but holders of real estate are especially vulnerable in a lawsuit."
Of course, people may think that they live the straight and narrow path and are not culpable, but Dumm suggested that there's always the unexpected—citing the even remote possibility of colliding one's vehicle with a full school bus.
"Once you've been sued, you've lost," Dumm said. He quoted Walter Olson from The Litigation Explosion: "[A] litigator can come around, dump a pile of papers on your front lawn and you can go literally broke trying to respond to it."
Shrinking the size of one's estate, at least on paper, is Dumm's answer to dealing with the catastrophic judgment creditor—or the lawyer looking to sue for big bucks. A properly implemented wealth protection plan, according to Dumm, destroys the economic incentive of contingent fee law suits and in the case of family business entities, limits the personal liability of the owners.
Dumm warned that there were numerous scams, especially advertised on the Internet, for providing asset preservation with names like pure trusts and liberty or freedom trusts. By contacting a family lawyer or trust official at a financial institution, Dumm advised, a person can find safe ways of tailoring asset management to meet his or her individual needs. These might include setting up family limited partnerships, limited liability corporations or dynasty trusts. Taking out a personal liability umbrella policy with one's insurance agent is another means of insuring against risk.
A speaker for various educational workshops in the areas of estate tax, business succession, charitable giving and family wealth protection strategies, Dumm with his wife Markelle is an attorney in Joplin. He earned his business degree from the University of Missouri-Columbia in 1990 and his law degree from Regent University School of Law in 1994. His affiliation with the Missouri Bar includes membership on the Probate and Trust Law Committee and the Business Law Committee. He is also a member of the Kansas, Virginia and Iowa State Bars as well as several estate and financial planning institutes.