State of Missouri renamed Methsouri
November 23, 2003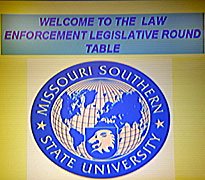 Law enforcement personnel were shot down by local legislators when they attempted to ask for state monetary assistance in dealing with crime. At an annual Law Enforcement Legislative Round Table held last Friday at the Mills Anderson Criminal Justice Center in Joplin, Rep. Edgar Emery, Rep-Lamar (126) told the group that they need to be stopping crime at "a deeper level."
"You can't compete with criminals with money," Emery said. "They will outspend you."
What Emery suggested was a collaborative effort between law enforcement and the community to root out crime and encourage a stricter adherence to right and wrong by community groups and family members.
Methamphetamine was the prevailing issue discussed. Considered a major problem in the State of Missouri, it drains local law enforcement of resources that with state cut-backs remain thin at best.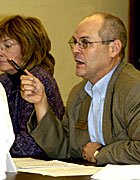 Making a point about the difficulty in getting legislation passed is Rep. Kevin Wilson. Rep. Marilyn Ruestman is seen in the background.
Rep. Kevin Wilson, Rep-Neosho (130), supported the argument that law enforcement even with their different priorities needed to become more cohesive in presenting facts to lawmakers for solving the meth problem. Sen. Gary Nodler, Rep-Joplin (32) summed it up this way: "Law enforcement," Nodler said, "should get their act together…ID a coherent agenda like trial attorneys who speak one voice, and it is loud."
A lengthy discussion brewed over the huge crime lab costs associated with getting meth convictions that are born by sheriffs' departments. Gary Gabbert, a member of the Dade County Sheriff's Department, wondered what chance there was for criminals paying those costs. Everyone agreed that the inability of state law enforcement officials to seize the monetary assets of criminals was a matter that needed to be addressed.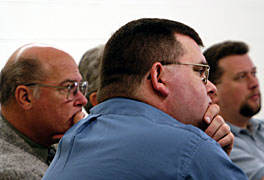 Jeff Merriman is seen (foreground) with other law enforcement personnel. Merriman was outspoken regarding several issues needing legislation.
The unrestricted sale of herbal supplements containing Ma Huang, a plant containing ephedrine and pseudoephedrine from which meth is made was a topic of interest to Jeff Merriman, a lieutenant in the Jasper County Sheriff's Office. His suggestion that its sale be regulated like the medication Sudafed seemed to fall on deaf ears and prompted a brief discussion by Nodler on the negative effect of banning products that law abiding citizens use. Nodler did agree that local merchants should be made aware of products they sell containing ephedrine, and that they should voluntarily cooperate with law enforcement when they know that a large amount of the product has been sold.
With Democratic Governor Bob Holden and his cohorts crying poverty, Nodler expressed the opinion that "Missouri on a per capita basis delivers less services to people than any comparable state." The "budget of the state is an absolute mess," he said, with "more people doing less than any other state." While Nodler considered mental health and corrections facilities to be overstaffed, he commiserated with the highway patrol and the sheriffs' departments for their under funding.
Rep. Marilyn Ruestman, Rep-Joplin (131) agreed that lawmakers need to "do a better job of spending money." "We have a lot of waste and fraud," she said.

Area legislators met with law enforcement, including representatives from the highway patrol, police departments, sheriffs' departments, and 911 service to discuss areas needing legislative acttion. They met at the Mills Anderson Criminal Justice Center on the campus of Missouri Southern State University in Joplin. Seated from left to right are: Sen. Gary Nodler, Rep. Edgar Emery, MSSU's Dr. Blake Wolf, Rep. Marilyn Ruestman and Rep. Kevin Wilson. Rep. Ron Richard was invited but was not present. Prof. Richard Spencer, not pictured, acted as moderator.
Other topics discussed included:
Creating a law like "Casey's Law," KS legislation that mandates impounding the cars of habitual drunk drivers
Allowing illegal aliens access to an official ID so they can get GEDs
Citing non-use of seatbelts as a primary violation
Not allowing anyone to opt out of a picture license for religious reasons
Making the use of armor-piercing ammo a Class A felony
Increasing fees for criminal checks
Putting a school bus out of service if it has a cracked frame