Kyle Craig discusses dynamics of leadership
November 25, 2003
Calling the military model of leadership passé, Kyle Craig, guest speaker at a Leadership Joplin Symposium, outlined more effective dynamics for motivating people. The rapt audience, gathered at the Holiday Inn today, were members of the Joplin Area Chamber of Commerce, sponsor of the event.
According to Craig, a 25-year veteran of successful visionary business experience, the "mantle of leadership is broader than people think." Thirty years ago, it was assumed that genetics determined whether one was a leader or not, he said. "You were a white male, slightly over six feet tall with a military presence and graying at the temples." [Bill Gates shot down that stereotype.]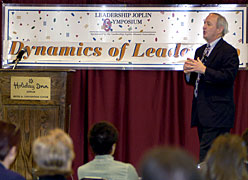 Kyle Craig discusses Dynamics of Leadership at the Leadership Joplin Symposium sponsored by the Joplin Area Chamber of Commerce. The Joplin High School graduate, class of 1965, became one of America's most successful marketers.
Today it's "not about how you look, but about things you do every day in getting people to perform at a higher level than before," Craig said. "If people think that you sincerely care, they will walk through fire for you,"
In defining "leadership" as the "ability to motivate a group of people [team concept is important here] to perform above their ability with a shared goal or vision," Craig stressed that a good leader is focused and decisive, a good communicator and delegator who lives by the rules he establishes. "Trust is at the foundation of a model bridge to leadership," he said.
In illustrating his point about making a company's values known in an effective way, Craig told of an occasion when he was visiting a local restaurant chain with a group of businessmen. One of them lingered to pick up cigarette butts and other trash in the parking lot, came inside and dropped his collection at the feet of the restaurant manager. The chain was McDonald's and the man was Ray Croc, its founder. It couldn't have been a more effective way to address the issue, Craig said.
It may be obvious that, essential to delegating power, a leader must work with teams whose members are competent, but many business leaders today believe that cutting salaries in favor of hiring inexperienced workers who learn on the job is necessary in keeping the business afloat. In other instances quality workers many be hard to find.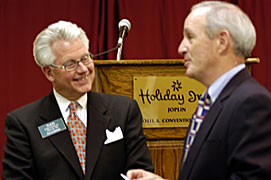 Dan Stanley, left, an investment specialist with Edward Jones & Company, compliments Craig on his talk. Stanley and Craig grew up together in Joplin.
Craig himself is a prime example of Joplin's "brain drain." A graduate of Joplin High School class of 1965, Craig left town to get an undergraduate degree at the University of Kansas and then an M.B.A. at the Harvard Business School. He worked in advertising in Chicago before becoming employed at the corporate level in the restaurant business.
He became executive president of Worldwide Marketing for Burger King and launched the landmark "Battle of the Burgers" campaign, considered one of the most successful campaigns in the industry's history.
He was chairman and CEO of S& A Restaurants (Steak & Ale and Bennigans) and spent several years with PepsiCo's restaurant group. As President of Kentucky Fried Chicken's domestic business, he pioneered the repositioning of the concept by changing its name to KFC and launching its first non-fried chicken products.
Besides having been chief concept officer for Boston Market, as well as chairman of Einstein Bros. Bagels, he has taught marketing and leadership courses at the Daniels College of Business at the University of Denver, the eighth oldest business school in the country. He also started a new consulting company, Outlook Consulting and serves on several boards of directors.
When asked why he left town in the sixties, Craig mentioned that Joplin didn't have an intellectual climate then. "Missosuri Southern was not the school it is becoming," he said.
As a Joplin teenager, he admitted that he was heavily involved in sports. He didn't envision himself as a leader until after he had left.
While there are opportunities in Joplin for professionals, doctors and lawyers, other avenues for high-paying employment are few and far between. Craig thinks that the low cost of living and value-driven society are still incentives for attracting people to the area.
"If Joplin loses these things, it won't attract a work force," Craig admitted. "And experienced people are needed somewhere in an organization in order to mold the raw talent."