Ag labeling discussed at Joplin Stockyards
December 04, 2003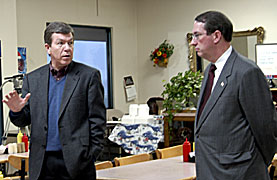 Southwest Missouri Congressman and Majority Whip Roy Blunt, pictured left, and House Agriculture Committee Chairman Bob Goodlatte (VA-6), pictured right, met yesterday at the Joplin Regional Stockyards (I-44, exit 22) with 7th district cattle producers and others interested in discussing the status of the Mandatory Country of Origin Labeling rule. The Joplin Regional Stockyards reportedly is the second largest livestock marketing facility in the U.S. with the Southwest Missouri region being one of the nation's largest cow-calf producers with 480,000 cattle sold each year.
Blunt said, "I'm pleased that Chairman Goodlatte was able to see a fraction of what Southwest Missouri's agriculture community produces...The chairman and I agree about the Country of Origin Labeling Law and the effort to suspend it for two years. Encumbering our cattlemen with needless paperwork is an ineffective way to increase markets for U.S. beef, and the costs are extremely prohibitive."
Originally scheduled to begin October 2004, beef, fish and produce would require labels to show their country of origin under the new law. In the wake of numerous analyses, including the Administration's cost/benefit study accompanying the final proposed rule, many producers, processors, retailers and consumers are realizing that mandatory country of origin labeling places huge costs on producers with virtually no benefits. The cost of the mandatory program has been estimated to be at least $3.8 billion, amounting to $10 a head for cattle and $2.25 for hogs, according to statistics released by Blunt's office.
Goodlatte, who claims always to have opposed the mandatory labeling scheme because of his concern for the adverse economic impacts on cattlemen and pork producers, believes that while a two year delay is not as desirable as a full repeal, it hopefully will give Congress time to realize that mandatory labeling is an error that needs to be corrected. "The House Agriculture Committee has done considerable work in this area, and we will continue to review this onerous law in the coming months," he said.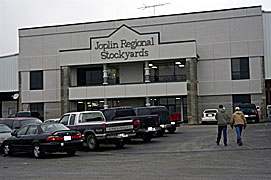 The Joplin Stockyards, located off of exit 22 of I-44, is the second largest livestock marketing facility in the U.S. It was the setting for a meeting between 7th district cattle producers and others interested in discussing the status of the Mandatory Country of Origin Labeling Law with government representatives, Cong. Roy Blunt and House Agriculture Committee Chairman Bob Goodlatte (VA-6).
Having bureaucrats write that program was of particular concern to Goodlatte, who praised Blunt's leadership in the House for getting the moratorium. Goodlatte believes that there should be no money allocated for the program, which he has considered "dubious from the outset," unless reasonable parameters were in place. Not part of the farm bill by a slim margin, it became law without close inspection of the movement of animals, Goodlatte said.
Wal-Mart, Kroger and other big wholesale food buyers' decisions to write their own regulations regarding this issue was "not a way to solve the problem," according to Goodlatte, who was optimistic that votes were building, in addition to the 100 already peeled back, to kill the legislation, especially with the influence of cattleman's associations throughout the country getting state resolutions passed opposing the law.
In factoring in possible consumer support for the legislation, Blunt said that the huge beef market should be approached in a reasonable way, and that there is an incentive to let consumers know that the product was domestically produced. Both Blunt and Goodlatte agreed that many consumer advocates were more motivated by the government than by consumer interests. "Let cattlemen look after the interests of consumers through competitiveness. Lower prices will gain consumer confidence," Goodlatte said, calling attention also to the high quality of American food products like beef that sells itself.
But many cattlemen in the audience remained concerned over consumers buying foreign beef that is cheaper. Although Goodlatte tried to reassure the audience that the "quality of U.S. beef will win out," one local producer countered, "we can't make our beef less competitive--in spite of quality issues."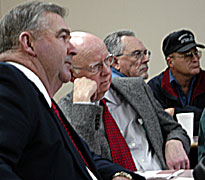 Larry Purdom, at left, represents the Dairy Farm Association nationally as well as the Dairyman's Association in Missouri. He voiced his concern in part over the government's policy of encouraging imports with low tariffs.
Chairman Larry Purdom spoke up on behalf of the Missouri Dairyman's Association, calling attention to trade discounts recently negotiated by Australia and New Zealand that would make their goods much more competitive, and while we impose only a 12% tariff on goods coming in, the rest of the world imposes a 62% tariff. "That is why we have lost most dairy farmers in Missouri," Purdom said, implying that they just couldn't compete.
What is the answer? The committee's objective regarding labeling, according to Goodlatte, is to change the substance of the bill--to differentiate between fruits/vegetables and meat. [Chicken had been exempted in the first place. Ah, the power of Tyson!] There's a logical argument for labeling the origin of domestic fruits and vegetables, Blunt noted. Profits are down when bad press dissuades consumers from buying certain products not domestically produced.
Mention was made of the green onions scare linked to an outbreak of Hepatitis A in Tennessee, North Carolina and Georgia last September which was traced by the Food and Drug Administration to a shipment from Mexico. But apparently a more recent outbreak of 500 cases in Pennsylvania is still under investigation by U.S. health officials. A similar health issue previously had resulted from contaminated imported strawberries.
How Mad Cow Disease would be treated was a concern voiced by Glenda Kleeman of Gleonda Farms in Miller after she heard Goodlatte say that decreased funding for dealing with foot and mouth disease was moved over to Homeland Security and that "we don't have as good a system as we should have." Kleeman also stressed the need for labeling cattle with ear tags, a practice that Gleonda Farms has considered good business since its inception.
The foot and mouth disease problem should not be confused with Mad Cow Disease. While it can wipe out entire herds of animals, it is said not to be fatal to humans.
To view these pictures, click on each thumbnail for a larger version.