Mad cow disease topic of forum
December 30, 2003
February Live cattle and January feeder cattle ended trading on the Chicago Mercantile Exchange today with the lowest allowable single session decline of $5.00 to 80.725 and 76.175 respectively. The drop ends a bull market year in U.S. beef prices that were boosted by the discovery last May 20 of a Canadian infected cow.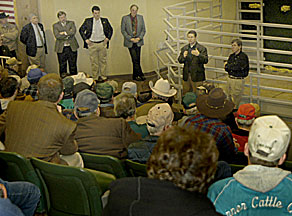 Southwest Missouri Congressman Roy Blunt with his aides convenes a discussion of prevention efforts for mad cow disease in the Ozarks.
Now after a single cow in Washington state tested positive on December 23 for BSE (bovine spongiform encephalopathy), the formal name for
mad cow disease
, the U.S. Department of Agriculture is in a rush to pass regulations which would restore confidence in the safety of the meat supply.
"Congress reacts to crises--sometimes not very well," Southwest Missouri Congressman Roy Blunt told over 150 cattle producers at an open forum held today at the Springfield Livestock Marketing Center. "We shouldn't reach a hasty conclusion but make sure it's the right one."
But the "need to get over this" was echoed by many members of the audience who made reference to all the animal rights groups that that would be beating their drums louder for people not to consume animals in the first place.
New steps announced by Secretary of Agriculture Ann Veneman just hours after the meeting ended were released by Blunt's office. They include:
An immediate ban on all downer cattle(animals that may suffer an illness or injury that renders them unable to stand upright) from the human food chain.
The meat from all cattle tested for BSE must remain in holding until the tests are proven negative for BSE.
A prohibition on the use of mechanically separated meat in human food.
The cow that tested positive in Washington State was a downer cow, but its meat was released into the marketplace before the tests for BSE came back as positive. Blunt said it made "good sense" to put the new rule in place immediately. At the meeting Blunt reiterated the need to hold possibly contaminated meat until it passed inspection, but he was against slaughtering cows just because they were down. He said that cows could still be contagious and not be down and that most downed cows statistically don't have the problem. Even though the meat was released into the food supply, Blunt told everyone to reassure their neighbors that as muscle meat, it was safe.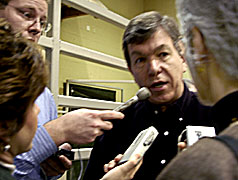 The media gather around Congressman Roy Blunt. He wanted them to reassure the public that beef in the food supply was safe.
Blunt added, "We must insist on zero-tolerance in enforcing the 1997 ban on the use of meat and bone meal in cattle feed to protect beef consumers and beef producers." To the comment made by some older members of the audience that the use of any feed made with animal by-products should be discontinued, including putting poultry parts in cow feed, Blunt said there was no scientific evidence to support that ban. But he concluded with a grin, "a room full of cattle farmers might like a measure which would raise poultry prices."
Missouri State Veterinarian Dr. Taylor Woods and USDA/APHIS Area Veterinarian in Charge Dr. Robert Fisher were on hand to answer questions about the spread of the disease. They explained that while latest evidence shows that no viral component is involved, the disease spreads through a chain reaction of prion, a natural protein that becomes altered, is indestructible, and builds up in the brain and spinal cord turning them to a mushy consistency. The disease does not appear to be spread from cow to cow but through the feed. In Great Britain, Fisher said, the infection spread from person to person through operating tools during brain surgery. You can't sterilize against it, he concluded.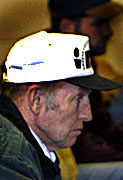 Charles Buckner, a cattleman from Greene County, expressed his frustration over the television news media. He spoke up against the use of old footage of a staggering British mad cow being used again to depict the latest outbreak.
"This confirmed case may be 1700 miles away from Southwest Missouri, but it has already sent shivers through local cattle men and caused 28 nations to stop imports of U.S. beef," Blunt said. "As we learned in the 1980s in the outbreak in Britain, this is a devastating disease that requires infected cattle or cattle using the same feed source to be destroyed. It can destroy an $820 million dollar industry that is the lifeblood of rural Missouri if it ever infected a single cow here. We have to prevent that at all costs."
An interesting tidbit
Howard Lyman, a former rancher and food activist and guest on an Oprah Winfrey Show, in 1996 said it was only a matter of time before mad cow disease hit the U.S. In referring to the widespread practice by ranchers of feeding cattle ground up bits and pieces of other cattle, including offal from sick cows, Lyman was unsuccessfully sued by some Amarillo ranchers who thought he had no right to blaspheme the industry and hurt the cattle futures market. They were positive that the disease would never hit the U.S.