McCoy to name Joplin's new fire chief
January 13, 2004
One of the first decisions looming before
Harold McCoy
, who takes over as interim city manager on January 19, 2004, will be the appointment of Joplin's new fire chief.
Three candidates are vying for the post which provides leadership to a department of 70 fire personnel with an annual budget of approximately $5 million. The department's five stations provide coverage for about 36 square miles. The position calls for a salary range of $52,561 to $74,047 annually with additional benefits including a contributory retirement plan.

At left, Ted Sandlin, City of Joplin's director of human resources/risk management, at a news conference introduces the three candidates for the position of fire chief vacated by the retirement of Bill West last October. No one from the department applied for the position. The candidates are, from L-R, Brian D. Klugh of Lancaster, PA; Ed Morrison of Overland Park, KS; and Gary S. Trulson of Yuma, AZ.
Brian D. Klugh, Ed Morrison and Gary Trulson stood the test of fire by facing area news media last Thursday at city hall. Although visably nervous, all were fluent in answering questions in jumbled rotation regarding their qualifications and motivation in seeking the position. The conference was organized by Lynn Onstot, Joplin public information officer.
Klugh, who currently is battalion chief of the Lancaster, PA Bureau of Fire, has had 26 years of fire service. A beginning firefighter, he worked his way up to captain, then battalion chief.
BRIAN KLUGH
Calling attention to the similarities between Lancaster and Joplin, especially in population density, Klugh called for "comprehensive risk reduction management," especially safeguarding the lives of children. He said that he sensed a "team focus" in Joplin and that such a total city commitment was necessary to solve problems in a cost effective manner. He specifically praised the city for the graduation of its first community emergency response team (CERT) and called for public awareness of safety issues, including the need to know who or what is a threat to the area.
Klugh holds a B.A. degree in public policy from Penn State University. If chosen, he would be relocating to Joplin with his wife and children.
The Overland Park Fire Department is the employer of Morrison who is their chief of training. Like Klugh, he's also had 26 years of experience in fire service, including holding previous positions as firefighter, lieutenant and captain.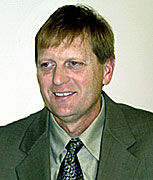 ED MORRISON
Morrison's present position involves the training of a division that he says is four times the size of Joplin's. He claimed to have focused the last 15 years in Hazmet training including dealing with the process of anhydrous ammonia and booby traps and is aware of new problems in cooking methamphetamine. Through intensive training, he said he has had the experience to improve firefighter training in a wide range of areas.
When the comment came up that we were somewhat isolated from terrorists, Morrison said if we believed that, we were kidding ourselves. He called for an all hazards response, like Klugh, and the need to increase co-operation and communication between the police and fire departments.
Morrison especially expressed concern over the age, condition, and number of older buildings in our community and the need to retrofit them with sprinkler systems. Under the present conditions, he said that we needed to "call back shifts, get more firefighters out or the buildings will burn down."
He holds a Master's degree in liberal arts from Baker University founded by United Methodists in Baldwin City, KS. He and his wife are empty nesters with relatives in Springfield.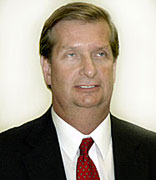 GARY TRULSON
Although he claimed he had little opportunity to identify specific problems within the community, Trulson, the least outspoken of the trio, reiterated the need for proper communication, the utilization of resources and the development of partnerships. With 24 years in fire service including previous positions as EMS coordinator/instructor, firefighter/paramedic and division chief, Trulson noted the challenges that his city of Yuma, AZ that has a winter population of about 150,000 and a city such as Joplin face with growth.
No longer married, Trulson holds a B.A. degree in fire science management from Southern Illinois University and a Master's degree in safety from the University of Wisconsin at Whitewater.
McCoy is expected to fill the position by the end of the month. Bob Morris, acting chief, will stay on until the last day of February.
[Editorial addendum: 2/6/04- Acing city manager, Harold McCoy reported today that the process to select a new Joplin fire chief is still ongoing. Additional time is being used to investigate the background of the final candidate and insure that the very best candidate is chosen.]