The new Medicare law is mind boggling
February 20, 2004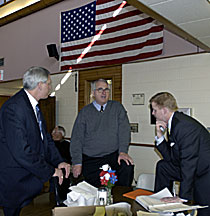 Members of SW Missouri Congressman Roy Blunt's Medicare panel (from L-R) are Dwight Fine, senior vice president of government affairs, Missouri Hospital Association in Jefferson City; Dr. David Barbe of Springfield, president-elect of the Missouri Medical Association; and Tim Trysla, special assistant to the administrator, Centers for Medicare and Medicaid Services in Washington D.C. All were assembled to help clarify the Medicare Prescription Drug Improvement and Modernization Act of 2003.
"Too complicated to understand" is an understatement in trying to describe the new legislation, which squeaked by the House with a vote of 220 to 215, the Senate by a vote of 54 to 44, and signed into law by President Bush on December 8, 2003. The Medicare Prescription Drug, Improvement and Modernization Act of 2003 was the topic of a workshop last Tuesday organized by Southwest Missouri Congressman Roy Blunt. It took place at the Joplin Senior Center on 22nd & Jackson Streets.
While Blunt had good intentions in bringing a panel of experts to discuss the ramifications of this legislation, he failed to satisfy the relatively small group of seniors who had assembled for answers. Even representatives of the media admittedly came away confused.
If, indeed, Blunt and his panel wanted input from the audience, he didn't really spend enough time listening to it. Jo Shiner, who claimed to have been misquoted in a Globe article, said she thought that the benefits "sounded good" but from their point of view, she hadn't heard the other side, and all of the questions she asked were not clearly answered. Associated with VantAge Point and entrusted in assisting seniors with matters affecting them, Shiner confided that she basically was "mistrustful of politicians and their promises."
That social services workers like Shiner will be called upon to help seniors with the new legislation is a given. Seniors will be asked to select on their own from a confusing array of soon to be approved drug cards the government will be promoting to presumably lower their drug costs until the Medicare drug provision goes into effect June 1, 2006. Seniors were told that they would have to pay up to $30 for a card that would provide them with a discount on their medicines, varying from a low of 10 percent, or they could choose not to get one. Many seniors were concerned that this new provision would affect the free drug discount cards from which they already benefitted. Basically, the cards are a way for the government, by adding $600 per card each year for the next two years, to help with their drug bills those people earning $1,000 or less per month in income.
More decisions
The next decision, which wasn't made entirely clear at the panel discussion, would be for seniors to have to decide whether they want to stay in the traditional Medicare program or to select among a group of managed care plans similar in scope to PPOs and HMOs, which they may have avoided before they qualified for Medicare coverage, but which now will afford them drug benefits. Those that stay in traditional Medicare, according to the Concord Coalition, will face a continued spiraling of drug costs and higher premiums. Even the government under the law has announced that within 6 months after enactment of the act enrollees will be notified of changes in rate structure for Medicare.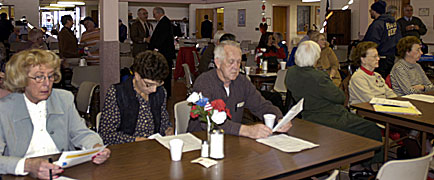 About a dozen members of the Joplin community came to hear remarks made by three panelists assembled by Missouri Congressman Roy Blunt. Many seniors voiced dissatisfaction over how the government representatives responded to their questions.
The decision to select a new plan with drug coverage must be made by the plan's effective date. There will be a penalty for late enrollment or for non-continuous enrollment. The standard prescription drug coverage beginning in 2006 will include a $250.00 deductible, 25% co-insurance, and an $3600 out of pocket threshold that contains an open-ended exception based on the number of claims made for the preceding year. There also was language in the bill that suggested higher premiums for high risk areas and a uniform premium for all enrollees within a region. This suggests to me that it would be more cost effective to live in an area with fewer claimants and not, for instance, Florida.
Those who will reach 65 in 2008 will benefit from the publication of "consumer satisfaction surveys" rating the different plans offered. During the first two years enrollees unfortunately will serve as "guinea pigs," having had to make plan selections based on possibly less than perfect advice.
The decision for those already with credible prescription drug coverage should be clear. Stay with your plan as long as it provides better coverage and as long as there's the assurance that it will not be terminated.
Escalating drug costs possible
Advantageous to the pharmaceutical industry is the language in the bill that prohibits the federal government from negotiating lower drug prices for seniors and currently prohibits seniors from buying safe drugs from Canada at a savings. However, a "safe way to re-import drugs from Canada" was mentioned by Blunt as a possible revision under consideration. In fact, the Hatch-Waxman Reforms presumably would have accelerated movement of cheaper generic drugs to market, but whether they would have been as safe or effective would remain an issue.
When a member of the audience questioned why the government couldn't take over the dissemination of drugs by using its bulk buying power to negotiate lower prices like Wal-Mart, she was told by Blunt that such a suggestion was socialization of medicine and that he, for one, was opposed to such a method.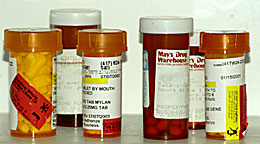 A letter dated January 23, 2004, signed by Douglas Holtz-Eakin of the Congressional Budget Office addressed to the Majority Leader of the Senate, Dr. William H. Frist, has been posted on the Internet. Holtz-Eakin tells Frist that in examining the effect of striking the "noninterference" provision of the act that bars the Secretary of Health and Human Services from interfering with the negotiations between drug manufacturers and pharmacies and sponsors of prescription drug plans, or from requiring a particular formulary or price structure for covered Part D drugs, that "private plans will have strong incentives to negotiate price discounts, both to control their own costs in providing the drug benefit and to attract enrollees with low premiums and cost-sharing requirements." Nothing was said about the possibility of these providers from setting up not unheard of illegal price controls, and that negotiated prices can and will include the possibility of escalating "dispensing fees" and other administrative expenses.
Millions of Medicare beneficiaries have bought private insurance to fill gaps in Medicare. But a provision of the new legislation prohibits the sale of any Medigap policy that would help pay drug costs after January 1, 2006, when the new Medicare drug benefit becomes available. This restriction was added to the bill because of the assumption made by health economists that people who have to share in the costs will tend to not overuse medical services.
Commissions, commissions
A Medicare Payment Advisory Commission will be set up in part to submit a report on the extent to which increases in the volume of physicians' services under part B of the medicare program are a result of the care that improves the health and well-being of medicare beneficiaries.
Within the bill, Section 1013 sets up another bureaucracy entitled the Commission on Systemic Interoperability. While its intent may be admirable for tax-payers in studying cost effectiveness and efficiency, its existence may be more costly than its goals cost effective. Fuzzy language within the section sets up compensation for the commission's 11 members and support staff, and costs associated with setting up a study for each area under their alleged watchful eyes.
$250,000 will be appropriated for each year during the period 2005-2008 for the reimbursement of emergency health services that treat "undocumented aliens." $83,000 of that amount will go to states with the highest number of cases.
New wellness exam
"It's easier to treat high blood pressure than stoke," Blunt said, calling attention to a new addition to Medicare under the law to include an initial preventative physical exam. The exam with the goal of health promotion and disease detection must be performed not later than six months after an individual's first coverage period begins under Part B of Medicare. Although it runs the gamut of screening from mammography to glaucoma to different kinds of cancer, it does not include clinical lab tests. Presumably, a person has the option of not having the physical, but that option is not entirely clear.
Of course, more benefits, less insurance premiums would be the reponse from anyone when asked what they wanted in any part of a health care plan. The cost of providing that would be unfathomable for a plan that already has a $5 trillion shortfall. The bill, which government agencies estimate will cost between $400 billion and $500 billion over a ten-year period, would remake Medicare in part by offering drug benefits to 40 million elderly and disabled people while giving insurance companies and private health plans a huge new role.
Health Savings Accounts
Title XII Tax Incentives for Health and Retirement Security appears under Section 1201-223 of the act.
A worker under the age of 65 who has earned income and has secured a health plan policy with a deductible of at least $1000 for individual coverage or $2000 for family coverage may deduct the amount paid for the annual premium from his or her gross income up to a limit of $2250 for an individual or $4500 for a family. Out of pocket expenses required to be paid by the plan cannot exceed $5,000 for an individual or $10,000 for a family. Like an IRA, the deductions may then be deposited in a trust established by the worker in a participating bank or other investment house. Also like IRA accounts, amounts withdrawn not intended for health care must be included in one's gross income and are subject to a 10% penalty. Unlike the older medical savings plan, all money left in the account not used for health related expenses will carry over from year to year and even become part of one's estate. (When a spouse becomes a beneficiary, the health account is transferred over to him or her. The account is a stop gap provision until the worker becomes eligible for Medicare.
For people who are 55 or older a schedule of accelerated payments will allow them to build up equity in the account subject to having gross income to cover the total amount deposited, starting in 2004 with $500.00 and adding $100.00 for each year thereafter until 2009 when $1,000.00 may be added yearly until 10 years is reached.
The concept behind this allowance, which many believe to be a hit to the government of at least $120 billion a year in income tax collections, is to convince younger uncovered workers into getting the mandated health care insurance. Depending upon one's income, the offset may not benefit the poorer paid worker, since the premium for the mandated insurance, even with a higher deductible, is far from inexpensive.
Local republican votes against plan
Jim Ryun, a local politician with a self-professed conscience, (R-KS 2nd) joined democrats Dennis Moore (KS-3rd), Karen McCarthy (MO-5th) and Ike Skelton (MO-4th) in voting against the prescription drug bill. Although he favored some of the previsions, he said he could not vote for legislation that saddles future generations with a bankrupt program. In a statement he made November 22, 2003 he said:
Most seniors in Kansas already have drug coverage that is cheaper and more comprehensive; drug coverage that they do not want to lose because of Medicare. Only 25% of seniors currently have no form of prescription drug coverage. Yet, it is estimated that as many as one-third of seniors who currently have drug coverage will lose it after this plan takes effect. The seniors who are included in the Medicare plan will still have a $250 deductible to meet and a $35-per month premium for prescription drugs once it takes effect in 2006. So, the average senior without coverage who currently spends around $1,000 per year on prescriptions will still spend nearly $860."
Just whether the beneficiaries of the plan will gain from it is the subject of much heated controversy. Contrary to AARP chief executive William D. Novelli who endorsed the bill against the wishes of many of AARP's members, George J. Kourpias, president of Alliance for Retired Workers asserts that legislators voted "to give billions of dollars in subsidies to private insurance companies and drug manufacturers." It was similarly the same assumption made by The Center on Budget and Policy Priorities when it called taxpayer financing of huge government subsidies to private insurance companies "large-scale corporate welfare." (According to the website of Public Citizen, AARP's endorsement in part was motivated by its impressive earnings received through insurance royalties and investment income from insurance products.)
Kourpias claims:
The pharmaceutical industry will reap additional profits estimated at $139 billion over the next decade.
Private insurance companies will receive an estimated $12 billion as an incentive to provide service in certain areas of the country.
Doctors, hospitals and other care providers in rural areas will get a total of $25 billion over ten years with HMOs, hosptials and physicians paid more by the government for treating Medicare beneficiaries. [This is to stem the tide of care-givers refusing to accept Medicare patients.]
Businesses will reap $86 billion worth of payments and tax benefits--$70 billion in direct payments, $16 billion in new tax breaks.
Dastardly demons exposed
The Washington Post reported (Nov. 22, 2003) that more than three dozen of George W. Bush's fundraisers were affiliated with companies that stand to benefit from the Medicare legislation. Firms representing Pharmaceutical Research and Manufacturers of America, Johnson & Johnson, Abbot Laboratories, Pfizer, Inc., Federation of American Hospitals and HCR Manor Care are known to be raising millions for Bush's re-election.
Louisiana Representative Billy Tauzin who played a leading role in drafting legislation that introduced the prescription drug benefit to Medicare in late January was under fire for considering a job offer from the pharmacy industry that would pay him more than $1 million per year, according to a report by Ted Barrett of CNN's Washington Bureau. And allegedly Tom Scully, the Bush Administrations' point person on the prescription drug law was in job negotiations with the same industry public advocacy organization while still working on the bill.
To view these pictures, click on each thumbnail for a larger version.


While admittedly far from an expert on this bill, I spent many hours researching it. I encourage anyone with questions, comments or other concerns to register in order to add them to the forum below this article, or to send them here for posting.
A full text of the bill may be found here.