Local FBI agent discusses computer forensics
February 27, 2004
Does life mimic art or art mimic life? That's been an age old question. Posed another way, has real life caught up with the reality of TV drama?
A new course in computer forensics as part of a double major linking either criminal justice or biology to computer information science will be taught next spring at Missouri Southern State University. Bill Penet wouldn't deny that the excitement generated by the computer crime scene investigations on television might be a major influence in students' enrolling in his computer forensics course.
To help introduce the idea, the CIS Club from Missouri Southern invited Bob Starkey, special agent at the FBI's field office in Joplin and an agency certified computer forensics examiner, to speak today at noon at Matthews Auditorium. "Cyber crime is a high priority for the FBI," Starkey said in introducing his topic.
Defining "forensics" in general as the "appication of scientific knowledge to legal problems," Starkey distinguished between the biological aspect of forensics which looks at DNA, the physical aspect or ballistics that is usually associated with the trajectory of bullets and computer forensics, an area which Starkey claimed was becoming much more standardized.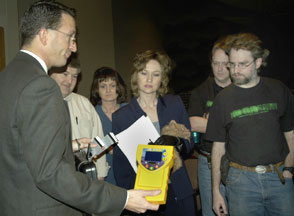 Local FBI agent, Bob Starkey demonstrates the Logicube SF-5000 to a group of interested students after a lecture he gave at Missouri Southern State University, February 26.
Starkey, himself a graduate of Southern, introduced the audience to his black Pelikan case containing the tools he needs for participating in the FBI's computer analysis response team (CART). The most important pieces of equipment in the case are a little yellow box called a Logicube and a Linux Boot CD. The Logicube, which pulls out information at 1.4 gigabytes per minute, is a hand-held IDE data capturing system, a cloning tool known for its duplication accuracy and legal reliability.
"It is essential that when we take the digitally stored data that we preserve the original for evidence," Starkey said. He explained that information may be copied from various storage devices--computers, tape decks, PDAs or pen drives. "We make an image of it and play with the image," he further explained. "The worst case scenario would be if we needed to pull the actual files."
Knowing how different operating systems work is essential to Starkey's work. He told of a kidnapper who thought he had erased the demand note he wrote on his computer. The agents found the note in what, he called, the computer's "slack space."
Because child pornography is considered a misdemeanor in the State of Missouri, Starkey said that the FBI is called into cases by local authorities to "get a bigger hit for them." Possession of child pornography is considered a felony on the federal level.
Pulling out pornographic material is "not fun," Starkey admitted. He called child porn an "epidemic.""You name it, it's there...talking about [pictures of] four year old kids...but it's amazing how dumb these people are; glad they are; they make my job easier for me," Starkey said.
Starkey wanted to clear up the general misconception of what the FBI is. "The things that come out of Hollywood have no basis in fact," he pointed out. "The FBI is not the boss of local law enforcement."He said that the bureau's directives include criminal investigations of federal crime and not to act as "federal police" per Hollywood.
Of the 12,000 agents and 15,000 support personnel in 56 field offices, Missouri is allocated 8 agents--two in Joplin--and Kansas is allocated four agents to serve, at last census, 388,000 people. Consequently, due to limited resources, the agents are very selective in the work they investigate, although they do cover international counter-terrorism here, Starkey noted.