Smell what's behind the chicken
March 09, 2004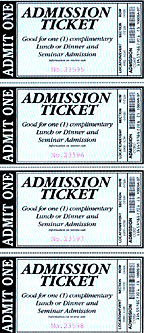 How many folks out there are holding four Admit One Admission Tickets for a choice of a lunch or dinner seminar in late March, early April at Granny Shaffer's Restaurant on N. Range Line Road in Joplin?
Well, after a stroll to my mailbox this afternoon, I have them in my hot little hands. After immediately ripping open the contents of the ivory-colored wrapper, I could taste Granny's fried chicken all the way to my door. Just what did I have to endure for such a treat?
First let me say that the invitation has come with a guarantee that my time will be well spent. In addition to the meal, I am told that I will be educated on 8 unbelieveable strategies for retaining more of my money and keeping it safe. This, the accompanying letter claims, includes "strategies designed to work:" recovering from stock market and 401K losses, guaranteed doubling of interest on low yielding CDs, the end of paying current income taxes on Social Security, yada, yada, yada. Not exactly a get rich quick scheme but still very tantalizing.
The invitation claims to be for "an educational seminar with NO attempts to sell specific products," with "no cost or obligation." Okay, so why mention "no cost of obligation" if there is no sales pitch? And why was the first "no" capitalized and not the second? Well, aside from my grammatical curiosity, my cynicism had to be satisfied.
So, I checked "Seniors First Financial," the name on the card to send back. It brought me to a number of websites making reference to Mega Life and Health Insurance Company and Mid-West National Life Insurance Company, both units of UlCl, a Dallas-based company.
I also found a report run in The Wall Street Journal that public officials in several states were examining what they believed to be sales abuses and deceptive practices in the growing market for health insurance sold through associations. Policyholders, the report stated, allegedly were asked to pay a steep price to gain access to an association policy. And, guess which associations had been under investigation? Mega Life & Health and Mid-West National Life, both under the aegis of UlCl. It is ironic that the very newspaper that probed the sales abuses is being offered for 4 complimentary weeks at no cost or obligation as a pitch for attending the seminar, not to forget mentioning the chance to win a $2,000 Vacation Getaway, which sounded like to Branson.
The State of Colorado, I also discovered, monitors the selling practices of agents associated with both companies after it fined them $75,000 apiece for misleading consumers about their health insurance coverage in addition to other sales violations. Colorado ordered restitution for certain policyholders. By the way, UlCl denied Colorado's allegations in the settlement.
So, am I going to send in my RSVP code? Not in this lifetime. But, if you go, my advice would be to keep your hands close to your fork and don't sign a "guest list." As for me, paying for Granny's chicken is the best strategy for retaining my money and keeping it safe.