Subsidy sought by Joplin's only air carrier
March 26, 2004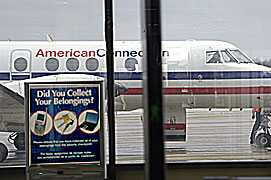 The late morning TransStates Airlines/American Connection Jetstream-41 is parked on the tarmac of the Joplin Regional Airport while it is being re-fueled for its turn-around flight to St. Louis. Only 5 passengers were waiting to board the 30-seat plane. The company has filed for an Essential Air Service status subsidy from the Department of Transportation, presumably to help meet its operating shortfall and be able to continue providing service.
TransStates Airlines/American Connection, the Joplin Regional Airport's only carrier, has filed a request with the U.S. Department of Transportation (DOT) to initiate Essential Air Service status (EAS). What this means is that under EAS status the DOT will be responsible for providing a subsidy for air service for a carrier that wants the route. EAS status previously has been granted to Missouri airports at Fort Leonard Wood and Cape Girardeau.
Whether American simply is following the rules for pulling out or whether they will be a bidder remains a question. The subsidy would make continuing service less unprofitable for the carrier that saw a 50% drop in passenger count. The EAS status would go into effect after 90-days and continue on the basis of two-year renewable contract periods.
What this also means is that Joplin might have an opportunity to choose another airline more willing to meet the needs of the community with better scheduling and with a more competitive fare structure. Following the filing, the DOT will issue a Request for Proposal for flight service in Joplin to all potential airlines with a 30-day deadline for response. Joplin officials will then have the opportunity to review and prioritize the proposals that hopefully come in and forward their findings to DOT for a final say.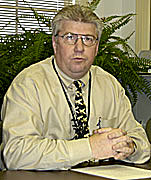 "Although this is a slight setback for the airport, I am confident that we will get a service provider for Joplin that will meet our needs," said Steve Stockam, airport manager, pictured at left. "I received a great deal of positive feedback about our situation during the meeting with the Department of Transportation and the EAS officials. This is a good indication that we will receive interest from airlines, and Joplin will continue to provide quality air service for our community and the surrounding area."
Stockam emphasized the seamless transition that would take place--that Joplin would not be without air service at any time throughout this process. AmericanConnection will continue to operate its three flights until the 90-day period is completed, and then move to the requested EAS status, if the carrier is awarded the bid for service.
Stockam said that in October 2003 1408 passengers flew out of Joplin monthly. After American Air Lines, the St. Louis-based parent company, seriously cut service and rescinded economy fares, the passenger count dropped the next month to 739, he said.
Global Aviation Associates, Ltd. of Washington, D.C. is acting as Joplin's air service consultant. They have targeted the needs of the business community, according to Stockam. Lack of sufficient service would have quite an impact on the economic well-being and future development of the City, Stockam noted.
"Frankly, I think that Joplin's economy is going to fall apart if they lose the airline," was a comment made by business traveler David Puryear of Nashville, TN. A small airport traveler, Puryear was one of only 5 passengers waiting to board the 30-passenger Jetstream-41 fueling up. About the same number had deplaned.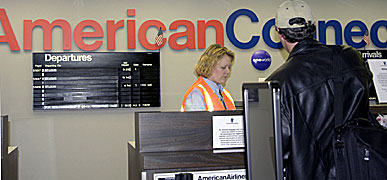 A business traveler checks in today at the TransStates Airlines/American Connection counter at the Joplin Regional Airport in preparation for a flight to the American Air Lines' St. Louis hub. The departure chart on the wall displays TSA's schedule of three flights daily.