Coleman Theatre Friends host gala
April 21, 2004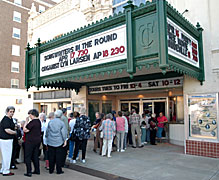 Tar Creek was still flowing red. The problems of nearby Pitcher were still unsolved. But down the road apiece in Miami, OK the Coleman Theatre Beautiful was celebrating 75 years of bringing entertainment, fun and laughter to the area. Virginia Swanson, the 75th anniversary gala steering committee chair, didn't need "Bank Night" to keep folks in their seats, although the drawings throughout last Friday evening for $75 cash prizes were gladly anticipated.
Clarence "Red" Wells of Grove was the big winner. He was in shock when, after a bit of hesitation, he came on stage to collect the end of the night prize of $750. He left with one big hoot, waving the 8 large bills in his possession.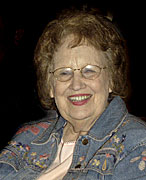 Swanson (at right) and her committee of more than two dozen volunteers planned three distinct celebrations to mark the theatre's 75th year of never having been "dark". Patrons only paid $1.00 for Friday's line-up which sought to duplicate opening day on April 18, 1929 when an equally packed house came to enjoy the best in vaudeville entertainment in an opulent structure built by George L. Coleman, Sr., local mining magnate.
"Five Minutes of Fame" gave 10 pre-selected local entertainers the opportunity to display their talents--running the gamut from the traditional buck and wing tap dancing of Jeff and Jennifer; the fiddling of Troy Helms, age 6; to the folklore of Robert Wilson who came stomping on stage on a hobby horse, the Celtic harp playing of Tammy Willcox and the rope tricks of Coleman Proctor.
The Coleman Theatre Orchestra led by Dr. Robert Swanson opened the variety show with "Hoe Down." A pick-up group of talented musicians, they filled the gaps between events.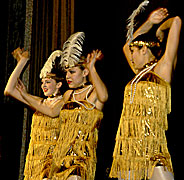 Known for her knack of captivating audiences, Swanson may have outdone herself when she selected the variety show entertainment that followed. No one performer clearly stole the show, but Wilma Cummins, who has made guest performances on television--including on "Jay Leno," had the highest laugh meter score with her quick wit, perfect timing, and, of course, good ear for playing "Pop" tunes on partially filled bottles. Fiddlin Jake, the youngster who has gained much local attention, had the audience stompin' and clapping while Ruth Ann Hudspeth and her partner E. Kirby, known as the Odd Couple, wooed the audience doing a bit of stompin' themselves. The SMSU Band gave an incredible performance of 1920's style music with credit also given to the fine direction of Dr. Jerry Hoover.
Keith Anderson returns to perform with friends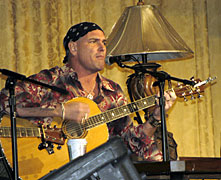 A living room setting on stage Saturday night was reserved for the annual return of Songwriters in the Round. Miami native, Keith Anderson (pictured left) was joined by three of his Nashville buddies, Jeffrey Steele, Victoria Shaw and Chris Wallen, for a jam session that lasted for well over three hours with only a short intermission while Willie and Jane Osborn gave away a few door prizes. Working the audience into their sometimes impromptu selections, the group had a never-ending number of hits from which to choose.
Aware that most members of the audience were living the lyrics that he writes about, Anderson suggested a "just do it" attitude for anyone thinking about being a songwriter. Having moved to a successful career in Nashville just four years ago, Anderson reminisced over earlier days when he was hired to sing "Romeo Love Songs."
"I once was escorted out of Ross Perot's home," he said. "They thought I was a stripper."
Of course, their banter couldn't be without mention of Garth Brooks, Faith Hill, Montgomery Gentry, Rascal Flatts, and Charlie Daniels who are just a few names of the performers who have made their music famous. "Garth could be swinging from the chandelier," Shaw joked. She didn't need to remind everyone that his hometown was not far away.
One of the highlights of Shaw's career was when she opened for Brooks in Central Park. When a member of the audience asked her what it felt like playing to such a huge audience, she replied, "It was just a blur. After the first 50,000, they all look the same."
"Hot" (a description not only of his prolific song production) was the only way to describe Steele, who hung around the lobby after the show to sign copies of his CD, "Gold, Platinum, Chrome and Steele." Steele was joined by a large group of jawing people who gathered in the lobby until the wee hours of the morn, according to Larry Irwin of Miami, Coleman's assistant manager.
Lyn Larson warms up the Wurlitzer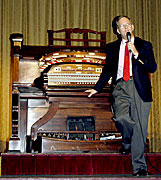 Lyn Larson (pictured left), not an unknown name associated with pipe organs, took center stage on Sunday to perform on the Coleman Theatre's "mighty Wurlitzer." Retrieved from a ministry in Tulsa to which it had been sold, the original organ was purchased, restored and re-sold to the theatre by Jim Peterson, a professional organ builder, who, as a teenager, wanted to have an organ like that. As for the artist, Larson himself, who was in his fortieth year of traveling and playing concerts, claimed, "like the theatre, I've needed a little restoration myself."
Larson's opening number was "Diamonds Are a Girl's Best Friend." He dedicated the song to the winner of the diamond ring raffled off at the end of the program. The lucky lady from Grove is Karen Haas. Valued at $1900, the ring was donated by Harvey's Diamond and Gifts of Miami.
"Carolina Moon," "Aint Misbehavin'" and "Close to You" were other nostalgic songs that Larson chose to play. He even included, "Dizzy Fingers." With "keys flying everywhere," he said, playing the tune was like "rolling a tangerine up and down the keyboard."
Three special ladies are honored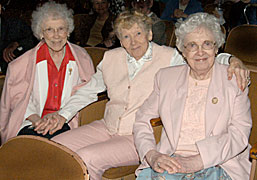 (L-R) Alma, Mildred and Ann, known as the Austin Sisters of Douthat, OK, attended all three days of entertainment at the Coleman.
On the hit parade when the Coleman opened were three pop songs honoring ladies. Irving Berlin's "Marie", a song sung by Maurice Chevalier titled "Louise," and George Gershwin's "Liza." Larson dedicated his rendition of these songs to three special ladies who were in the audience all weekend.
Originally known as the Austin sisters, Alma Moser (90), Mildred Dane (85), and Ann Rogers (87) grew up around Douthat in the Commerce/Pitcher area where their father, Silas operated a grocery store. They remember paying a dime for a street car ride to the Coleman where they often went with free tickets they had be given. Although they said that they have had lung problems, they attributed their longevity to the fastidiousness of their mother whom they remembered often warned them about the water they drank.
The sisters, who found the restoration of the Coleman quite "amazing," were even impressed over the lavishness of the rest room for ladies. "We used outdoor houses and the Sears Roebuck catalog," Ms. Rogers admitted.
But, of course, nothing was more impressive to them than the chandelier. Glimpses at the audience revealed them often looking up at the magnificent fixture newly suspended from the ceiling. Gary Crow, photographer for the Miami News-Record, volunteered to pick up the glass that was custom-made for the fixture. During the trip back from Columbia, MO, Crow said that when his cargo shifted, he was really worried. The value of the glass was put at $10,000!
The restoration of the Coleman is a project in process. A non-profit organization called "Friends of the Coleman" has been formed to assist in restoration of the theatre to its former elegance and grandeur. One of the future projects is the purchase of carpeting. "We have found a carpet mill that is able to duplicate the original pattern," Willie Osborn said. "But right now it isn't one of our priorities."
For your viewing enjoyment we have included a gallery of pictures taken during the three day festivities. Please click on each thumbnail for a larger version. (Photos by Vince Rosati and Mari Winn Taylor)