Reception held for World War II bombadiers
April 26, 2004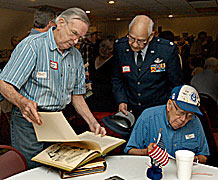 From L-R, Raymond Couk, Leaford Bearskin and Jim Case look over scrapbooks and documents tracing events during World War II. The three men were part of a group of bombadiers who attended a reception in their honor in Joplin. Bearskin wears the uniform of a retired lieutenant-colonel.
A bit of disappointment may have filled Granny Shaffer's conference room in Joplin last Monday along with the large number of World War II bombadiers and their wives. While they seemed to be there to share war stories and reminisce as a large display of memorabilia suggested, they had a bit of difficulty determining who might have served in their units.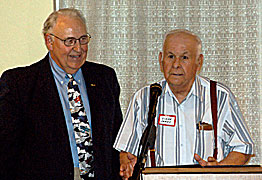 Roy F. Lincoln (left), chairman of Airfest Joplin, introduces his friend and neighbor Glenn James (right). James said that he flew 20,000 feet over Normandy not knowing anything about D-Day. "I looked down on the Channel and saw hundreds of ships," he said.
Roy Lincoln, who organized the annual gathering with the assistance of his wife Pat, also wears the hat of Airfest Joplin chairman. His efforts to rouse enthusiasm for the line-up of Joplin Regional Airport's June 2004 air show were overshadowed by the needs of these men to connect with each other.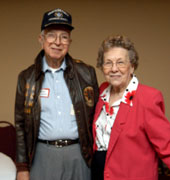 Harry and Betty Johnson came prepared with stories of Harry's time spent in England during the War. He is wearing an original leather jacket adorned with 35 bombs designating the missions he flew.
Betty Johnson, representative of the wives who were very vocal about their husbands' feats, had brought a print-out of a website she found on the Internet showing a picture of her husband and crew of Santa Anna's "Bachelor's Delight" prior to their deployment to England in September of 1944. Pointing to the faces of the men pictured, who miraculously were spared after their B-17 was treated to a heavy barrage of FLAK by German ground fire, Mrs. Johnson recounted that of the 10 men only a few, including her husband Harry, were still alive to share their war stories.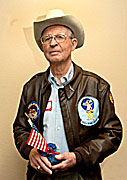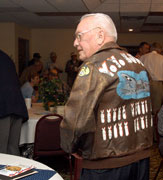 At left, Bob Beasley of Pittsburg, wearing a leather jacket adorned with patches, knows all about the mechanics of the B-17,24-26 and the B-29 which he dubbed the "Johnny come lately." He served in the 8th air force, 2nd air division. At right, Harold Lewis of Joplin sports his mission jacket, "Yo Yo Buddy," an expression, he said, was coined by a war buddy from Camden, NJ. Lewis flew 29 missions for the 418th squadron, 100th bomb group.
Several veterans donned their old military jackets. The leather bomber jacket Harry Johnson proudly wore was manufactured in 1942 and fastened with buttons instead of the zippers of later years. Mrs. Johnson described how an aspiring 8-year-old artist from Sudbury, England had painted his jacket with a total of 35 bombs, one for each of the missions he flew from a base there. The Johnsons have visited Sudbury since the end of the war. According to Mrs. Johnson, the boy grew up to be a silk-tie designer.
"Sudbury is still the same," she said. "The townspeople still call the visiting soldiers, 'Yanks.' It's like they are in a time warp. It's the sweetest town. The chamber [of commerce] flies the American flag."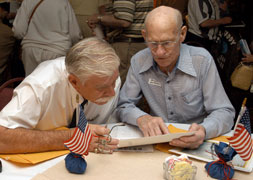 Allen Smith (left) and Howard Van Hoozer (right) share war experiences. Both flew out of bases in England but did not know it at the time.
Allen Smith and Howard Van Hoozer, both from around Girard, KS, also flew out of a base in England. They hadn't known it at the time. Even though they had graduated from high school together and were eventually neighbors, they hadn't discussed their war experiences until now. Smith was part of the crew of a B-26, while Van Hoozer helped man a B-17.
One of 8 men who bailed out of a Flying Fortress that took a direct hit in the nose over Budapest, Hungary, Don Haggard, who lives south of Neosho, told of how he was captured by the enemy while flying his 46th and consequently last mission. He remembers how he and the others were periodically interrogated and shoved into a boxcar heading for northeast Poland where they disembarked and were forced into marching across fields covered with up to 18 inches of snow.
"We slept in barns or out in the fields," he said. "It's amazing how little the amount of food one can live on." He was referring to the soup given to them through the generosity of farmers.
Pat Lincoln made Glenn James a collage of medals out of the sackful he had which included a Purple Heart. The Joplin native and neighbor of the Lincolns was a B-17 tail gunner with 30 missions to his credit. James, like many in the room, was modest in describing his accomplishments.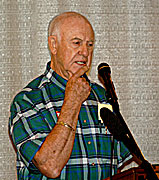 Bob Higgins, a former Joplin postmaster, thanked the audience for their "sitting ovation" before describing his war experiences which, by comparison, he considered "mundane and tame." A flight instructor at Randolph Field, Higgins joked that "no messersmit ever got by New Orleans." He mentioned what could happen without pilot control and praised the Americans for being better prepared in comparison to their German and Japanese counterparts.
Letter to President Bush
At the suggestion of Bob Baker, once a member of Patton's army, a letter was drafted to the attention of President George W. Bush that served as an invitation for him or one of his staff to attend Joplin's Airfest. It was passed around for signatures.
Harold Lewis of Joplin, a member of the 418th squadron, 100th bomb group, refused to sign the letter. Lewis was protesting the implementation of a policy by the Bush Administration to cut veterans' benefits. It included a Veterans' Administration policy to stop informing veterans of their eligibility for health benefits and cuts to veteran's hospitals that have left huge waiting lists of veterans, many of whom have been seeking teatment for over a year.
"What did they [the veterans] go fight for?" Lewis agrily asked. He said he was one of the lucky ones already in the system, but for others, many of whom he termed "homeless," he said he sided with their frustration.
[For the article, Military retirees seek legislation, click here.]
(Photos by Vince Rosati)
[For info about the Veteran's Party, click here. For life changing lessons by one visitor to the Normandy region, click here. Anyone who cares to register may use our forum below to find buddies or just to leave a comment.]