Patch Adams challenges audience
May 05, 2004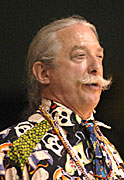 When Dr. Patch Adams said that he wouldn't raise a hand to anyone, even to protect his family, members of the audience listening to him recently at MSSU's Leggett and Platt Athletic Center were skeptical. There seemed to be no response to his question, "Raise your hand if you can think of anything more important than love." Although he claimed not to have cynical moments, later on in answer to what do humans love, he said "money and power".
Jeremy Sturgell, the 2003 Missouri Southern outstanding graduate, introduced Adams as "someone a little out of our comfort zone."
"He is going to challenge us tonight," Sturgell said. "The purpose of the university is to make us think."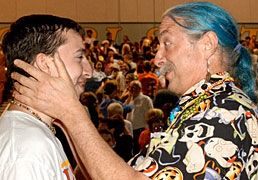 And Adams did just that. He started off by asking members of the audience to pair off with people they didn't know, place their hands around their partners' faces, stare into their eyes, and tell them, "I love you." While some were moved by the connections they made, others seemed not to be able to remain focused.
Adams said that he asked CNN if he could go on TV to present his love strategy as an alternative to war news, but he said that CNN's reply was "nobody would be interested." "Can't say nobody," Adams said he replied. "I called up interested."
But Adams admitted that in their spare time people would prefer "watching multi-millionaires playing with their balls" rather than practice saying, I love you. He claimed that 90% of the men he interviewed had no idea what he meant by his philosophy of love and how to carry it out. He also chastised the medical profession for catering to what he labeled "anxiety crap" and "depression crap."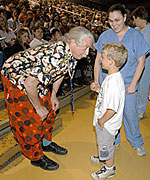 Dr. Patch Adams chats with a young boy before giving a lecture that was sponsored by the Campus Activities Board of Missouri Southern State University. Adams in clown attire, believes in the healing power of laughter. Admitting he never had any religion, he calls a friend his "god" and the love of other people, god's spirit.
40% of the kids in summer camp, he noted, shouldn't be on anti-depressants. "You don't need pills," Adams said. "Practice saying, 'I love you.'" He also condemned the horror of Mel Gibson's film which he said "gives children panic attacks."
One group that Adams finds difficult to embrace is the media. He spoke of the media as a "propaganda machine." "Truth and the media are purely accidental," he said.
To preserve his brain, Adams said that he doesn't watch TV. Rather than the news being rife with murders and rape, Adams suggested a "Nightly Love News of the World" where editors could "equally choose fabulous smooching."
What are we doing for the planet? Adams asked. He defined the "collective we" as people who don't care that the "U.S. is the number one arms supplier to dictatorships," and that most people "imagine peace to be boring."
To get the audience to refocus, especially on the wonders of nature, Adams held up a lemon and told everyone to focus their love on it. He then recited from memory a poem of the same name by Pablo Neruda, a Chilean social and political reformer who won a Nobel Prize in Literature in 1971. Its conclusion states:
So, while the hand
holds the cut of the lemon,
half a world
on a trencher,
the gold of the
universe
wells
to your touch:
a cup yellow
with miracles,
a breast and a nipple
perfuming the earth;
a flashing made fruitage,
the diminutive fire of a planet.
Often during his lecture Adams deliberately juxtaposed love and humor with the horrors of life in an effort to raise the level of social consciousness of the audience. While his listeners were contemplating the symbolism of Neruda's poetry, they heard Adams say that "every 8 seconds a child dies for lack of water" and that "1.4 billion have inadequate supplies."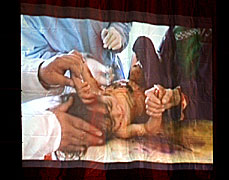 As another example of this juxtaposition, he showed a film that he made with his brother during four weeks in Afghanistan in 2002. Twenty-two clowns from 6 continents intermingled with children. One couldn't help but be moved by the horror of war affecting the children. The horror doubly was reflected in the eyes of the clowns returning from a hospital visit where many maimed children lying in pain had learned the hard way about land mines and not picking up bombs.
The pragmatic reason behind Adams lecturing is to raise money to help expand the Gesundheit! (sic) Institute, a free medical clinic which he, with the help of others, founded in Arlington, VA. He has a vision for the creation of the institute's permanent and expanded home, a "commune-like" facility on 310 acres already purchased in Pocahontas County, WVA that will include a 40-bed hospital, a theatre, arts and crafts shops, and horticultural and vocational therapy.
Over 15,000 people have been provided with free medical care at the Gesundheit! Institute. Adams said the name was chosen because it "makes people laugh and thus become open to healing, and because literally translated Gesundheit means good health."
As depicted in the movie "Patch Adams" (starring Robin Williams), doctoring at the clinic never compromised compassion for the patients. Often the two roles were reversed with the patient serving as doctor and the doctor figuratively serving as patient.
To contact Adams, who does not use a computer, you must send a letter via snail mail to: Gesundheit! Institute, POB 3134, Hagerstown, MD 21741-3134. If you write to him, include your return address and phone number. Adams says he replies to all mail. Be patient.
Photos by Vince Rosati