Crowder bids farewell to the Farnsworths
June 28, 2004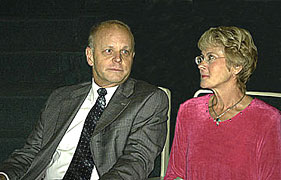 Kent and Holly Farnsworth receive standing ovations
Plenty of tears were shed and hugs exchanged during a farewell reception for Dr. Kent A. Farnsworth and his wife Holly. Hosted by the Crowder College Foundation, the event held in Crowder's Elsie Plaster Community Center yesterday in Neosho paid tribute to Dr. Farnsworth's 19 years as president and Holly's distinguished service to the college community.
Since 1989 under Dr. Farnsworth's leadership, the college has come a long way, said Larry Vancuren, president of the foundation, who spoke on behalf of the foundation and the community. "Some of my hairs turned gray, some of Kent's turned loose, Vancuren quipped.
In speaking of Dr. Farnsworth's endowment to Crowder, Vancuren noted the doubling of enrollment, the establishment of three off campus sites, and the numerous new structures on campus. He has a "legacy of passion and devotion," Vancuren said. "His excellence of leadership and character have set standards high." And "he's the genuine article" was a description of him that everyone repeated.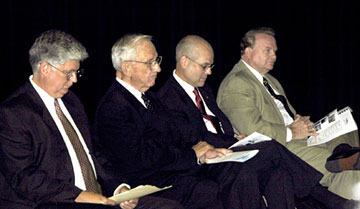 L-R, Alan Marble, James Tatum, Rep. Kevin Wilson and Sen. Gary Nodler were on stage to pay tribute to Kent and Holly Farnsworth.
Several representatives from the legislature of the State of Missouri were on hand to present Dr. Farnsworth with proclamations. Signed by the Speaker of the House, Catherine Hanaway, the resolution read by Kevin Wilson (District 130), assisted by Marilyn Ruestman (District 131) applauded Dr. Farnsworth for his "long, stellar career in higher education."
In reference to the resolution's "golden rules of retirement," Wilson turned to Dr. Farnsworth and said, "They don't know what you're going to do, do they?" He was refering to Dr. Farnsworth's acceptance of the position of president in residence for the Mary Ann Lee Professorship for Community College Teaching, Administration and Leadership Academy for the University of Missouri-St. Louis, a role that will put him in position to enhance student learning statewide.
The Senate award presented by Gary Nodler (District 32) and Doyle Childers (District 29) called attention to Dr. Farnsworth's recognition as the leading community college president in the state. Nodler said he was "not happy to see him go" and that he would be a "difficult act to follow."
Alan Marble, Dean of Business and Support Services, took the podium with a bag of what he considered necessities for campus life in St. Louis. "I'm oddly worried about your preparation...the way you dress. You're too dapper," Marble told Dr. Farnsworth. From his university survival kit Marble produced a pair of glasses, a bow tie, patches for the elbows of a sports coat and a pair of sandals preferably to be worn without socks.
Dr. Farnsworth speaks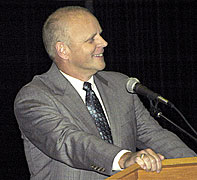 Described as a "catalytic agent for the cohesion of the administration and the embodiment of what was envisioned for the Crowder community, Dr. Farnsworth..."Citizen Farnsworth" told everyone he had chosen the words, "Gallop, New Mexico" to steady his emotions, but not even those words could keep his emotions in check.
In response to the glowing recognition that was bestowed upon him that got him standing ovations, Dr. Farnsworth shared his kudos with many others with whom he worked. Although he said that he hadn't worked too closely with the legislators present, he said he knew where their offices were implying that as the voice for all the community colleges in the state, he would be finding their doors.
He mentioned how naive his inaugural address was. "Why, we had Apple IIe computers," he said. "My understanding of what greatness is has changed. It's not the President's college but the community's college."
Upward Bound and the alternative energy program which matched the best engineering schools in the country were on his list of things that have approached greatness. He also included the school's international involvement and thanked Dr. Julio Leon, president of Missouri Southern State University, who was in the audience, for setting the standard.
In working toward further greatness, he reminded everyone of the need to keep an open dialogue with students. He hoped for continued cooperation with surrounding superintendents and the business community that would offer graduates employment with associate degrees. In supporting the school, he asked that everyone involved continue to rise above politics and remember that significant greatness can come at no cost.
Holly Farnsworth is lauded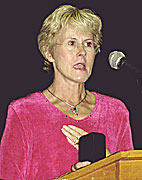 James Tatum wanted to cut through to the core in speaking of Holly's qualities. Holly has an "enormous sense of loyalty to things she believes in, Tatum said. In presenting her with a token of their esteem, Tatum who is president of the board of trustees, compared her to a Saint-Gaudens gold coin considered to be the most beautiful coin ever minted in the United States. Saying that he was fond of alliteration, Tatum described her as a "wonderful wife, marvelous mother and terrific teacher."
---
Any letter, card, picture or comment for the Farnsworths' "Book of Memories," may be sent to Gale Lynch, Crowder College, 601 Laclede, Neosho, MO 64850 or, if scanned, may be sent here.
The deadline for submissions is July 31, 2004.
---