Missouri Republican candidates are introduced
July 13, 2004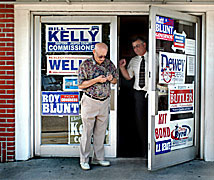 Campaign stickers cover the doors of Memorial Hall in Carthage as greeters hold the doors open for Republican voters from Jasper County.

The Lincoln Ladies might have been a bit optimistic over the number of voters they planned would attend their Ice Cream Social and Republican Candidate Forum. There seemed to be plenty of empty seats and lots of refreshments to go around at Memorial Hall in Carthage yesterday. In addition, too many candidates, including Matt Blunt, the Republican Party hopeful for governor, were no-shows who didn't take advantage of an opportunity to express their views informally nor take advantage of the three minutes of microphone time the Ladies under the leadership of Jenny Mansfield, president, had planned for each candidate.
While many of the candidates running in the August 3, 2004 primary election did mill around with one another, some of them didn't lose sight of why they were there--to meet and greet their potential constituents. Young Maddy White was doing an exceptionally enthusiastic job for Denny White, a candidate for Jasper County Commisioner Western District. "That's my daddy," she proudly announced as she handed out his business card with each bumper sticker.
White, running for county office for the first time, is part of a hotly contested race that pits himself against 5 other candidates seeking office in the western district, including two life-long residents of Jasper County and former members of the Joplin City Council, Darieus Adams and Rebecca Spracklen Kanan.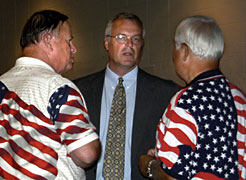 Former Mayor of Joplin, Darieus K. Adams, middle, one of 6 candidates running for Jasper County Commissioner Western District, chats with fellow Republicans. To his left is Ron Mosbaugh, Jasper County Clerk and former coroner.
Adams can say that he held two terms on the Joplin Council including two years as mayor. But while he bragged that he was on a council responsible for a budget of $40 million, his opponent Kanan one upped him by $20 million. She also told the audience that when she had been chosen to travel around the world through a joint venture with Missouri Southern State College (sic) and the Joplin Globe, she astonished everyone by returning a significant portion of the budget that they had alloted her.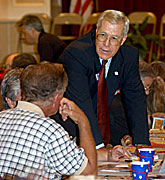 Jim Honey, incumbent Jasper County Commissioner Eastern District chats with a couple of his constituents. Honey is being opposed by Bill Kelly and Kenneth Fullerton for the position.
Candidates for Commissioner of the County Commission Eastern District include incumbent Jim Honey seeking his second term on a "proven leadership, service with dignity" platform and opponent Bill Kelly whose goals include protecting against waste and abuse and making the area a "good, safe place in which to live." The final candidate Kenneth Fuller admitted he wasn't an "experienced politician nor a speaker" but just "a serious person" especially interested in an open bid policy to better serve the county. A former member of the Board of the Central Christian Church, Fullerton, whose family has lived in Jasper County since 1831, received a loud applause when he told the audience that he refused to allow fund-raiser parties but instead was working part-time to pay for his campaign.
Public administrator position attracts 5 candidates
Of particular significance is the contest for Jasper County Public Administrator. Five Republican candidates are vying for the position without Democratic opposition. That means whoever wins the primary election gets the post.
Apparently not well known, the public administrator is an elected official who serves as guardian and conservator of mentally and physically challenged residents of the county whose well-being, finances or estates are under the jurisdiction of the probate court. This occurs usually when no family member is willing or able to serve.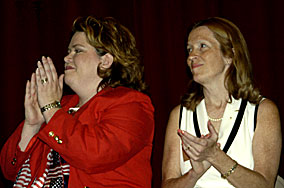 Clapping for the latest candidate to take the podium are, L-R, Gretchen Long and Rebecca Spracklen Kanan. While Long is running for public administrator against four other candidates, Kanan is one of 6 seeking the position of Jasper County Commissioner Western District.
Susan Butler and Gretchen Long are practicing attorneys in Jasper County. Long specifically cited her experience serving as a guardian ad litem, an attorney appointed by a court to look out for the best interests of someone incapable of representing himself or herself during the course of legal proceedings. This allowed her opportunities, she said, to "form bridges with agencies and better understand Medicare rules."
Rita Hunter, the wife of Steve Hunter, the incumbent candidate for state repesentative (127th district), implied that she had more widespread experience than the other candidates as a volunteer for different agencies or as a lobbyist in Jefferson City. However, her role as a market director for a long term care facility might create a conflict of interest for those whom she might serve.
Citing her professional experience that includes advocacy for senior citizens and disabled individuals, K.C. (Katherine Carol) Brockman is Director of Administrative Services for the Area Agency on Aging, an agency for which she has been employed for 20 years in a variety of areas. Her qualifications include experience in fiscal administration, coalition building and resource development. "The rights of each individual are as important to me as they are to the individual" is her campaign slogan.
The final candidate for public adminstrator, Thomas F. Sandt was not present.
Age plays role in race for coroner
Scott Keats is a young man with significant medical experience. He is a paramedic, SWAT team medic and medical investigator. He wants to eliminate unnecessary autopsies and be able to bring preventative information to school districts to keep students out of harm's way.
His opponent, incumbent Jerry Neil is 58. A lifelong resident of Jasper County, Neil has 25 years experience in law enforcement, state certification as a coroner and involvement in 300 autopsies. He also has testified in several court cases and has been available to co-ordinate child death reviews. In getting older, Neil says, he knows "who to see and about what."
State level candidates offer their views
Of the 6 Republican candidates running for the office of governor, only two of them were present, both from Jackson. Jennie Lee (Jen) Sievers broke out in song when she took the mike. The audience clapped soundly upon hearing her suggestion that a print out of money received by schools be made available upon request. Using as an example state funds of $10,000 that a Kansas City school had designated for their band, Sievers said that such funds should not be earmarked for foolishness. She sought assistance programs for farmers saying that without them we would starve ourseves to death. "Concrete is pretty hard to chew," she advised. Finally, she spoke in favor of more than random inspections of nursing homes and gave an example of a badly bruised friend, a resident in one of them who died one month after sustaining injuries.
Jeff Killian claimed he couldn't cover half of the issues in three minutes' time. However, at the top of his list are putting teachers first who donate their own hard-earned money for supplies, and fixing health care. Creating a "more educated workforce" is "the number one thing to do to show the rest of the country," he said.
Missing were governatorial candidates Karen Lee Dee Skelton-Memhardt of Wildwood, Martin Lindstedt of Granby and Roy W. Lang of Davisville. In calling Lindstedt to the stage, the emcee Mansfield asked, "Is Martin Lindstedt in the building? Nope? Too bad." That was followed by laughter from the audience.
Both candidates for lieutenant governor spoke
Patricia (Pat) Secrest of Manchester fell back on her laurels as being named Legislator of the Year (1997) by the American Legislative Exchange Council (ALEC). Once having attended Joplin High School where she met her husband John, Pat Secrest is a small business owner dedicated in fighting for the rights of Missouri's small businesses and family farms. She served a 12 year term in the Assembly representing St. Louis County.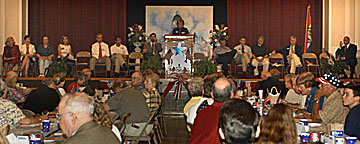 Republican candidates whose names appear on the August 3, 2004 primary election ballot line the stage at Memorial Hall in Carthage. They were allowed three minutes to introduce themselves and tell what they stood for.
Peter Kinder of Cape Girardeau dropped a couple of local names before speaking--Webster, Nodler and apologized for Nodler's non-appearance due to a kidney stone problem. A Methodist, Kinder was elected to the Missouri Senate in 1992. Currently associate publisher of the Southeast Missourian newspaper, Kinder supports the ban on partial birth abortion, a practice he labeled "gruesome;" limitations on lawsuit liability; preserving traditional family values; and defending the right to keep and bear arms.
Catherine Hanaway running unopposed on the Republican ticket for secretary of state was not present along with three candidates for state treasurer: Chet Boeke, Al Hanson and William (Will) R. Pundmann. Tom Klein, a Lutheran who said he was from a suburb of St. Louis, bragged that according to Money Magazine, his company was on the list of 500 fastest growing companies in the nation. As a successful businessman rather than a politician or a member of the unemployed, he said he was the most qualified to serve as state treasurer.
Sarah Steelman of Rolla said she was not afraid to stand up and speak out. As a two-term state senator, Steelman said she is for pro life, and against same sex marriage and wasteful government spending. As treasurer, she would work to bring dollars invested out of state home. With a Master's degree in economics, experience as an investment broker and Chairman of the Senate Commerce Committee, she claims to have a record of keeping her promises to voters and a commitment to do the hard-work required to pass key initiatives. According to the St. Joseph News-Press she is the "most vocal and most active proponent of the Sunshine Law legislation in the General Assembly."
With what she considers a proven track record in the senate, Anita Yeckel of St. Louis takes credit for sponsoring and having gotten passed what she calls "the first major banking reforms in decades." As chair of the financial institutions committee as well as assistant majority floor leader, Yeckel criticized current treasurer Nancy Farmer for moving money out of state instead of keeping it at home to benefit Missouri's own people.
Also with a banking background, Blaine Luetkemeyer of Elizabeth claims that when elected treasurer, he will "put Missouri's tax dollars to work creating jobs for Missourians." "As treasurer I will take back $1 billion dollars of Missouri taxes from Wall Street and invest every penny on Main Street," Luetkemeyer said. Currently a bank loan officer, Luetkemeyer held the position of Chairman of the Financial Services Committee while serving in the Missouri House of Representatives.
Running for attorney general on the Republican ticket are Chris Byrd, a Kansas City attorney, and Dewey Crepeau, a lawyer from Columbia. Claiming that democrat Jay Nixon, incumbent attorney general, is not meeting the challenges of his office, Byrd hopes to reevaluate the entire organization in order to operate a more efficient office that is uniquely responsive to the concerns of all Missourians. Byrd holds an M.B.A. in finance and a J.D., LL.M in urban affairs.
Crepeau takes credit for 24 years in law and county politics and served on many boards including that of a crisis pregnancy center. He believes that it is up to the office of the attorney general to represent the people against unelected and unaccountable activist judges. His slogan is, "Do we need a change? Dewey ever."
The seat of Steve Hunter of Joplin, incumbent state representative (127 district) is being challenged by Jason Fenske of Carl Junction. While Hunter seems to align himself with the more moneyed class, Fenske calls himself a blue collar worker looking for different solutions to the State's problems. The speaker of the House named Hunter Chairman of the Workforce Development and Workplace Safety Committee, the first time in 54 years that anyone from Southwest Missouri has chaired the committee.
Two constitutional amendments appear on the ballot
Voters in Missouri are being asked to approve an amendment to the Missouri Constitution authorizing the licensing of floating gambling facilities on or adjacent to the White River in Rockaway Beach. All gambling profits allegedly are to be used first for salary supplement grants to teachers in priority schools and secondly for capital improvements to educational facilities in priority school districts. There is strong opposition to this amendment from citizens in the Branson area of which Rockaway Beach is a part.
The second amendment asks voters to answer yes if they wish to amend the Missouri Constitution to define marriage as solely existing between a man and a woman. Legislation to make such a definition uniform throughout the country, that was supported by President George Bush, was soundly defeated on the federal level by the Senate.
Photos by Mari Winn Taylor & Vince Rosati