Meth production is a serious threat to children
July 29, 2004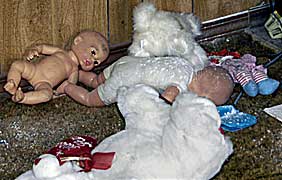 No children were in the trailer in north Joplin the last time it was busted for meth. That's what John Lucky, the sheriff's representative to the Jasper County Drug Task Force reported to the media that had assembled in its small kitchen. But the toys thoughtlessly abandoned in a corner of another area were a poignant reminder of their recent presence.
As we gathered in an area where ingredients for the production of meth would have been kept in non-secure locations, some of us beginning to feel the taste of chemicals on our tongues, we tried to assess the serious harm to the health of children within the household. With food that would have been stored nearby, Lucky called attention to the by-products of meth, some of which probably were ingrained in the countertops and every surface they reached. Anhydrous ammonia, brake cleaner, drain cleaner, camping fuel, iodine, and lye were just a few of the chemicals that the task force scattered around to demonstrate what would have been available to form a deadly mix during and after a meth cooking process.
"We know that one child drank camping fuel and died," Lucky said. "...but what of just breathing the stuff?"
Greg Dagnan, the executive director of the Children's Center in Joplin is very concerned over the health effects on those children who are exposed. "There's no information out there regarding the effects on children in Missouri," Dagnan said. "We do know the effects on kids in other states-- including the exposure to hepatitis in a drug environment, a positive test for meth in children under 4, dangerous acetone levels and serious respiratory problems."
With some money provided by the federal Drug Enforcement Agency, the Children's Center in both Joplin and Monett will be acting as "decontamination units." Medical personnel provided by the centers directly will be assessing the health of children removed from meth environments rather than seeing them after they've been in hospital emergency rooms, as was the standard procedure.
In asking Jasper County Family Services how many children his center might serve, Dagnan was told that currently "15-20 children a month are removed out of active meth lab homes."
Family Services determines whether a house is clean enough for children to return to it on a case by case basis, Dagnan noted. Unfortunately, there are no governmental assurances of a total clean-up, short of demolishing the building.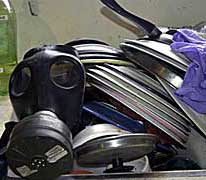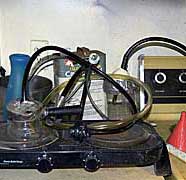 At left, a gas mask with gloves used to protect the "meth chemist" lie atop a pile of dishes in the sink while a bottle of hazardous material sits on the counter nearby in a typical meth lab kitchen. At right, heating apparatuses are stacked on or around a range. Several cooking devices may be used including a portable electric unit, a Bunsen burner, a kerosene stove and a microwave. No thought seems to be given to the dangers involved in their use to others present in the residence. Contaminants present during the meth cooking process can cause respiratory problems, skin and eye irritation, headaches, nausea and dizziness as well as more severe problems such as lung damage and burns with acute exposure.
In September 2000, "Guidelines for Cleaning up Former Methamphetamine Labs" was written by the Missouri Department of Health and Senior Services in their concern for environmental public health. The agency was concerned that the "small amount of residual contaminants left on surfaces, sinks, drains or ventilation systems may pose health threats to persons exposed to them." The guidelines suggest that all carpeting be thrown out, flat services be cleaned with bleach several times and that the walls be sealed with an epoxy-type paint.
Dan Lawellin, office mgr. for PRO 100 Realtors of Joplin, confirmed the fact that there was no law regulating the clean-up of a residence formerly used as a meth lab but that realty firms practice risk management in dealing with such problem areas and follow the written guidelines for clean-up. In the case of a known meth house that has been cleaned up, his office requires that its buyer acknowledge his or her awareness of the situation.
In addition to the budgetary problems that will be created by the new role of the Children Center, law enforcement agencies face continued funding problems. Ever since a change in the law in the late 90s, the agencies no longer reap the benefits from seizing contraband from drug busts.
"The county doesn't get the benefits from a bust," said Dean Dankelson, Jasper County prosecuting attorney. "All of it goes to Jeff City to be used for educational funding."
Jasper County sheriff Archie Dunn reiterated the situation but saying how his department was hurting for funds. As to why this residence, which had been busted at least four times, was not condemned, both said that the legal process would be time-consuming and costly.
They were not criticizing the use of funds for educational purposes but suggested that before the state ruling law enforcement had a better incentive for attacking the drug problem.
Congressman Roy Blunt, left, is shown a portable meth lab by John Lucky, a sheriff's representative of the Jasper County Drug Task Force. The task force works with the Missouri Highway Patrol SWAT team and local law enforcement in busting meth labs.
A number of laws are on the books in Missouri designed to protect children from meth and to make it more difficult to buy Sudafed, a prime ingredient in making meth, which has simply caused meth producers in Missouri to buy it out of state. Another law to lessen presumable overcrowding in prisons weakened a key penalty for providing meth ingredients and permitted those convicted of possessing meth to seek probation after serving 120 days. These changes obviously were a step backwards. While they were the result of budget concerns, the costs that meth imposes on our citizenry continue to grow.
Organized by Congressman Roy Blunt, the intent of the gathering of the media and law enforcement officials in a busted meth lab was to raise the level of consciousness towards an insidious problem that remains unchecked, one that has been called a plague, especially on rural America. Blunt hoped that how law enforcement dealt with the meth issue in Missouri would be a model for the rest of the nation.
For the last two years Missouri led the nation in meth lab seizures by shutting down nearly 2800 meth-producing labs, up from 900 in 1999. Jasper County has been credited with having the most successful drug effort in Missouri with more charges and prosecutions than a lot of states, but that's something that nobody really wants to brag about. As a meth-producing area, Jasper County ranks fourth in the state behind the district to the north of it and rural areas in the state's southeast and northeast corners.
Lucky stressed the importance of community involvement in helping to crack down on these "cooking labs." He called attention to the fact that meth can be produced in run-down areas as well as residential streets containing houses worth over $100K. "Both produce the same product and contribute to the endangerment of children," he said.
The local Child Advocacy Council will be organizing a program dealing with the meth issue from 6:30 to 8:30 p.m., September 14, at Webster Hall on the campus of Missouri Southern State University. Speakers from the Dept. of Public Safety and Family Services will be lecturing followed by the opportunity for the community to ask questions.
A hotline has been set up by the Missouri Attorney General's office for reporting any matters dealing with meth. The number is (800) 292-8222.
For a previous article, "State of Missouri renamed Methsouri," click here.