President Bush addresses Springfield audience
July 31, 2004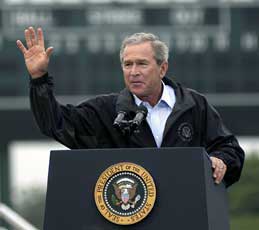 President George W. Bush kicked off his Heart and Soul of America Tour in Springfield, July 30. Speaking before a crowd of 10,000 supporters at Hammons Field, the president said the heart and soul of America can NOT be found in Hollywood—a clear reference to Michael Moore and his documentary film, "Fahrenheit 9/11"—but that it was found "right here in Springfield."
Starting off by evoking a warm, fuzzy feeling of togetherness, Bush expressed his appreciation for the support he's received from the group of legislators in the audience as well as the grassroots activists, 1300 strong in the Springfield area, whom he hopes will work diligently to get out the vote to insure that he and Vice-president Dick Cheney serve for four more years.
Foreign policy took a backseat to the economic and social issues when Bush outlined his accomplishments that he said would "make our future better and brighter for every, single citizen."
In addition to promoting his No Child Left Behind legislation which he says insists on accountability in education and insures that no child is "shuffled from grade to grade, year after year, without learning the basics," he called for the expansion of math and science education and greater use of the Internet to bring high-level training into our classrooms. He wanted everyone to know that he was aware that the world was changing. "With four more years, we'll help a rising generation gain the skills and the confidence to achieve the American Dream," he said.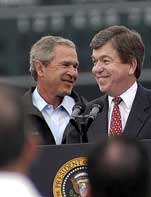 President Bush waits while Missouri Congressman Roy Blunt introduces him to the standing audience at Hammons Field in Springfield yesterday.
There was significance to his use of the word, "we'll." He redefined the role of government as "not to control or dominate the lives of our citizens [but] "to help our citizens gain the time and the tools to make their own choices and improve their own lives."
The new era of ownership and opportunity that he described involves more people owning their own homes, businesses, and health care and retirement plans. He didn't use the maligned term "privatization" in describing his replacement Medicare plan which he said "will make sure that health decisions are made by doctors and patients, not by bureaucrats in Washington." Instead he said that ownership makes better citizens.
To improve health care, he called for the limit of frivolous lawsuits, sticking to the oft-disputed argument that they raise the costs of health care and drive good doctors out of medicine. While he advocated the expansion of research and development for cures for disease, he did not specifically mention his opposition to stem cell research.
He admitted that something had to be done to make America's economy stronger. Besides the hard work and will of the American entrepreneur, small business owner (the cornerstone of his tax relief plan), farmers and workers, he credited what he called his "well-timed tax cuts" with overcoming the obstacles of a recession, terrorist attacks and corporate scandal. And he said he didn't play favorites with tax relief.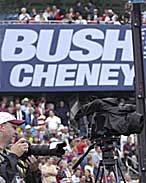 A crowd of 10,000 gather in Hammon Field stadium to listen to a speech by President George Bush in support of his Bush/Cheney campaign. Rain began to fall just prior to the president's appearance, but it stopped in time.
Regarding the issue of keeping jobs in America rather than outsourcing them, he said "regulations should be reasonable and fair" and that we should make the business climate more profitable by lessening dependence on "foreign sources of energy" (he didn't give alternatives) and ending "junk lawsuits" (a subtle reminder again of the occupation of his VP's opponent).
Understanding the importance of nurturing of children, Bush said that Congress ought to enact comp-time and flex-time to give workers more time to spend with their kids. This idea, for many holding two jobs in order to keep food on the table, falls into the category of the American Dream.
The president brought the audience to their feet in a show of overwhelming support for his get tough policy on terrorism, his leadership with moral clarity, his decision to "never turn over America's national security decision to leaders of other countries," his argument for world-wide intervention, and his gratitude to those in uniform and to their families.
He insisted that Iraq had used weapons of mass destruction. Getting rid of Saddam was akin to getting rid of "a source of great instability in the world's most vulnerable region," he said. The invasion of Iraq was done to protect our own security but also was a promise to the Iraqi people whom he said "understand the benefits of a free society."
Calling attention to before and after September 11, Bush compared the attitudes of the leaders of Pakistan, Saudi Arabia and Libya and said that they are now more willing to help round up terrorists as opposed to harboring and abetting them. He sees a strong connection between making the world a safer place and our safety at home.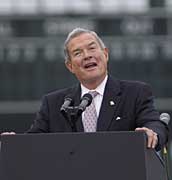 Senator Kit Bond, who gave a short speech earlier, was given the primary role of addressing the remarks of presidential hopeful, John Kerry made at the conclusion of the Democratic Party Convention in Boston Thursday night. However, the president in his speech called Kerry's promises "good intentions," but that "intentions do not always translate to results.
He criticized his opponent's 19 year voting record in the Senate, specifically his inability to reform America's intelligence-gathering capability while serving 8 years on the Senate Intelligence Committee. He said that Kerry's recent campaign promises would entail "$2 trillion of additional federal spending."
Outside of Hammons Field demonstators lined up to protest President Bush's policies at home and abroad. Many of them were members of Peace Network of the Ozarks. A group of Springfield police officers separated the protestors from a few staunch Republicans who had gathered in counter-protest after a situation earlier that turned ugly.
Editor's addendum: A few folks had asked us if the President made any comments about the 9/11 Commission report. He had. The comments should initially have been included.
He appeared to be rationalizing the conclusions of the commission. Bush referred to the commission's conclusions as "that our institutions of government had failed to imagine the horror of that day," but went on to say that "we cannot fail to imagine that a brutal tyrant who hated America, who had ties to terror, had used weapons of mass destruction and might use those weapons or share his deadly capability with terrorists, was not a threat."
Bush referred to existing intelligence, claimed it was available to bi-partisan members of the U.S. Congress including his opponent, and everyone agreed that there was an enemy out there that was a threat. After Saddam Hussein's non-compliance with United Nations' demands, Bush said, "I had a decision to make: to hope for the best and to trust the word of a madman and a tyrant, or to remember the lessons of September the 11th and defend our country. Given that choice, I will defend America every time."
He said he agreed "with the conclusion of the September 11th Commission when they said our homeland is safer," but he went on to say, "but we are not yet safe." This justified his process of reform which included creation of the Department of Homeland Security and passage of the Patriot Act.