Burton reminisces about one-room schools
August 17, 2004
Today's air-conditioned schools are palaces compared to the one-room schools that once beckoned area students in the fall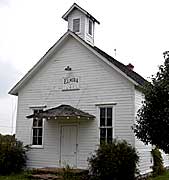 Generations of Missourians, as those of many other states, who were educated in one-room county schools tend to have fond memories of that earlier era and forget the stark conditions that often prevailed in rural schools.
"Despite their limitations and lack of amenities, rural schools fulfilled their mission. They brought education within walking (or riding) distance of nearly every Missourian," said David Burton, civic communication specialist, University of Missouri Outreach and Extension.
According to Burton, the earliest Missouri schools may have provided only the barest rudiments of education but they were also the social center for fledgling communities.
"The schoolhouse was a gathering place for everything from pie suppers and church meetings to holiday and political events. Such gatherings were a vital source of communication in rural communities, and they helped knit together the scattered population," said Burton.
Wilma Yarbrough, Fair Grove, Mo., recalls going to school at Locust Prairie during the 1930s.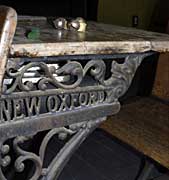 "On the first day of school we arrived early to stand in line at the door so we could have our pick of the seats," said Yarbrough. "I also remember that pride motivated students to get good grades, to learn to read and to stay out of trouble."
Mae Bell Fuhr, Republic, Mo., received her primary education at Mt. Etna School, where she enjoyed sitting in the double seats as a first grader.
"Younger brothers and sisters would sit with their older sibling for a few weeks so the older students could help the younger ones adjust to school rules. Older students also got to help their younger brothers and sisters with their lessons during the permitted whisper time," said Fuhr.
According to an article in the "White River Valley Historical Quarterly" written over two decades ago, Ruby Bilyeu (known locally as Mother Ruby), a resident of the Spokane, MO area and a life-long resident of Southwest Missouri's Christian County, played an important part in the history of that area of the Ozarks. Her first teaching job was in 1915 when she was only 16. She taught for two years in a new one-room school house at Reno, MO, a small town on the banks of Bear Creek. Reno was described as a "typical small hill town on its way to extinction." If alive, she would be 105 today.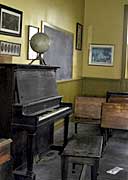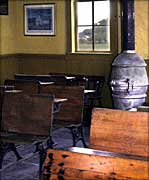 Today, the one-room schoolhouse with its smoky stove, water bucket and outhouse is a fading memory. The emergence of a statewide road system made it possible for schools to consolidate and transport pupils to larger, more centralized schools.
"Whatever its shortcomings may have been, the one-room school served a vital function in the evolution of Missouri's public education system and in the overall social and economic development of the state. The rural one-room school is the foundation of public education and a reflection of Missouri's rural spirit and character," said Burton.
Burton is author of the book, A History of Rural Schools in Greene County, Mo. and a frequently quoted expert on rural school buildings in southwest Missouri. Copies of Burton's book, either printed or on a compact disc, are available for $14 from the Greene County University Outreach and Extension Center, 833 Boonville, Springfield, MO. 65802.
Photos were taken of the one-room schoolhouse located at Red Oak II, a memorial to small town America created by artist Lowell Davis located off of 96 highway outside of Carthage, MO.