Does everyone want fluoridation?
August 19, 2004

THE ALL MALE JOPLIN CITY COUNCIL
It looks to some like the poor people of Joplin got shafted again when the Joplin City Council last Monday night blew off opposition to Council Bill No. 2004-650, an ordinance authorizing and directing the introduction of fluoride into the public water system of the City.
Only Councilman Jon Tupper, (zone 4) opposed the measure. Tupper cited a 2003 citizens' survey, page 102, in which 68% of the responses called for a popular vote to decide the issue of whether fluoride should be added to the City water supply. The other councilmen said if citizens didn't like the way they were voting, then they should vote them out of office...a safe suggestion since no one is up for re-election until 2006.
City attorney Brian Head alleviated Councilman Mike Woolston's concern about legal repercussions by inferring that they should pass the legislation and worry about opposition later. Former mayor Richard Russell voted in favor of the bill and said that taxpayers shouldn't be saddled with the cost of a referendum. While Mayor Phil Stinnett voiced some concern regarding reacting against the survey, he voted in favor of the bill with the five other council members. He considered himself someone who had been elected to make decisions. And Guy Palmieri was agreeing with him when he cast a yes vote for the "greater good of the citizens of Joplin."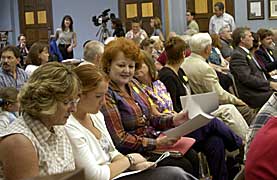 Citizens wearing smile stickers and those opposed to fluoridation of the water supply filled council chambers during first reading of legislation authorizing introduction of fluoride into Joplin's public water system.
When the issue was taken to a popular vote twice in the early 1960s, it failed. In 1987 the council reversed its decision regarding fluoridating the water supply when it looked like the opposition would force another special election.
What the opposition to the proposal didn't know when they took the podium was that they couldn't knock the proposal down in theory. They might have had a more serious argument if they attacked the proposal in practice.
They were fighting against the backing of Joplin's medical establishment and a well organized grass roots effort by Cindy Philips of Carrington Ter., the wife of cardiac surgeon Michael Philips. One of the main organizers of Operation: Smiles, Philips re-informed the council that, as a long time Joplin resident, she was fighting for the well being of her 2 1/2 year old son as well as for the children she might expect to have in the future.
Armed with several thick bright red loose-leaf bound books, Dr. Timothy O'Keefe, a practicing physician for 18 years, said he was prepared to show that 60 years of extensive research has proven the effectiveness of fluoridation and that there was no controversy in the scientific community regarding its safety. He described his opponents as trying to win not on the basis of science but intimidation, rumor, half truths and the creation of fear and doubt.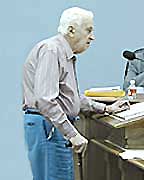 Dr. Frederick W. King's reign was over. Now over 90 years old, King, pictured at left, who had prevented fluoridation in the past and whom his daughter Susan Powers described as a "Harvard grad with honors," now had no data to effectively overturn O'Keefe's arguments.
But still there were basic gnawing issues presented that shouldn't just be summarily dismissed.
Should all but one of the councilmen have taken it upon themselves to think for their constituents?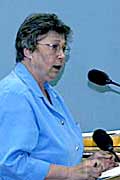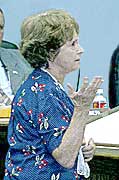 Was Dr. Ann Marlowe, at left, of Delaware Ave. speaking only for herself when she said she had a compromised immune system that prohibited her intake of chemicals or could she also have been speaking for other citizens with special needs? Joy Powell of Pennsylvania Ave., pictured right, had said she chose living in Joplin because the water was not fluoridated here.
If it is the obligation of the government to protect its citizens (not saying who and why) as Matt G. Adrian of W. 26th Place, a lawyer, argued then should the council have protected Clyde Black of Glendale Rd., and other workers from contamination at Eagle Pitcher, as he asked? And wasn't Black in calling attention to the not-to-swallow warning on fluoride toothpaste alluding to possible problems which occur occasionally in monitoring the toxicity of the fluoridation systems?
Should Terry Wachter of E. 10th St., a vice-president at St. John's Medical Center, have thought a bit more about his proposal that residents in Joplin opposed to fluoridation buy pricey reverse osmosis or distillation units for their homes to remove fluoride from their water supplies or should he instead have suggested that those in the audience, who very well could afford the $192 a year for fluoride pills for each of their children, continue to buy them?
Should information be dismissed that suggests cities are reversing their stand on the use of fluoridation in their water supplies after seeing the results of studies that show that there is either no appreciable statistical difference between the number of dental problems in those cities with or without the treatment or that cavities were still rampant in those cities with fluoridation?
So, now the question is, should everyone have to pay for something that they simply might oppose on ethical reasons? And what will that fee to the water company be for supplying fluoride that will have to be approved? It has been quoted anywhere from $3.66 per customer per year to a dollar per resident to "fairly insignificant" to "it depends upon how much water is used." But wait, will those rich folks in the audience have to pay a larger share for filling their swimming pools and watering their lawns?