Committee tours SW MO recycling centers
August 20, 2004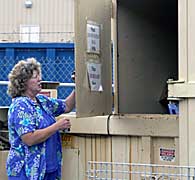 Mary Anne Phillips, recycling coordinator, demonstrates the operation of a Cram-a-lot trash compactor at the Joplin Recycling Center.
Members of the Missouri General Assembly's Joint Committee on Solid Waste descended en masse on the Joplin Recycling Center, 1310 West A Street, earlier this week. The center was one of four in Southwest Missouri chosen for a first-hand study of solid waste issues. The tours were a fact-finding trip that will aid in the outcome of Senate Bill, SCS/SB 1040, signed into law this year by Gov. Bob Holden.
"Changes have occurred in the solid waste industry, and we must prioritize how the solid waste fees are distributed," said Rep. Charles Schlottach (R-Owensville), who was appointed to chair this committee. "There are many interested parties in this issue from local governments to the recycling industry to the Missouri Department of Natural Resources (DNR), and this committee will look at and consider all their interests."
The committee, which was created by SB 1040, must consider proposals for fees and restructuring the distribution of the fees between solid waste districts, grant recipients and the DNR. The committee also must consider options for the distribution of the tipping fee (gate or user fee) to the solid waste districts.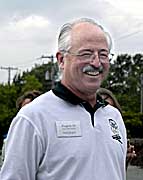 Harry Rogers, Executive Director of the Harry S. Truman Coordinating Council, pictured at left, thought that the tour "went very well." He emphasized its importance to the district. He noted that "legislators from other parts of the state came to see what Southwest Missouri recyclers have accomplished in reducing materials in their waste stream going to a landfull." He said that the committee left with a "positive attitude about how the district handles money, organizes volunteers, and how the private sector has been encouraged to cooperate in the recycling effort."
Admitting that it was still "unpopular for citizens to drive a little ways to drop off their recyclables," Rogers hopes that in time they will understand the significance of making the effort. He called attention to only the 19 years left in being able to use the district's landfill, which he said was the second largest in the state, and one of only a few left. Based on the total amount of fees collected from haulers, he said he was optimistic that the district would see a greater proportion returned in the form of grant money.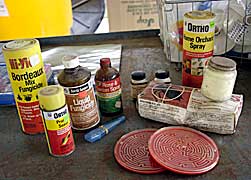 Displyed are toxic chemicals, examples of what is collected by the center during a special collection day in November. Phillips called attention to the small bottle of old unmarked white powder brought in by somebody who didn't know its contents, and who thought it might be dangerous material to discard in the regular trash collection.The round items in the foreground were toy puzzles from China brought to the center because they contained droplets of mercury that would be harmful if exposed. In addition to these types of items, everone is encouraged to recycle their old batteries, aluminum, glass, plastic, newspapers and other clean paper. In exchange the center hands out compost, changes styrofoam into packing pieces as a giveaway to local Ebay shippers and provides a shelf full of recycled books to rummage through.
When asked if there was mandatory recycling anywhere in the state, Rogers said that only Columbia had instituted a bottle tax to encourage redemption and discourage throwing the bottles away, but that no program existed to force separation of refuse before collection. He also called attention to the tire tax, a fee that had funded clean up of waste tire sites throught the state, and said that legislators should not have allowed it to lapse.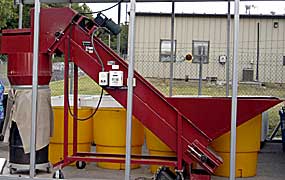 A $6,000 grant paid for this glass crusher to replace the smaller one the center had used. Phillips said that the center receives $40 a ton for white glass, $30 a ton for brown, $20 a ton for green, and nothing for mixed.
Steve Mahfood, director of the Missouri Department of Natural Resources, credited recycling and reuse programs and the efforts of solid waste management districts with keeping trash out of the landfills. The number of communities in the state with recycling collection services has increased from 68 to 410. However, although the state is recycling more trash, more is being created, Mahfood said. His department estimated that in 2003 each Missourian threw away 1.09 tons of trash, down about a third of a ton from what each person disposed of a decade before. But, the amount of trash generated statewide increased from 10.9 million tons in 2002 to 11.2 million tons in 2003, he said.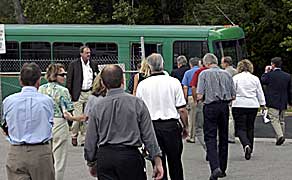 Besides Chairman Schlottach, members of the Joint Committee on Solid Waste include: Committee Co-chair Sen. John Griesheimer (R-Washington); Rep. Jason Brown (R-Platte City); Sen. Bill Foster (R-Poplar Bluff); Rep. Bill Deeken (R-Jefferson City); Sen. David Klindt (R-Bethany); Rep. Jim Whorton (D-Trenton); Sen. Pat Dougherty (D-St. Louis); Rep. Patricia Yaeger (D-St. Louis); and Sen. Steve Stoll (D-Festus). A recycled Holiday Inn bus was their means of transportation.
Joplin Recycling Center Hours of Operation
April to Oct.: Tue. & Thurs., 3-7 p.m.; Wed., Fri. & Sat., 9 a.m.-1 p.m.
Nov. to March: Tue. & Thurs., 2-6 p.m.; Wed., Fri. & Sat., 9 a.m.-1 p.m.
Closed on Jan. 1, Nov. 25 & 26 and Dec. 25.
The center is open to everyone regardless of residency. The center is just east of Maiden Lane, corner of A street and Porter Ave.