Bond pledges to continue fight for jobs
August 23, 2004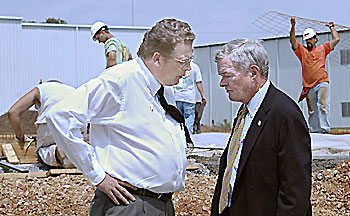 Mike Denny, Plant Manager at Convergent Label Technology, confers with Senator Kit Bond, pictured right. A major producer of prescription labels used in retail pharmacies in the United States, Convergent Label Technology is the senator's shining example in the Joplin/Webb City area of how entrepreneurial spirit and community support become key ingredients for success. The [former] Tampa-based company, which also has the capability of custom designing labeling, equipment and systems solutions, is looking to add 20-23 more jobs to their Joplin location once its expansion plans are finalized.
Joplin - U.S. Senator Kit Bond today met with community leaders and employees at Convergent Label Technology, 3301 Enterprise Ave., Joplin, where he pledged to continue his fight to protect Missouri jobs and spur economic growth. As chairman of a small business committee, Bond said that he pushed for the reduction of red tape--the minimalization of regulations that affected job growth.
Rob O'Brian, president of the Joplin Area Chamber of Commerce, recognized Webb City officials for participating in the joint project that, through most of the work of his organization and Joplin city officials, today was able to contribute $30,000 to Convergent's expansion efforts. Currently handling one and one half tons of raw materials, the company hopes to have a production set-up which will include 6 presses and space for two additional ones when needed. Hunter & Millard, arcitects from Carthage drew up the plans last spring which initially called for 29,568 square feet of space.
Bond called attention to the Senate Environment and Public Works (EPW) Committee that last June reauthorized the Economic Development Administration (EDA). In communities across Missouri, the EDA makes a significant impact, Bond said. Over the last decade, EDA has invested more than $115 million in Missouri. Also, since 1998, EDA funds have led to creation of over 5,000 jpbs, Bond said, and that this year's reauthorization, among a number of changes, includes increased funding and incentives for deserving projects which allow the EDA to better assist communities to develop local economies.