Russian theatre and philosophy of life
September 16, 2004
Constantin Stanislavsky might not be a household name in Joplin but to all those interested in theatre it represents a man who earned international acclaim as an actor, director and coach.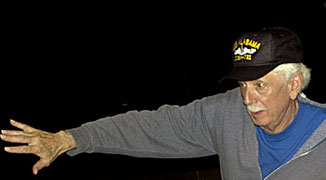 Stanley Harrison reaches out to grab life on and off the stage
Lecturer Stanley Harrison, a graduate of the Yale School of Drama, has been training and teaching actors for more than 40 years. He came to Missouri Southern State University to suggest to anyone interested in drama how to be an Eastwood, Bergman, Nicholson or Quinn to name a few of the actors whose style was influenced by the innovative acting techniques of Russian Michael Chekhov, a student of Stanislavsky. Harrison also discussed the process of development known as the Stanislavsky Method and how Stanislavsky inspired others to live their lives with love, joy and beauty through a better understanding of self.
"Because of him [Harrison], I'm in theatre today," Dr. Jay Fields, professor of drama and Southern Theatre director, told his students. "I'm going to get you for that one," was a comment Fields jokingly directed towards his mentor.
Harrison decided that the Southern drama students were 5 removed from Stanislavsky. His teacher, the late professor Constance Welch studied with the great Russian actress Maria Ouspenskaya who studied under Stanislavsky.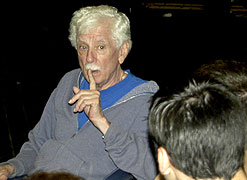 Harrison tries to silence what he called "the story" that went along with drama students' interpretations. He asked them to bring out spontaneous feelings from their inner souls.
"Acting is about life of the human spirit," Harrison said in explaining the Stanislavsky's system that led to method acting employed by the studio of the late Lee Strasberg, Austrian-born American theatrical director and teacher who inspired the likes of Marlon Brando, James Dean and Paul Newman. This spirit is part of Chekhov's "higher I" designed by a magnificent God, Harrison said. In the rehearsal process each actor needs to get in touch with his or her unconscious mind and make it work properly.
How does one reach this higher self? "You don't have to sit under a tree and meditate for 20 years," Harrison instructed his listeners. "The trick is "to live in the now moment...to release the past and future and be alive right now." This means getting rid of the "what-ifs."
"Minds just love to get into the past and fool around," Harrison said. He alluded to an "ole pig that wallows in mud, an old Missouri boy expression Harrison, a St. Joe native, said he picked up. But, he said, in stripping the guilt of the past and fear of the future, Stanislavsky started his classes with "this class, just us in time and space".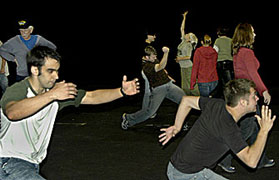 Harrison conducts an exercise in which he tells students to march around thinking "I am....." before they demonstrate their chosen archetypes, particular experiences of the race present in the hidden conscious of individuals. Several students found that when they shed their conscious levels that they could better illustrate who they were trying to be. A child of nature, pirate, lost soul and mentor were some of the roles attempted.
Reminding everyone that the theatre was a spiritual religious experience started by the Greeks, Harrison explained how the Moscow Art Theatre was a temple to the Russians. But in or out of the theatre, Harrison said that people need to learn how to get in touch with the power from our Creator, use their free will to make themselves better people and to reach out to fellow citizens.
Understandably the Russians developed exercises in a sense of naiveté to fill their world with wonderment. "Beauty, an inner energy and not surface features, is enormously important with Russians," Harrison said. The followers of Stanislavsky stress the significance of creating an environment that makes life worthwhile for everyone.