Missouri's meth addiction: out of control
September 17, 2004
Newton County Sheriff Ron Doerge described the meth abuser photos that flashed on the screen as "grabbers to catch people's attention." They did just that. A former drug addict became the
poster child for methamphetamine
in order to get out of prison time. Her pictures show what a deteriorating effect meth has on the body in just four short years. For another photo detailing the effect of meth on oral health, click
here
.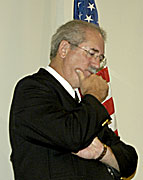 Calling education a major component of the war on drugs, Doerge, pictured left, described meth as "the most dangerous, deadly, addictive drug" that he's experienced in 23 years of law enforcement. Doerge was one of 5 speakers at a local child advocacy forum held at Missouri Southern State University last Tuesday that was teleconference throughout the state. He called attention to the harm that meth does to the community including to innocent children near the lab, police officers making the bust, and firefighters blindly entering a fire. How the system isn't working to stop the growing addiction to it was the source of frustration for everyone involved.
In recalling a typical drug bust, Doerge described how smoke was pouring out of the windows of a local home as it was being raided by law enforcement. No big kingpins involved here. It seems that a 16 year old Joplin boy had gone to the local library, found step-by-step instructions on how to make meth on the Internet, and took them home to mom and pop who agreed to the idea of cooking meth to make a few bucks. But it wasn't as easy as they thought.
In many cases during a typical bust children are found in the home where meth is produced. "They think it's OK for children to sleep next to the meth cook," Doerge said. In one situation "they tried to ducktape cracks around the door, but fumes went into everything--walls, drapes, rugs," he said.
Doerge told of meeting with the father of a former straight-A student/cheerleader turned meth whore by her boyfriend who prostituted her in order to buy drugs. He described the girl as looking like she came from a concentration camp. Her hair and eyes lost their sparkle, she had loose teeth and sores covered her body. The Dad wanted to kill the guy responsible. When someone is arrested 15 to 20 times, the system isn't working, Doerge lamented. It became obvious that the only way to rid of perpetrators is to wait for them to die from the devastating effects of the drug.
Scott Whitman, a 10 year veteran of the Newton County Sheriff's Department, spent the last three years in the Drug Enforcement Unit. His experience with crimes against children, molestation and abuse, has given him a keener insight into the growing involvement of children in the drug scene.
Statistics from 2000, Whitman said, show that 8.8 million people tried meth, including a large percentage of 8-10th graders. 28.3 percent of high schoolers said it was fairly easy or very easy to obtain crystal meth if they wanted some, Whitman revealed. The latest stats show that 45 out of 75 warrants are drug related with $2.5 million in narcotics and $3 1/2 million in property seized, he said. [It should be noted that the financial benefits from the seized property do not remain with local authorities.]
The cost to the community is staggering. For every pound of meth produced, 5 to 7 pounds of toxic waste must be disposed of at an average cost of $150,000. "A DNR (Department of Natural Resources) contractor is called in with the cost born by the taxpayers," Whitman said.
While the greatest health risk is in the lab and its exposure to other family members, those people living next door are not at great risk but Whitman can't say they aren't either. He alerts anyone who might stumble upon a suspected lab to leave quickly, not show any suspicions, and to contact the meth hotline (888-METH) or local law enforcement. Other signs, he said, might be people smoking outside of the house in the dead of winter and people coming and going at strange hours.
The Department of Health is called in as a consultant to access the risks after a meth bust which could take place in houses, apartments, motel rooms, sheds and even motor vehicles. While Gale M. Carlson, environmental section chief for the Missouri Department of Health and Senior Services, called attention to commonsense guidelines for Cleaning up Former Methamphetamine Labs, he said that no one actually has all the answers regarding whether the guidelines are effective. Disclosure is required by Missouri law, but there's no teeth in the law to force a clean-up or any guarantees that one done is effective. The residual risk from the meth cooking process invades every surface, especially in absorbent materials, and in sinks and drains and ventilation systems.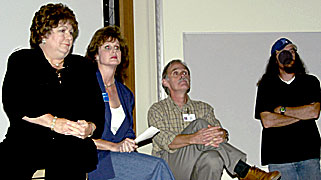 Representatives from several agencies came together at a child advocacy forum to address the growing methamphetamine problem in Missouri and especially its shockingly harmful effect on children. Pictured L-R are Mitzi Huffman, RN; Melinda Ingram, director of the Branson West Lakes Area Child Advocacy Center; Gale Carlson, environmental section chief, Dept. of Health and Senior Services; and Scott Whitman, a detective in the Newton County Sheriff's Dept. Whitman's face was obliterated to preserve his anonymity.
The Joplin area holds the blue ribbon for having the greatest number of meth labs in the nation, but western states have the largest production in each lab. "Houses out West ae bulldozed when use is substantial," Carlson said.
Mitzi Huffman, a nurse practitioner at the Branson West Lakes Area Child Advocacy Center, and its director, Melinda Ingram, were introduced by Greg Dagnan, director of the Chilren's Center of Southwest Missouri and forum organizer. He credited them with having an excellent meth protocol for dealing with children.
Huffman painted a bleak picture of emotionally orphaned children whose parents would sell their soul for meth or even sell their children. She described these children in part as being unkempt, undernourished, hyper-vigilant, and developmentally disabled. They are often victims of sexual abuse or physical violence. Often misdiagnosed as having asthma, these children suffer from meth induced chronic respiratory illnesses that put a huge strain on healthcare resources.
Each of the 15 certified child advocacy centers in Missouri deals with the problem of child endangerment in its own way. Most workers are trained in a program called Finding Words, an intensive five-day course in which students learn the necessary skills to conduct a competent, investigation of a child abuse victim. While the common practice was to question children in a loving and caring environment, a law (the Crawford Law) has been proposed to actively involve children in court.
"It's very upsetting to see a child come back again," Huffman said. "Child care workers are overwhelmed by burn-out issues."
The Springfield issue in which a foster child was killed in a home makes it more difficult to take away parents' rights and often grandparents as foster parents allow the children to go back into the meth situation, she said. "The repetitiveness of children being replaced in the home is frightening," she added.
What are the solutions for dealing with this increasingly devastating problem of meth addiction? It may be ludicrous that the State funds projects and conferences for seemingly over-staffed agencies to look into the matter of clean-up of meth labs when law enforcement agencies go without the necessary funding to keep up with the recidivism of the addicts.
With Missouri's "arrest and release policy" the frustration amongst law enforcement officers is also quite high. "We put one in prison, one is released. The jails are full. We can't focus on this. It's out of our hands," Whitman said.