Hello from the Riviera
November 04, 2004
On the road--the editor's travels part 3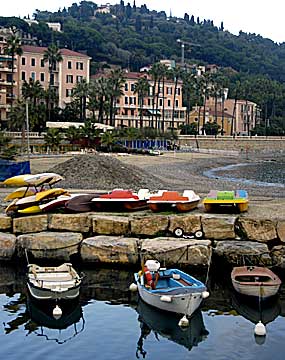 ...onward to the French Riviera. Most of the shots were taken from the car. The sun evaded us again, suggesting that France was not the country to visit in October 2004.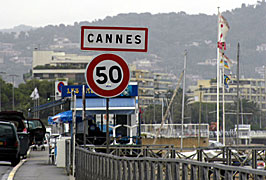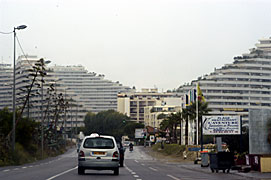 To impress your friends drop a few names from the French Riviera like St. Tropez, Nice and Cannes. The names usually conjure up images of fancy cars, yachts and beautiful people. But affording an apartment here might mean living in a stack of sardine cans.
I did step out of the car to get a picture of the Cannes sign to at least prove to myself that I was there. Pricey Cannes did not impress me. The apartments, although some stacked up in weird ways, appeared to be dated, and the traffic was horrendous without it being film festival time. Florida beaches in my opinion are much more picturesque.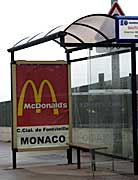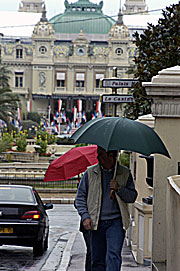 Not all restaurants in Monaco serve wine. Doubtful that you would find a dollar menu at this McD's...On foot in this compact country is the best way to travel. Traffic piles up in the narrow streets.
In Monaco I wanted to get a shot of the Lamborghini parked near the entrance to the casino but I missed the shot as we moved with the traffic there. Monaco is compact and hilly with mountains on the Italian border looming in the distance. If Prince Ranier were about, he would have been protected by an umbrella as well as by his body guards.
The weather improved some after crossing the Italian border. With the advent of the European Union, crossing borders is seamless. The border checks lie abandoned, a disappointment for anyone wanting to collect passport stamps from the different countries.
The town of Imperia on the Italian Riviera had sunny weather and very friendly people. A large waterfront harbors fishing boats rather than craft like the huge yachts that we saw moored in the seaside towns along the Riviera in France.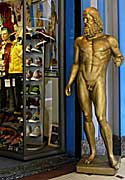 Italians, as the French, enjoy the body beautiful. Here a "god" beckons customers into one of Imperia's fancy boutiques.
Imperia's boutiques in the downtown area display very expensive goods. With the diminishing value of the dollar against the Euro, I hesitated buying anything even in the street market that filled the streets on Saturdays. A display window with tattered Levis caught my eye. The lowest ticket price for a pair of those jeans was 99 euro, about $128.
People in Italy, like in France, are very fond of their dogs. Very few people walk the streets without one. Checking where one walks becomes imperative.
Driving the coast road in Italy was exciting. It wound around and through the mountains with spectacular views from the cliffs. No guard rails and a deadly drop to the sea would not be tolerated by the squeamish.
The next stop is Venice and then Florence. Enjoy the pictures from Imperia.